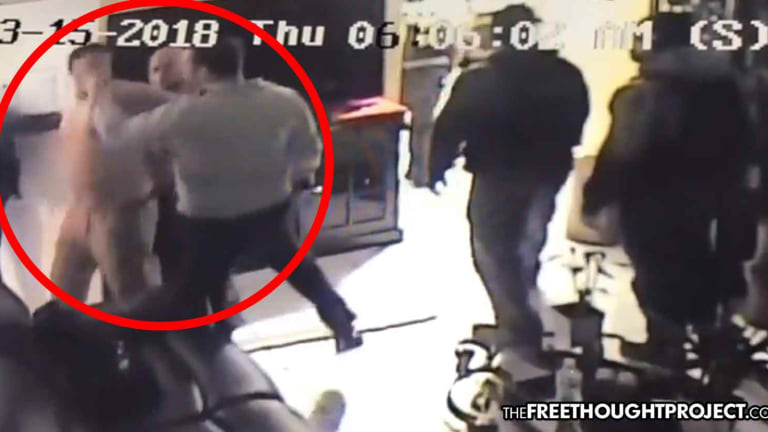 WATCH: Cop Punches Handcuffed Teen Then Fellow Cop Gets Caught Trying to Delete Video
Two cops have been arrested after one of them punched a handcuffed teen while another was caught attempting to delete the video footage of it.
Miami, FL — Two corrupt cops have been charged with crimes this week after one of them punched a handcuffed teen for no reason and the other helped him cover it up.
On Tuesday, Sgt. Manuel Regueiro and his partner in crime, Officer Alexander Gonzalez were arrested and charged with misdemeanor battery and evidence tampering respectively.
Despite not punching the handcuffed teen, Gonzalez is actually in more trouble than Regueiro because he was caught tampering with the evidence of the crime which is a third-degree felony. According to authorities, Gonzalez tried to destroy the video evidence of his friend punching the teen by removing the batteries from cameras. Obviously, that does not remove the footage, so their ill-thought out plan was a disaster before it began.
According to police, the victim, 18-year-old Bryan Crespo was arrested on March 15, 2018 for allegedly selling stolen airbags from cars. As the Miami New Times points out, Miami-Dade police suspected that Crespo, who'd been arrested in the past for petty crimes, was behind the thefts, so they executed an arrest warrant at his home. They stormed in wearing military-grade gear while a child was inside.
For stolen airbags.
As the video below shows, Crespo was walking out peacefully when Regueiro—unable to contain his violence—ran up to him and punched him in the face for no apparent reason.
Last year, a spokesperson for the Miami-Dade Police Department said they were aware of the video and referred to it as troubling.
Upon becoming aware of the video in question, a criminal, Internal Affairs investigation was initiated along with the Miami-Dade State Attorney's Office The officer was relieved of duty, pending the outcome of the investigation, which remains open at this time. As such, in accordance with Florida statutes, no additional information regarding the case can be released until the investigation is concluded.
Despite having all the evidence in front of them, the investigation took nearly an entire year to conclude, leaving Crespo's attorney, Cam Cornish, asking why.
"I'm heartened to see that the Miami-Dade State Attorney's Office is finally charging the two police officers for their criminal behavior,'" Cornish said. "I'm unsure why it took the better part of a year to even charge Sgt. Rogueiro for a crime he committed on video. That being said, this is a step toward justice that is applied equally to all people, regardless of station or office."
According to the Miami New Times, this was not the first time Regueiro made the news for allegedly roughing up someone. In 2009, a woman named Sarah Myles alleged a group of MDPD cops fabricated details of her arrest and that Regueiro even broke her wrist by tackling her. She was acquitted of her charges in 2011, but Regueiro remained on the force.
Because no action was taken against Regueiro at that time, he was allowed to strike again. Exactly how many other times he's done something like this with the help of his corrupt brothers in blue to cover for him, is a mystery. But it calls into question every single arrest he and Gonzalez have made.
"Not only is this behavior unacceptable, it eats at the trust police officers need to solve crimes," State Attorney Katherine Fernandez Rundle said.
After Cornish viewed the video last year, he asked a question that we too would ask as to why the other cops who just witnessed Regueiro commit a crime did nothing?
"He did it because he could," Cornish told the Times last year. "He did it because he wanted to. And he did it because he knew that he wasn't going to get caught. It just so happens that we have proof of what he did."
While these two officers are being written off by the media as a couple of bad apples, Miami-Dade cops have a history of hitting handcuffed suspects—and getting filmed doing it.
As TFTP reported in May, a vigilant citizen with a cellphone captured video of the ridiculously excessive force by police on 18-year-old kid who ran from them. In spite of teen being handcuffed, face-down on the ground, with another officer on top of him, a Franklin Township police officer is seen punting his face like a football. In December, in a rare move, the officer was actually found guilty for his crimes.
Last Month, another Miami-Dade police officer was arrested on charges of battery because of a vigilant citizen who decided to film the police that day. Because Sgt. Gustavo Del Los Rios, 38, was recorded on video kicking a handcuffed boy in the face, he is also being held accountable for his crimes.