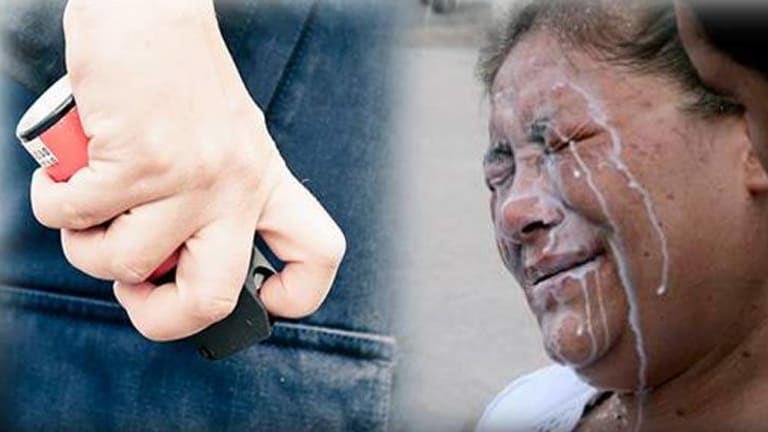 Cop Beats and Pepper Sprays Pregnant Woman, Puts Child In Chokehold At Preschool Graduation
Baltimore, Maryland - According to a lawsuit filed this week, a police officer put a child in a chokehold and pepper sprayed a woman during a preschool graduation.
Last summer, Amanda Scott and her young sister Donnesha Bennett were attending the preschool graduation ceremony at the Inner Harbor East Academy. The event was for Scott's two twin girls.
Scott explains that she saw her younger sister having a heated discussion with the school principal and an on-duty officer. Despite complying with requests to leave the property, Cpl. Timothy Kelly grabbed Scott by the arm.
Upon being grabbed by the officer, Scott told him that she was pregnant, according to the lawsuit. At that point, instead of releasing her, Kelly "escalated the physical encounter without provocation," the complaint states. The officer then reportedly punched her in the face and shot her with pepper spray.
According to the lawsuit, "Kelly struck plaintiff Scott about the head and face with closed fists, deployed pepper spray aimed at her face, and subsequently struck her with the pepper spray can."
Bennett attempted to intervene and prevent the officer from hurting her sister, so he put the young girl in a chokehold.
After both girls were thrown around and manhandled by the officer, they were both placed under arrest. Scott was charged with second-degree assault, assault on a police officer, resisting arrest and trespassing. Bennett is a minor and was not formally charged, but was arrested.
Scott and Bennett are listed as plaintiffs in the lawsuit and are seeking damages from Kelly and the Baltimore City Board of School Commissioners, accusing the officer of assault and battery, false arrest, negligence and a variety of other charges.
According to Courthouse News, the complaint comes in the wake of reports by the Baltimore Sun that excessive-force claims against the city's police officers has resulted in more than $5 million in payments made to plaintiffs and another $5.8 million in defense fees.
John Vibes is an author, researcher and investigative journalist who takes a special interest in the counter culture and the drug war. In addition to his writing and activist work he organizes a number of large events including the Free Your Mind Conference, which features top caliber speakers and whistle-blowers from all over the world. You can contact him and stay connected to his work at his Facebook page. You can find his 65 chapter Book entitled "Alchemy of the Timeless Renaissance" at bookpatch.com.