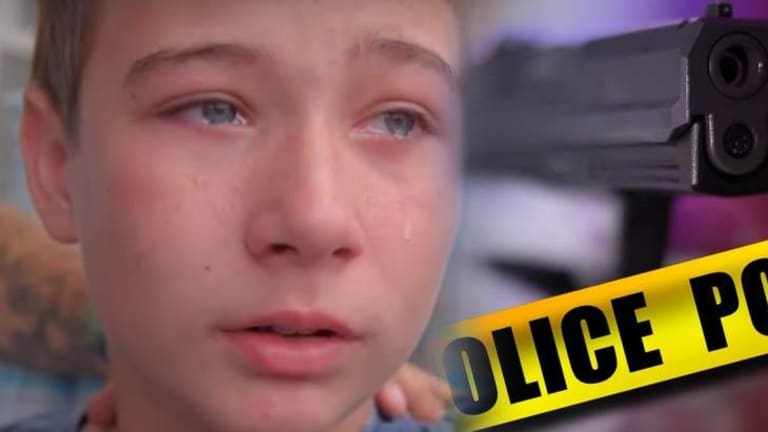 Cop Randomly Drives Up to Innocent Unarmed Man and Shoots Him For No Reason
A family is in shock after witnessing a Baltimore cop shoot their innocent and unarmed family member for no reason.
Baltimore, MD - A Baltimore police officer that was on his way to a community meeting on Monday night decided to stop and harass a man that he came across at an intersection. In the brief encounter, the officer ended up shooting the man because he didn't show his hands fast enough.
The shooting took place around 7:10 p.m. in the Morrell Park area, and according to a police spokesperson, the victim "refused to take his hands out of his pockets," so he was shot by Maj. Byron Conaway, a high-ranking officer with the Baltimore Police Department.
After the officer shot the man in the leg, he searched him and found no weapons, then after wasting precious time, he finally called for an ambulance.
After returning home from the hospital, 40-year-old victim John Joseph Rau spoke to the media about his encounter and broke the silence about his identity, which was initially withheld by police.
"I thought he was going to die," John DeVault Jr., Rau's nephew, who witnessed the attack told the Baltimore Sun.
According to the thirteen-year-old, the officer got out of his car, yelled at his uncle, pointed his gun and pulled the trigger, all within the span of a few seconds.
Rau's family also disputes the official version of events, as told by police, adding that Conoway stood over Rau with a gun pointed at them and other bystanders until an ambulance arrived. Representatives with the police claim that Conoway applied a tourniquet before the ambulance arrived, but the family says that is a lie.
In 2011, the city paid $67,500 in an out of court settlement with an innocent police brutality victim who claimed that Conoway and other officers roughed him up during an interrogation about a robbery.
" width="790" height="444" frameborder="0" allowfullscreen="allowfullscreen">
John Vibes is an author, researcher and investigative journalist who takes a special interest in the counter-culture and the drug war. In addition to his writing and activist work, he organizes a number of large events including the Free Your Mind Conference, which features top caliber speakers and whistle-blowers from all over the world. You can contact him and stay connected to his work at his Facebook page. You can find his 65 chapter Book entitled "Alchemy of the Timeless Renaissance" at bookpatch.com.