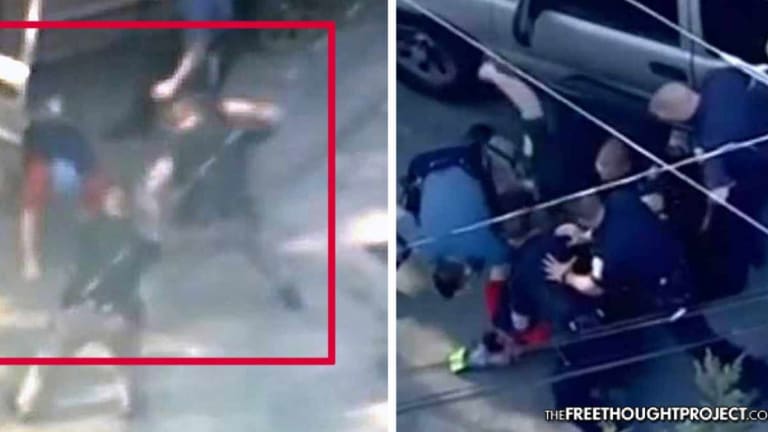 WATCH: Cop Pummels Surrendering Man As Fellow Cops Hold Him Lying Face Down—Not Guilty
After receiving a year-long paid vacation for severely beating a surrendering man, a state trooper has been found not guilty of assault.
A Massachusetts State Police trooper was found not guilty Thursday of simple assault after police violently arrested a non-violent man who'd surrendered after a chase and was lying face down on the ground.
As news crews filmed from helicopters hovering above, Richard Simone exited his truck, kneeled, and lay prone on his stomach on the asphalt — but several officers rushed the man and initiated a savage attack in what appeared to be retaliation for having led them on an hour-long pursuit through the two states.
After the violent beating went viral, New Hampshire Attorney General Joseph Foster announced that Joseph Flynn of the Massachusetts State Police and Andrew Monaco of the New Hampshire State Police were charged with several counts of simple assault for excessive use of force.
Flynn was charged with two counts of simple assault, while Monaco received three simple assault charges. But, as Foster's office advised at the time, the Washington Postparaphrased, "because the two troopers were on-duty law enforcement officers during the incident, their charges could see an enhanced penalty."
However, no enhanced penalty ever came, and in fact, it seems there will be no penalty for Flynn.
WMUR 9 reports a jury in Hillsborough County Superior Court found Flynn, 32, of Tewksbury, not guilty on two counts of simple assault by an on-duty officer.
Despite video evidence to the contrary, Flynn claimed he threw punches at Simone when the chase ended only as submission blows. And, somehow, the jury bought it.
Monaco, however, was not so lucky. He pleaded guilty to his charges and was sentenced to a year in jail with the sentence suspended with conditions. He was ordered to never pursue a job in law enforcement again.
Flynn, however, will be able to get right back to the job after enjoying his 14 months long paid vacation at the expense of Hillsborough taxpayers.
As TFTP reported last year, on May 11, police in Holden, Massachusetts, attempted to stop Simone's pickup truck when they discovered an advisory from another department that the man had outstanding warrants for assault and battery with a dangerous weapon, larceny, and failure to stop for law enforcement, according to the State Police.
When Simone failed to pull over, Holden Police were joined in their pursuit by Massachusetts state troopers. As Simone crossed into Hudson in neighboring New Hampshire, that state's police and local forces also joined the pursuit. As The Free Thought Project previously described:
"Simone weaved through traffic — at one point hitting a utility pole — as law enforcement officers from both states repeatedly tried to pull him over without success. At some point during the pursuit, Simone's gray pickup lost two of its tires; but as sparks flew, he continued driving."
Around an hour after Massachusetts officers initiated the chase, Simone stopped his vehicle in Nashua, New Hampshire, lowering himself face first onto the asphalt with his arms extended in surrender. But more than half a dozen police from the various departments — apparently enraged over the chase that occasionally reached speeds of 90 mph — descended on the now-prone man, beating him relentlessly as neighbors and children watched in horror.
"He was surrendering, you know, he gave up — but I was like, 'Oh my god, they're really attacking him,'" Simone's stunned sister told7 News at the time, in a report which has since been removed. "It was very shocking, to say the least. Disturbing to see that and to see when someone willingly gets out of the vehicle, goes to their knees, flat out on their stomach, their hands out — very shocking."
Below is an example of what a cop can do on video and still get off scot-free.