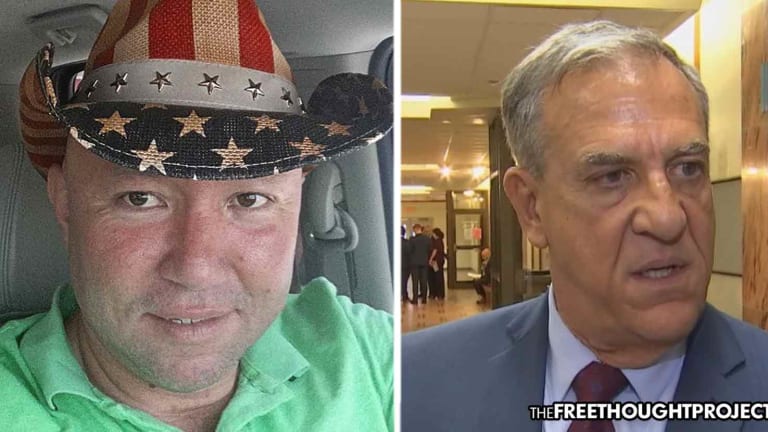 Cop Sentenced to Prison After Video Showed Him Beating an Elderly Nurse
After surveillance footage caught him beating an elderly nurse for no reason, a cop was convicted and sentenced to jail this month.
Miami, FL — In an extremely rare move, a cop was not only convicted of abusing his power while on duty, but he was sentenced to prison this month after savagely attacking an elderly nurse for no reason. The now disgraced officer Lester Bohnenblust, 51, was sentenced on Friday to 45 days in jail for attacking a nurse at Jackson Memorial Hospital while on duty last year.
Bohnenblust was convicted last month on charges of battery on a person over the age of 65 as well as false imprisonment. The incident unfolded in May of 2018 after Bohnenblust's brother called his sibling cop to act as an attack dog for him.
As the Miami Herald reports:
Bohnenblust, 51, was convicted of battery of someone over 65 and false imprisonment by a jury in June for a May 2018 confrontation with JMH nursing supervisor James Nicholson, 66, at the hospital. Surveillance video caught Bohnenblust grabbing Johnson by the shoulders and slamming him to the ground at the hospital's behavioral health unit during a discussion about Bohnenblust's niece.

The officer's niece had been released from the hospital, but returned the next day with her father, who was upset when Nicholson refused to re-admit her. So, her father called Bohnenblust who arrived in uniform and demanded that his niece be re-admitted before walking to the side with Nicholson and grabbing him by the back of his jacket. Bohnenblust at first told Nicholson he was under arrest and called for backup.

Nicholson, a nurse for 29 years who was only two months shy of retirement, was not arrested and Bohnenblust was arrested after the video surfaced.
"I was never, ever expecting to be grabbed from the back and thrown from side to side to the point where I was yelling at the top of my lungs, 'Help. Help,'" Nicholson said to the court. "What happened to me that day should not happen to anybody, especially a health care worker."
Nicholson told reporters that he never received so much as an "I'm sorry" from the former officer. Up until the sentencing, the officer proclaimed his innocence. Afterward, however, he was forced to take responsibility.
"I just want to say that I'm responsible for the incident that took place May 23rd," Bohnenblust said in court.
"I'm glad it's over and I want to thank the state attorneys that tried the case, and I'm relieved," Nicholson said outside the courtroom, adding that he is satisfied with the sentence.
"Officers are not allowed to handle cases involving relatives. He knows that," said Assistant State Attorney Kerrie Crockett. "If he were not in uniform, he would not have been allowed to commit this crime."
While cops getting convicted and sentenced for crimes they commit on duty is certainly rare, Bohnenblust's conviction comes just weeks after officer Jonathon Aledda was convicted for shooting a therapist as he helped a lost autistic man.
As TFTP reported last month, the police shooting of Charles Kinsey on July 18, 2016, outraged the nation, as video footage captured Kinsey lying on his back with hands in the air, begging the cops not to shoot his patient who was holding a toy – but a cop shot him anyway. Now, because American citizens have been conditioned to accept rampant police incompetence and violence, the cop who shot him has been acquitted on two counts attempted manslaughter and convicted on just one count of misdemeanor culpable negligence.
The misdemeanor conviction will allow him to potentially remain a cop.
This was Aledda's second trial in just a few months, the first of which ended in a hung jury. Because he was the first cop to be charged in an on-duty shooting since 1989, his case garnered national attention.
As the Miami Herald reported, the jury's forewoman, Stacy Sarna, said the jury had a spirited debate but concluded that under "our reading of the law" Aledda was not guilty of the attempted manslaughter counts. However, the misdemeanor count was warranted because Aledda didn't "take into account" the safety of the community when he fired his weapon, she said.