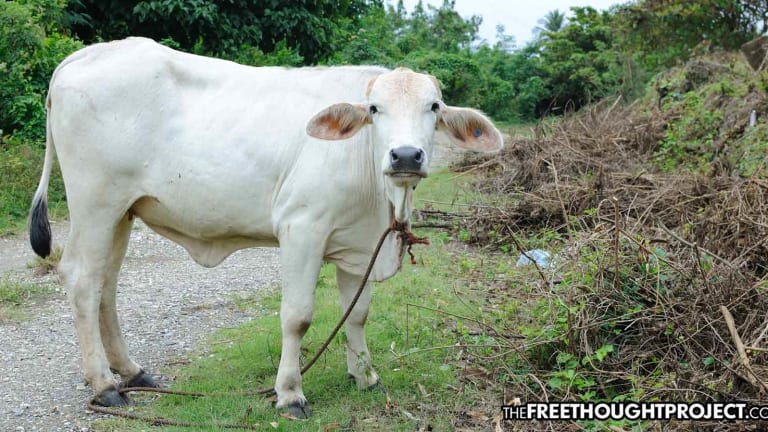 While Trying to Shoot a Cow, Cop Misses and Shoots Fellow Cop Instead
While trying to kill a cow police claimed charged at officers, a Virginia cop shot his partner instead, sending him to the hospital.
Harrisonburg, VA — Despite much of their training consisting of shooting their weapons, police officers often shoot and even kill innocent bystanders while trying to kill something else. This happens so often that even their fellow officers aren't safe from the crossfire. Illustrating this point is the fact that a Harrisonburg officer is currently hospitalized after his fellow officer shot him — while trying to kill a cow.
The incident unfolded on Saturday night when officers responded to reports of a cow that had escaped a livestock auction site. According to police, the cow actually struck an officer and then they killed it. Officers with the Harrisonburg Police Department responded to the complaint just before 10:30 p.m.
A press release from the department said the cow was reported running "at-large" in the northern end of the city. The release stated local ranchers attempted to capture the cow but failed and injured it in the process, so officers were forced to intervene.
According to the Daily News-Record, HPD Lt. Pete Ritchie said the incident is under investigation by the Professional Standards Unit and the Major Crimes Unit, which is standard when an officer discharges a firearm.
Ritchie said the HPD officer was struck once. He could not say how many shots were fired and if the officer was injured due to friendly fire, but he said the incident did take place after HPD officers took over the situation involving the cow.
Despite reports from officers that the cow charged them, Ritchie would not say whether or not the officer shot in response to the charging cow.
Police haven't released many other details in regard to the shooting but noted that other details would be released upon completion of the investigation.
In their press release, authorities are asked that anyone who witnessed the shooting or has other information to contact HPD's Major Crimes Unit at (540) 437-2640. To remain anonymous contact Crime Solvers at (540) 574- 5050 or text "HPD" plus their tip to CRIMES (274637).
As we reported earlier last year, and as this case illustrates, even their fellow officers aren't safe from cops attempting to kill animals. Though the above example involves a cow, most of the time, the animals who find themselves in the gunsights of police are man's best friend.
Officer Lane Butler fought for her life in 2019 in an Indiana hospital because one of her fellow officers pulled his gun on a dog and shot her instead.
According to police, officers were responding to a complaint of criminal mischief on a Tuesday morning in January when the shooting happened. Police were at a woman's apartment to see if a person wanted on a warrant was inside. Police noted that the woman was cooperative and let officers search her home.
Before the officers entered the home, the woman warned them that her large dog was inside and in a cage. Butler and two other officers, LaFrene Butler and Aaron Wright, then entered the home and began searching it. As they searched the home, however, the dog reportedly escaped from the cage and the officers then fled the residence.
As the officers fled, Wright pulled out his pistol in a futile attempt to defend himself from the dog. Instead of shooting the dog, however, the officer shot Butler in the back as they walked out the door. Butler was wearing a bulletproof vest, but the round went in just above the protected area in her upper back.
After he negligently shot his fellow cop in the back, the department announced that Wright will face no discipline. 
While Butler survived this shooting, others haven't been so lucky.
Take for example the tragic case of Maggie Brooks. As TFTP reported at the time, the shooting happened at approximately 5:15 p.m. on August 1, 2019. Police were in the area to conduct a welfare check on a sleeping woman who was reportedly passed out in a grassy area near Canton Drive and North Collins Street. That woman was Brooks. Instead of receiving help, however, the cop feared for his life over her dog, and Brooks received a fatal bullet.
"It's a puppy. This is a grown man afraid of a puppy. Who is the paid professional in this encounter? Every child, every mailman, every runner, jogger, bicyclist has dealt with a dog running at them and no one ends up dead. Why do you go to deadly force immediately?" Brooks' father, Troy Brooks, said.
Last year, a Texas grand jury indicted the police officer after he was seen on video trying to kill a dog and killing an innocent woman instead.