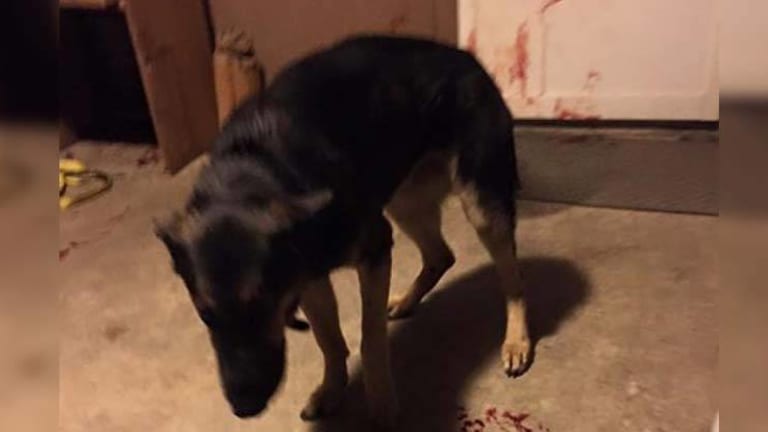 Cop Trespasses, Shoots Family's Dog, Leaves Him to Die -- Children find Dying Dog and a Note
"Who wounds an animal and then leaves him suffering?"
Rogers County, OK - A family came home from church one night recently to find that someone had shot their dog. Prior to finding the wounded animal, they found a letter on the front door from a police officer, in which he admitted to shooting the dog. The officer left the dog there to die without attempting to get it help or tend to its injuries in any way.
Luckily, the dog did manage to survive and was rushed to the animal hospital as soon as the family found him. While he is still alive, he is facing an uphill battle and requires thousands of dollars worth of surgery to even have a chance at survival.
Angie Kaemmerling Laymon is a mother and the owner of the dog, and she says that the police had absolutely no right to harm her animal family member.
"The deputy came on to my property when nobody was home. When my German shepherd did his job and approached the officer barking, the officer shot him," Angie said.
While investigating reports of gunshots in a nearby neighborhood, police were searching the area, and for no clear reason, one of the officers walked down Angie's driveway and onto her property.
According to Angie:
The Deputy drove down my long driveway, pulled in behind my vehicle and exited his patrol car. Based upon what I have been told, and also his body language and facial expression - the Deputy heard and saw Bruno barking a warning. Bruno is very protective of our home and family. The Deputy chose to continue towards the house - my German Shepard barked loudly and ran in a wide arch. Within 4 seconds the Deputy shot my dog.

According to the Deputy and confirmed in a video taped interview - my dog never touched the Deputy. My dog did bark loudly. The Deputy said he felt threatened and he panicked and shot the dog. He didn't pepper spray the dog, he didn't tase the dog......instead, he used lethal force and shot my dog while Bruno was doing his job and protecting our property.
She continued to explain how her children found the note and the wounded dog.
My kids were at church taking part in Wednesday night youth group. A friend brought them home and the first thing they noticed was the note....and then they discovered Bruno covered in blood, laying on the porch crying and bleeding. My husband and I arrived about 15 minutes later and at first sight we thought he had been shot in the gut and needed to be put down. We were heartbroken!!
Angie says that the dog was inside her property line by at least 100 yards in all directions, meaning that the officer would have had to walk far onto her property before being confronted by Bruno, the dog. Furthermore, Angie has a security camera set up on the property which caught the whole incident and showed that the dog did not attack, threaten or even jump at the officer before he was shot.
Bruno laid in the yard bleeding, waiting for the family to get home for three hours.
"Who wounds an animal and then leaves him suffering?" Angie asked.
The family has set up a Go Fund Me page to help with Bruno's medical expenses. Hopefully, he is able to survive and recover as fully as possible. Unfortunately, he will probably suffer to some extent for the rest of his life.

John Vibes is an author and researcher who organizes a number of large events including the Free Your Mind Conference. He also has a publishing company where he offers a censorship free platform for both fiction and non-fiction writers. You can contact him and stay connected to his work at his Facebook page. You can purchase his books, or get your own book published at his website www.JohnVibes.com.