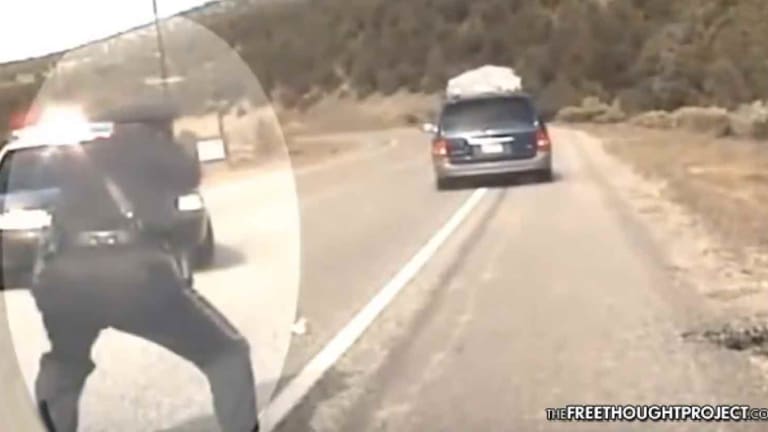 WATCH: Cop Shoots into Minivan Full of Unarmed Children—Court Says It's Justified
A federal court has just handed down an insulting decision by claiming that a cop shooting at a fleeing minivan full of children does not violate their rights.
Taos County, NM — Oriana Farrell, 39, of Memphis, was bringing her children across the country on a family road trip when things took a turn for the worse. A stop for a minor speeding infraction escalated to Farrell driving away from police as one of them fired off three shots at the minivan full of her five children.
Now, after a years-long battle of trying to hold the officer accountable for shooting at a minivan full of children, Farrell has learned just how big a failure the system is. A federal court, this week, has sided with the officer who opened fire on the family, claiming he did not violate their constitutional rights when he endangered all their lives by opening fire on the minivan—over a speeding ticket.
The incident began when Farrell was targeted by police for driving 71mph in a 55mph zone in October 2013. Officer Tony DeTavis was the officer who stopped Farrell that day.
After Farrell had been given a citation, DeTavis gave her the option of paying $126 within 30 days or seeing a judge in Taos within 30 days. But according to the court's decision, Farrell said she was uncertain what to do because she was not sure where her family would be in a month and worried they may not be able to return to Taos, according to the Santa Fe New Mexican.
DeTavis told Farrell to turn off the engine and walked back to his cruiser at which point Farrell made the poor choice of driving away. Realizing she'd just made a poor choice, Farrell quickly pulled back over. That's when DeTavis began to pull her out of her car.
A chaotic scene unfolded as one of Farrell's children got out to help his mother who he saw was being attacked by a police officer. Two more cops showed up as DeTavis smashed out the window of the minivan.
One of those officers who showed up was New Mexico State Police officer Elias Montoya. Montoya, acting with careless disregard for the lives of the innocent children inside the minivan, then began firing as Farrell drove off.
Farrell would later tell police that she feared for her life and the safety of her children, so she fled. She would eventually stop in the parking lot of a Taos hotel where she'd be arrested as her kids were all held at gunpoint.
Farrell would take a plea deal and avoid any jail time for this insane escalation of violence over a speeding ticket.
Common sense prevailed, for a short time, and Montoya was fired from his job as a New Mexico State Trooper. However, he appealed the firing, was even given a settlement and was rehired by the Taos County Sheriff's Department as a deputy 2015.
According to Taos Co, Sheriff Jerry Hogrefe, Montoya was chosen from 17 different applicants to fill just one of two available positions.
Did the other sixteen applicants actually kill children? Is that why a person who shot at children was hired?
Insidiously enough, after the incident got swept under the rug, the State Troopers actually tried to hire Montoya back, but he refused.
Apparently, Sheriff Hogrefe thinks that shooting at a van full of children is just fine and dandy and stated at the time that Montoya has a clean record.
"Nothing from DPS [or] the training academy pertaining to his certification or qualifications…so he has a clean work history," Hogrefe said.
According to KOB, the sheriff defended Montoya's actions in the dash cam video, saying Montoya didn't know there were kids in the van and that he believed the driver had a gun.
"I cannot fault anyone for making a split-second decision," Hogrefe said.
According to Montoya's new boss, shooting innocent until proven guilty people in the back as they flee is justifiable, as it was a "split-second decision."
As if the hiring of an officer who shot at a minivan full of children wasn't bad enough, now the precedent has been set by a federal court to justify similar incidents in the future.
According to the Santa Fe New Mexican, the panel based its decision on its interpretation of the Fourth Amendment, determining that Farrell could not claim she was a victim of an "unreasonable seizure" because she had not been seized but instead fled law enforcement.
"As there was no seizure, there could be no unreasonable seizure, even if Montoya was using deadly force," wrote Judge Harris Hartz, who was appointed by President George W. Bush. Judges Mary Beck Briscoe and Robert Bacharach, appointed by Presidents Bill Clinton and Barack Obama, respectively, joined in the decision.
Below is the raw video of the original incident. Americans can now rest easy knowing that their justice system has condoned the practice of police shooting into a van full of children who pose absolutely no threat.