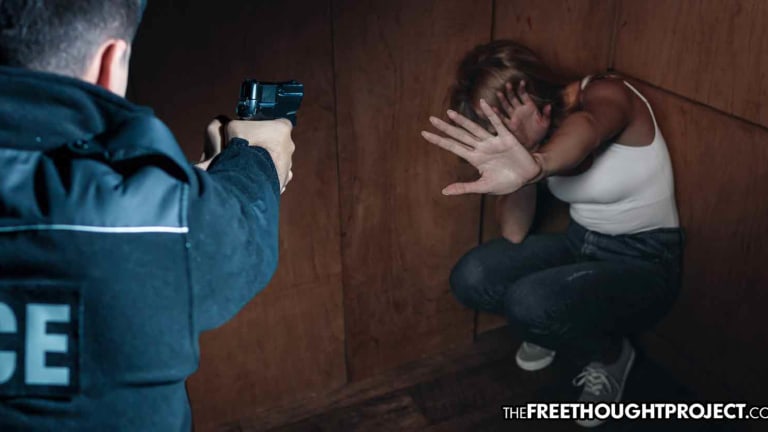 School Cop Shoots Wife During Domestic 'Dispute', Fellow Cops DO NOT Arrest Him
A school cop in Houston shot his wife in the chest during a domestic dispute and he has yet to be arrested or charged.
Houston, TX -- If any man in this country shoots their spouse with a gun during a domestic dispute, that man would be immediately arrested or possibly even killed in the process of taking them into custody. That is, of course, unless the shooter wears a badge.
A Fort Bend ISD police officer is flexing his blue privilege today after dumping a round into his wife's chest. According to police, they were dispatched to a home in the 14000 block of Prosperity Ridge around 4:00 p.m. on Monday over a domestic dispute call.
When officers arrived, they found the cop's wife bleeding out with a bullet hole in her chest.
"We came out and found out that his wife was shot one time in the chest area," said an HPD investigator at the scene. He said the couple has three children, one of whom was inside the home at the time of the shooting, according to ABC 13.
Though police claim the shooting occurred during a domestic dispute, they released no other details other than the following statement, saying that the officer is being questioned, but not arrested.
"Fort Bend ISD has been made aware of an FBISD police officer who was involved in a domestic dispute and taken into custody by the Houston Police Department. The employee is currently on administrative leave, pending an investigation. The HPD investigation is ongoing, and as of this moment, there have been no charges or arrests.
"As normal protocol, the District's Human Resources Department and the Fort Bend ISD Police Department will conduct internal investigations and take all appropriate actions when the investigation is completed. We will continue to work closely with all parties as they continue their investigation."
ABC 13 spoke to neighbors who claimed the couple was normally peaceful and have never experienced anything like this before.
"I was surprised," said neighbor, Malcolm Lacoste.
"They both seemed like peaceful people," Lacoste said. "I mean, I personally never known them to be in any situation that would lead up to this."
This case highlights the extensive privilege granted to police officers even in the most extreme situations. Had this man shot his wife and not had a badge, rest assured things would have played out far different.
Had he been a regular Joe, he could have and likely would have been killed -- after all, police were responding to a shooting and knew the suspect was armed.
TFTP has reported on far less serious domestic disputes in which police have responded with excessive levels of force. Just two weeks ago, we were contacted by friends of a couple who made the poor decision to call the police for a dispute over a parking space.
The couple's verbal dispute over a parking space turned into a nightmare after a call was made to 911 to settle it. When police showed up, the man involved in the dispute, Mark Anthony Smith, 48, was savagely beaten by three deputies who all used their rifles to inflict serious injury. He was then falsely charged and thrown in a cage. Luckily, video was released months later which cleared his name and all the charges were dropped.
Also, what this case illustrates is that police officers in the United States have an exceedingly higher rate of domestic violence than any other occupation. The average rate of domestic violence among most families in America is around 10%. As the National Center for Women and Policing points out, two studies have found thatat least 40% of police officer families experience domestic violence. That is a four-fold increase.
A simple Google search will illustrate how police officers are arrested for domestic violence on a near-weekly basis. It is also estimated that the incident rate for domestic violence is likely far higher than reported as many women stay silent out of fear of retaliation and the fact that their abuser's brothers in blue will cover for them.
As TFTP has previously noted, a report by a government-appointed watchdog group shows that most of the time, abusive officers who commit these crimes, do so with seeming impunity. The above case is a perfect example of why that is so.
If you or someone you know is a victim of domestic violence, you can seek help at the National Domestic Violence Hotline website or by calling 1-800-799-7233.