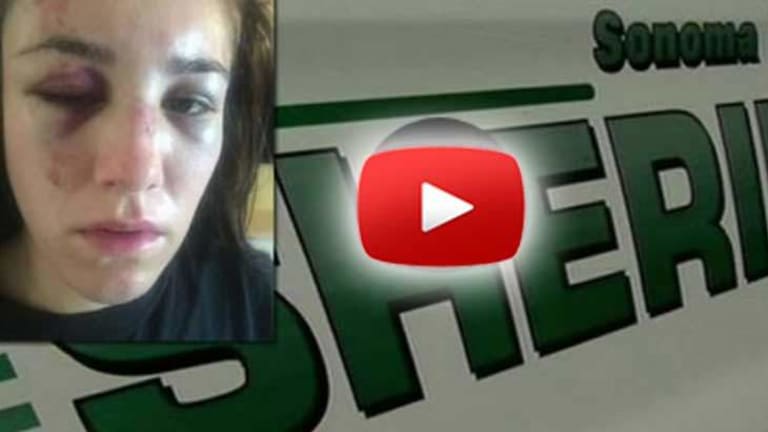 Cop Grinds Teen Girl's Face into the Ground for Telling Him to Stop Assaulting Her Sister
After celebrating her high school graduation, a teen girl was brutally attacked by a police officer.
Santa Rosa, CA - 18-year-old Gabbi Lemos was brutally assaulted by a police officer after celebrating her graduation from high school at her home. Hours after the party, Deputy Marcus Holton and six other officers with the Sonoma County Sheriff's Department arrived uninvited at the home and began aggressively interrogating people who were outside.
Before approaching the house, Holton noticed that Gabbi's sister Karli was sitting in a parked vehicle outside with her boyfriend and he began to question them. At one point during the interrogation, Holton opened Karli's door and attempted to physically rip her out of the vehicle. Gabbi witnessed what was occurring outside of her home and shouted at the officer to leave her sister alone, and demanded that a female officer be called to the scene.
"It was scary seeing all his anger toward her in that moment. That's when I decided to say something," Gabbi said.
According to a recent lawsuit filed by the Lemos family, Gabbi "complained to the deputy that he had no right to pull her sister out of the vehicle and he needed to ask her first."
Holten then violently pushed Gabbi, and while backing away she yelled, "You can't touch me! We have rights!"
"I told him what he was doing wasn't OK, that he couldn't touch us," Gabbi later told reporters.
Gabbi's mother Michelle Lemos then came out and told her to go in the house. Next, according to the lawsuit, Holten "bolted around the family and without a word caught Gabbi from behind the neck in a chokehold, lifting her small body off the ground several feet before throwing her face-first onto the driveway."
"Deputy Holton put his knee in the back of Gabbi's head and began grinding her face into the gravel, despite her screams and her family's pleas to stop," the lawsuit said.
"All of a sudden, I felt an arm and my neck and that's when he lifted me up off the ground and threw me face first onto the ground just, like right here," Gabby said.
Gabbi is roughly 5 feet tall and 115 pounds and her family says that the officer towered over her and was much bigger.
"He was just angry from the get go, from the second he got out of the car," Michelle Lemos, told reporters.
To make matters worse, after Gabbi was taken to the hospital she was arrested for battery on an officer and resisting arrest.
When asked by ABC News if she resisted, Gabbi said, "There was no way I could have. He was on top of me with my hands behind my back."
The Sonoma County Sheriff's Department said that the officer's body camera shows that he "behaved with restraint and professionalism during a highly volatile situation."
However, that same body camera footage ended up proving that Gabbi was not resisting, nor did she attack Holten in any way, so the charges against her were quickly dropped.
The day after the Lemos family filed their lawsuit, the District Attorney responded by filing new charges against Gabbi Lemos, for "obstructing, restricting or delaying a police officer."
The family's lawyer, Izaak Schwaiger said that this is an obvious move to discredit Gabbi so she is unable to file her lawsuit against the department.
"It's ridiculous, unethical and totally expected. It's another example of flying to the aid of the sheriff's office when it's in trouble. The D.A. has their back. If you are convicted of resisting arrest you can't sue. It's an unethical and vindictive process,"Schwaiger said.
Lemos is facing a year in prison if she is convicted of this new retaliatory charge.
Holten shot and killed a man in 2011 and was cleared of any criminal wrongdoing because he claimed that the victim was reaching for his waistband.
John Vibes is an author and researcher who organizes a number of large events including the Free Your Mind Conference. He also has a publishing company where he offers a censorship free platform for both fiction and non-fiction writers. You can contact him and stay connected to his work at his Facebook page. You can purchase his books, or get your own book published at his website www.JohnVibes.com.