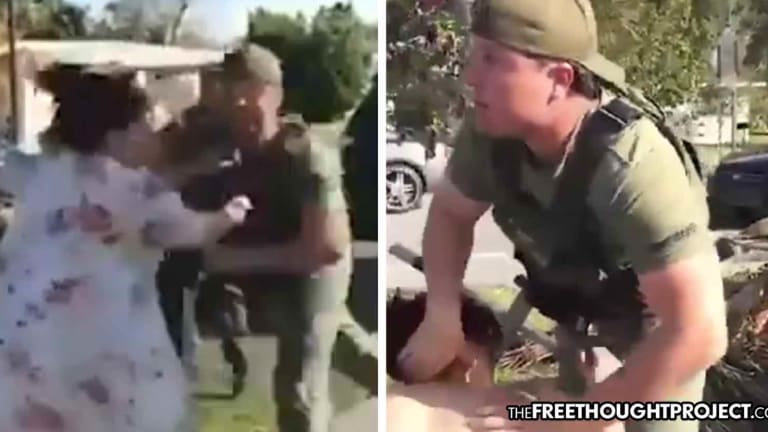 WATCH: Cop Snaps, Pummels Woman Over An Imaginary Line He Had on the Ground
After her husband pointed at an imaginary line on the ground, a massive deputy lost it and proceeded to repeatedly punch a woman in the face.
Fort Lauderdale, FL — A traffic citation for riding an ATV on a road this week ended with a woman getting pummeled by a Broward Sheriff's Office deputy and three people arrested.
Duewayne Dixon, Francheska Turull, and her husband Jessie Hernandez were all arrested on Monday during a traffic stop for riding an ATV illegally.
The incident began as police pulled over Dixon for riding his ATV on a public roadway. As part of an event to prevent violence called "Wheels Up, Guns Down," dozens of residents ride their ATVs every year to encourage peace throughout the town. Dixon was part of this ride.
Despite the good intentions behind the event, the sheriff's department warned ATV drivers that they would be ticketed and their ATVs seized if they were seen riding on the road. On Monday, they seized over 30 ATVs. The video below begins as police are seizing Dixon's ATV and issuing him a citation for illegal operation.
As police were ticketing Dixon, Turull and Hernandez were questioning why they had to seize his 4-wheeler. As they verbally protested, a massive deputy became agitated and told them not to cross an imaginary line on the sidewalk. When Hernandez questioned his authority, all hell broke loose.
"I'm telling you, do not come any closer," a deputy is heard telling Hernandez.
"On the sidewalk? Which one? I want to know which line on the sidewalk I can't cross," said Hernandez as he walked closer to the deputy.
"This line right here. If you cross it, you're going to jail," said the deputy as he pointed to an arbitrary line on the ground.
"This one right here?" said Hernandez as he touched the line with his right foot and bent down to point at it.
Pointing at his imaginary line then caused the deputy to snap and he lunges at Hernandez. As he tries to attack the man for daring to point at a line on the sidewalk, the deputy slips which only seems to enrage him further. So he begins blindly punching at Hernandez.
Seeing her husband getting attacked for no reason, Turull then stepped in to help him.
As Turull attempted to prevent the assault on her husband, the raging deputy then targeted her. The woman-beating cop then proceeds to punch Turull in the face multiple times causing her to fall on the ground. Even after she is on the ground and clearly no threat, the deputy—who is twice this woman's size—continues to pummel her.
"Why are you hitting her?" the woman filming screams as she watched this cop smash a woman's face in.
Other deputies then step in and all three family members are arrested.
According to the arrest report, the deputy who was recorded hitting Turull admitted to striking her. However, he claimed she struck him first several times while he was trying to take her into custody. Although she has her hands up while he is attacking her, no punches are visible on the video.
According to WSVN, Hernandez and Turull were charged with battery on a law enforcement officer and resisting an officer with violence. Turull is facing an additional charge of assault on a law enforcement officer. Dixon was charged with resisting an officer with violence and illegally operating an off-road vehicle.
"They shouldn't have gone to jail. For what reason?" a neighbor told WSVN. "Because they were coming down here to see what was going on with their family member, and that escalated to a whole different thing. Now, three people went to jail for no reason."
We agree. While Hernandez certainly shouldn't have had such a bad attitude with police, he never once presented a threat to officer safety and it was the massive deputy who initiated the violence. In the land of the free, however, being a smart ass is apparently punishable by immediate fists to the face and kidnapping.