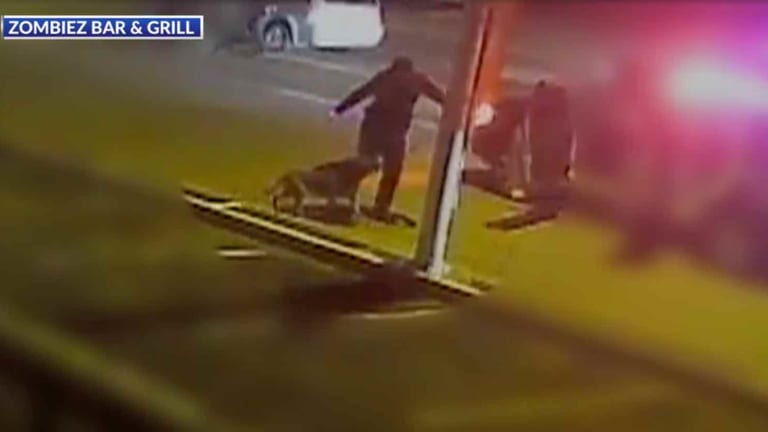 Cop Still on the Job Despite Video of Him Kicking His Own K9 in the Face
Surveillance footage from a local bar caught a Texas cop kicking his K9 partner in the face. Despite the video, the cop is still on full duty.
Amarillo, TX — Over the years, the Free Thought Project has reported on numerous officers who have shown zero restraint when killing harmless animals who mean them no harm. In some extreme cases, these officers are so abusive that they have no problem hurting their own K9 partners. As the following case out of Amarillo illustrates, cops can be seen savagely abusing their own police dog and not be fired.
A video taken from a local bar on December 30, 2019, shows a K9 officer kicking his dog in the face. According to the Amarillo police department, the officer deployed his K9 to assist officers in apprehending a suspect who they say stole a vehicle that a driver left running.
As the video shows, the dog appears to be excited after just getting to do his job. He's not biting anyone though, and does not appear aggressive at all. Nevertheless, the K9 officer dragged the dog away from fellow cops where they couldn't see him. He then yanked the leash toward him and then walloped the dog in his face with his boot.
After the video was posted to social media, it sparked backlash for the department who was forced to release a statement claiming they have opened an investigation into the incident.
They said in a statement:
There is an Internal Affairs investigation to determine if the officer violated any department policies or procedures. The officer's chain of command will determine disciplinary actions if there are sustained allegations of policy violations. Under Texas Penal Code Section 38.151, a person commits an offense if the person recklessly, taunts, torments, or strikes a police service animal. This offense is a Class C misdemeanor. A Criminal Investigation Division detective will review this incident and determine if we will refer a case to the Municipal Court for prosecution.
Despite the disturbing video and the subsequent criminal investigation, the officer was not fired, nor was he even placed on leave. He is still on regular duty. As FOX 6 reports:
APD said K9s live with their handlers and their families. The department said they have removed the K9 from the officer's home and have kenneled him with the K9 Unit supervisor while the investigations are ongoing.

Police said the dog does not appear to have sustained any injuries from the incident, but he is scheduled to be checked by a veterinarian to be sure.

The officer is expected to continue reporting for duty but without a K-9 partner while the investigations continue.
Below is the video.
As stated above, this sort of thing happens all too often. As TFTP reported in August, a cop — allegedly on a steroid rage — was allowed to quietly resign after he broke his own K9 partner's leg.
An investigation into Anderson Sheriff Deputy Jacob Saxon revealed that he "slammed K9 Magnum to the ground multiple times" and there is a possibility that "illegal use of steroids played a part."
However, thanks to a corrupt system that protects violent cops — even when they hurt their own — Saxon was allowed to quietly resign and the "investigation" was closed.
Saxon's abuse doled out on his K9 partner 'Magnum' was so violent that is shattered the dog's leg. When it originally happened, the Anderson County Sheriff's Office claimed Magnum bit the deputy and the deputy used a "corrective measure not in line with department policy."
However, adding suspicion to Saxon's claims of the dog biting him was the fact that he resigned two days after he broke his dog's leg. If he had nothing to hide, certainly there is no reason to quit your job. But he did.
What's more, during their investigation, the department found "a concern that the illegal use of steroids played a part in the conduct of Deputy Jacob Saxon and the injury of K9 Magnum," according to documents obtained under a FOIA request by WYFF.
However, despite being under investigation for multiple felonies, Saxon refused to take a drug test for steroids and the department was "unable to obtain concrete evidence to confirm or not confirm the allegation."
Despite the severe injuries he caused his dog, the allegations of steroid use and refusal to submit to a test to prove them wrong, the department closed the investigation and Saxon will not have to worry about the charges.