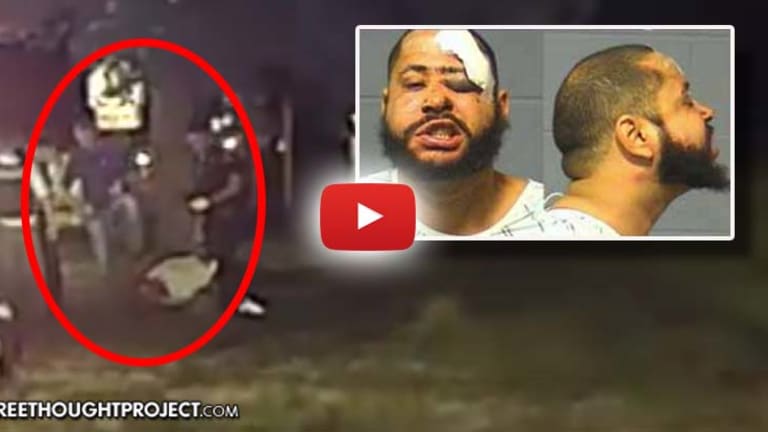 Disturbing Video Shows a Cop Stomp Handcuffed Man's Head So Hard He Bounces Off the Ground
Newly released dash cam footage shows a cop stomp a handcuffed suspect's head onto the ground so hard, it bounces.
Hartford, CT -- Concerns over excessive force only intensified after Hartford, Connecticut, police released dash camera footage of a controversial arrest — showing an officer in street clothes walk up to a handcuffed suspect sitting on the curb, and kick his head into the ground — for no apparent reason.
"That there is obviously of serious concern to the police department and now to the state's attorney's office," Hartford Deputy Police Chief Brian Foley asserted, according toWFSB.
Ricardo Perez' mugshot — eyes bruised and one swollen shut, a large bandage on his forehead, and his right jaw alarmingly distended — was sufficiently disturbing to spark an immediate internal investigation, even before the department viewed the video.
"The following morning, based on the appearance solely on the mugshot because we weren't aware of the video at that point, we started an immediate internal investigation," Foley stated.
On June 4, officers pursued Ricardo Perez and Emilio Diaz through the streets of Hartford and West Hartford in a vehicle police suspected to be stolen. When the chase ended, officers arrested the pair — but the details of those arrests are now the subject of multiple investigations.
According to reports, officers punched, struck, and used their Tasers against Perez and Diaz — both men's mugshots show facial injuries.
While Hartford police initially claimed Perez' dramatic head injuries occurred when the vehicle's airbags deployed, the new dash camera footage shows a cop in street clothes — later identified as Sgt. Sean Spell, a 20-year veteran of the force who has since retired — walking up to the handcuffed man sitting calmly on the curb and deliberately, stomping his head onto the pavement with enough force, it bounces.
Video proves Perez had done nothing to warrant such a vicious attack — regardless of whether the officers believed the men had stolen the vehicle. Spell's ferocious kick to the head — and reports the officers punched both suspects — appear to be little more than cops resentful the two men tried to flee.
In addition to the Hartford Police internal review of possible "excessive force," the state attorney's office has also initiated a separate investigation.
Hartford police initially attempted to allay the public's concerns over the excessively violent arrest by reiterating Perez' criminal record.
"This is a man [who 's] been arrested 18 times in the city of Hartford," Foley said in June, reportedWFSB, "he's a convicted felon, he's run from the cops at least four times before this, he has multiple reckless driving charge, multiple interfering with police charges, he rammed several cruisers and actually hit one of our detectives with his car as he was pulling away and getting away."
It is imperative to note, there have been no reports Perez had a history with firearms or that any gun was recovered at the scene. Simply put, a man in hand cuffs sitting on the side of the road, acting in compliance with police at that moment, did not need to be subdued or otherwise further physically engaged by officers — and nothing can justify Spell's rogue, tough-guy stomp.
However, the now-retired cop toldWNPR, "There is a reason for the use of force" — although he declined to elaborate on what that reason might be, or to comment further except to reiterate he's cooperating with the investigations.
Hartford police released the long-awaited dash cam footage yesterday — which, despite the months of delay — represents an effort toward transparency.
"[W]e're not going to wait until the end of the investigation to release the facts to the public. We've seen nationally this has caused great distrust in the community," Foley was quoted byWFSB. "We were told this morning we could release the information. It was important for us to get it out to you today."
Foley acknowledged to WNPR the footage is indeed 'difficult to watch,' and explained he has had problems explaining why Spell was allowed to retire.
"I know that the optics of it are difficult and it seems that way. That would be for him to answer. The question we get is, how do you allow someone to retire? The answer is there are no mechanisms in place for us — no state law, no ordinance, nothing in our HR rules, nothing in our collective bargaining agreement — that would prevent an employee from retiring when involved in this type of an investigation."
Retiring or resigning following accusations of excessive force is how rogue officers are able to move from one department to the next without facing sufficient, if any, disciplinary measures. The phenomenon has become so prevalent, it's earned a moniker: "Gypsy cops."
Several state officials and civil rights groups are additionally concerned Spell will ultimately be able to retain his pension — while others who previously viewed the video believe the former officer's arrest is imminent.
"On its face, the video raises very serious concerns, and I commend the Hartford Police Department for making the video public as soon as they were permitted to do so by the State's Attorney," said Hartford Mayor Luke Bronin in a statement cited by WNPR. "As a city, we are committed to transparency and openness, we have an outstanding and dedicated police force, and we expect our officers to uphold the highest standards – and to be held accountable when they fall short."
In addition to Spell's savage pounding of Perez' head, footage seems to show officers beating one or both men several times with their batons.
State Rep. Angel Arce toldWNPR he and other legislators viewed the footage several weeks ago, and were "disturbed" by what they saw. But, he explained, the footage makes clear the attack was unprovoked and feels Spell will be charged.
"I truly believe that I'm going to see an arrest being made. I mean, it's all on tape," he told the outlet. "They've got evidence enough to do it to make an arrest and press charges on this officer."
The full footage of released video can be seen below:
">