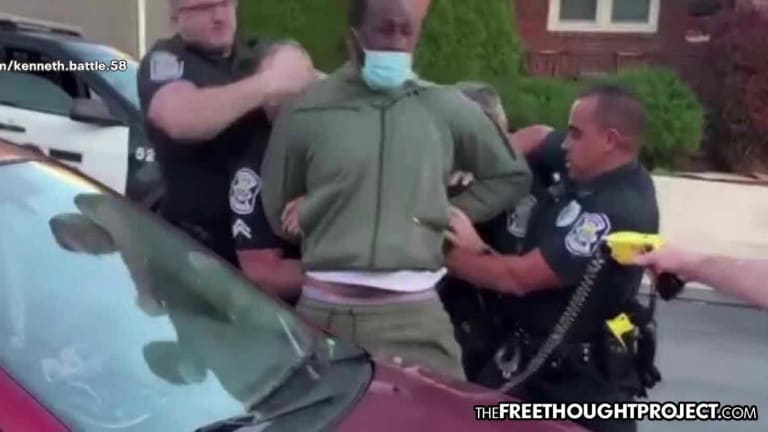 Video Shows Multiple Cops Hold Man's Arms As One Cop Repeatedly Sucker Punches Him
A police officer couldn't control his rage and came from behind his fellow officers as they restrained a man and sucker punched him multiple times.
Norristown, PA — Malcolm Coleman, 26, allegedly committed aggravated assault with a firearm and then resisted officers when they attempted to place him under arrest for it. Everyone will agree that Coleman should be held accountable for his alleged crimes, however, because a cop couldn't control himself, a man who many will say should be in prison, will likely get a hefty check from the Pennsylvania taxpayers too.
The incident unfolded on Friday when police were looking for Coleman on charges of aggravated assault with a firearm. According to police, when they attempted to take Coleman into custody, he resisted with violence. That violent resistance is not seen on the brief video below, however.
According to a statement from Norristown Police Chief Mark E. Talbot, the incident unfolded on Friday, November 6th at 430 p.m. Norristown Police received information that Malcolm Coleman, was in the 200 block of Franklin Street. Coleman was reported to be wanted for an aggravated assault with a firearm that occurred in Philadelphia and for a probation violation in Montgomery County. According to Philadelphia Police officials, Coleman was considered to be armed and dangerous.
According to the statement, Coleman, who stands 6'7" tall and weighs 235 pounds, was located by officers standing near his car in front of a residence on Franklin Street. The first officer on scene, Sean Gallagher, approached Coleman and engaged him in conversation in order to give time for other officers to arrive. After a short time, more officers responded and then attempted to safely take Coleman into custody.
At that point, according to police, Gallagher told Coleman that he was being arrested and then tried to grab Coleman's arm. Gallagher reported that Coleman immediately resisted being taken into custody while quickly backing away and reaching for his waistband. Coleman repeatedly told officers that he's 'not going back to jail' and as he tried to escape officers tasered him which caused Coleman to fall to the ground.
The statement continues:
"Mr. Coleman quickly regained his footing and continued to resist being taken into custody. Bystander video depicts a small part of the encounter. The video shows several officers surrounding Mr. Coleman while attempting to place him into handcuffs. Mr. Coleman can be seen pulling away from officers and refusing to allow himself to be handcuffed.

"While Mr. Coleman is still resisting officers attempts to place him into handcuffs, Officer Gallagher can be seen striking Mr. Coleman twice in the head. Mr. Coleman was eventually taken into custody and found to be in possession of cocaine. Officers transported Mr. Coleman to municipal hall and immediately called for medics to treat Mr. Coleman for a laceration to his head.
The department then gave the canned statement all departments give when their officers are caught on video violating the rights of citizens.
"The Norristown Police Department holds its officers to the highest standards of conduct and will take all appropriate steps to ensure that our standards are upheld. All use of force by our officers is thoroughly investigated. Along with bystander video, police body camera footage, witness interviews, and police reports will also be reviewed. Officer Gallagher has been placed on administrative duty pending further investigation."
Despite the fact that police claimed Coleman "reached for his waistband," the man was unarmed. What's more, when the punches were delivered, Coleman's arms were restrained behind his back, giving no reason for Gallagher to punch the man.
As the video shows, Coleman is surrounded by police, has his hands behind his back and is posing very little, if any resistance. However, when Gallagher sneaks around to dole out his street justice, he endangered everyone involved by forcing Coleman to begin struggling again to avoid being sucker punched.
What's more, as stated above, because Gallagher couldn't resist sucker punching a restrained man, the taxpayers of Norristown will now be the ones paying for it.