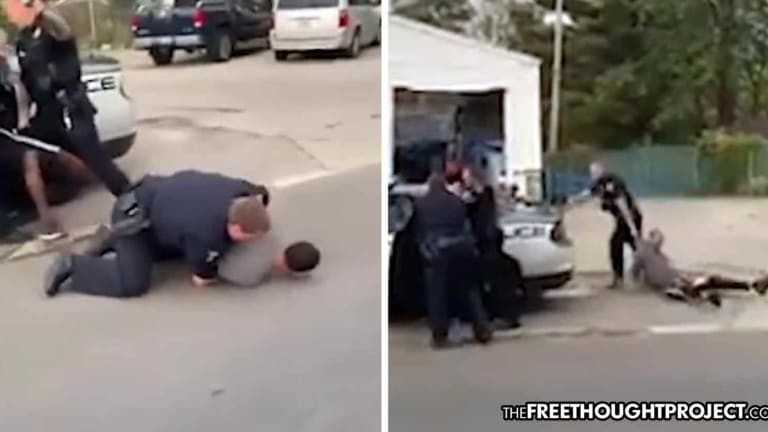 WATCH: Handcuffed Teen Dragged Around by Hoodie As Cops Try to Steal Kid's Phone for Recording
A cop has been suspended for 60 days after dragging a handcuffed teen around like an animal while fellow cops tried to confiscate the video.
Mansfield, OH — An Ohio cop will start a 60 day unpaid suspension today in an act of swift but limited accountability for an incident that unfolded last week. Mansfield police officer Jordan Moore was seen on video dragging a handcuffed teen around by his hoodie for absolutely no other reason than to dole out punishment.
While many claim Moore should be facing criminal charges, and he should, the speed at which he was issued a suspension is encouraging. All too often, we see similar incidents in which cops sit on paid leave for months and even years as their excessive force is "investigated."
On Monday, Mansfield Police Chief Keith Porch said Moore was found to have violated departmental policy relating to treatment of people while in custody and unsatisfactory performance after an internal review of the incident.
Whether or not a criminal investigation is taking place is unclear.
The incident unfolded on Oct. 12 during the arrest of Dwaine Chapman on charges of menacing, resisting arrest and intoxication. Chapman had allegedly threatened to have his dog attack his roommate while drinking.
As police were taking Chapman into custody, a struggle unfolded and the teen, Chapman's son, walked up to the cruiser but never touched or otherwise interfered with the arrest.
When the 17-year-old teen crossed the street to check on his father, his friend said he pulled out his phone and began recording.
Without warning officer Moore tackled the teen to the ground.
"He went over there originally to go check on him and then the police officer ran up behind him and tackled him," said the teen.
The boy repeatedly tells Moore that he is not resisting, but the officer couldn't have cared less. When Moore notices the other teen filming across the street, he grabs the 17-year-old by the hood on his sweatshirt and drags him behind the police cruiser.
"When they saw me recording, they tried to drag him behind the car so I wouldn't get it," said the teen.
Showing just how interested they were in covering up this act of brutality, after the handcuffed boy was assaulted, another officer is seen on video telling the teen who was recording the incident he was going to take his phone.
Luckily for the family, the teen refused and put the video on Facebook thus leading to the officer's suspension.
"Throwing him to the ground on his head and on his shoulder and then tossing him around like a rag doll while he's already cuffed and it's on the tape, and dragging him by the collar of his shirt to the point he's being choked? I feel like that's excessive force and he's a minor," said Krystal McKinney, the boy's mother, last week after the arrest.
And now, the police chief agrees.
"It was found that Officer Moore grabbed the hooded sweatshirt of a juvenile detainee without warning or instruction to comply with orders and dragged him several feet, while he was still handcuffed and in a seated position to the rear passenger side of a patrol car, in an attempt to assist the other officers with the adult arrestee," Porch wrote in the release.
"Officer Moore's response was found to be improper which resulted in the misapplication of force used on a person that was handcuffed, in custody and offering no resistance," Porch continued.
Despite the other officers refusing to step in and stop Moore from abusing a handcuffed teen, they will face no discipline.
"Officer (Nicholas) Stevens and Officer (Thayne) Telquist face no disciplinary action. As the criminal charges in this case are still pending, I cannot comment further until the cases are resolved in the appropriate court," Porch said.
According to the Mansfield News Journal, Moore has faced at least three misconduct complaints in about two years on the force. One of the complaints includes beating another 17-year-old black teenager,
Moore's 60-working day suspension will last from Oct. 20, 2020 until January 11, 2021 and will also include additional training.