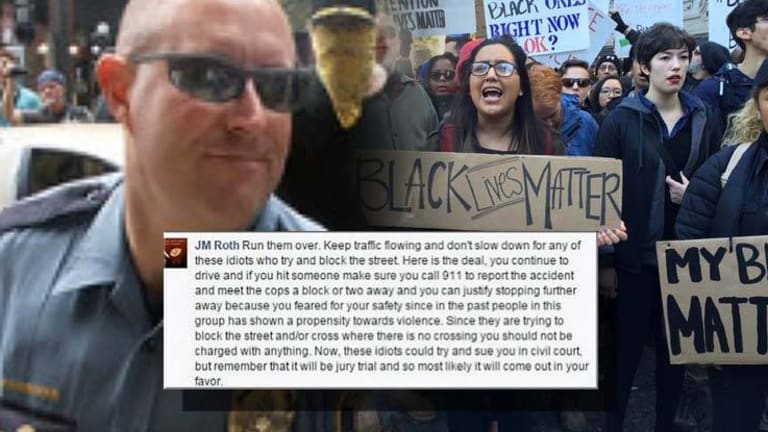 Cop Caught Instructing Citizens How to "Fear for their Lives" and Kill Protesters with Impunity
A Minneapolis cop has been suspended after allegedly attempting to incite mass murder on Facebook.
St. Paul, MN — Attempting to incite mass murder against people exercising their First Amendment rights on Martin Luther King Day, a police sergeant has recently been accused of using Facebook to instruct drivers how to kill protestors with impunity. After an activist connected the hate-mongering Facebook profile to a police sergeant, the Facebook account was immediately shut down, and the officer has been placed on administrative leave.
While commenting on an article about demonstrations scheduled to take place on MLK Day, Facebook user JM Roth instructed drivers to use their vehicles as weapons and kill any protesters blocking the streets. Instead of neglecting to report their crimes, JM Roth encouraged drivers to inform the police of their bloody deeds because the justice system would not convict them anyway.
"Run them over. Keep traffic flowing and don't slow down for any of these idiots who try and block the street. Here is the deal, you continue to drive and if you hit someone make sure you call 911 to report the accident and meet the cops a block or two away and you can justify stopping further away because you feared for your safety since in the past people in this group has shown a propensity towards violence. Since they are trying to block the street and/or cross where there is no crossing you should not be charged with anything. Now, these idiots could try and sue you in civil court, but remember that it will be jury trial and so most likely it will come out in your favor."
After reading the comment on Saturday, cop-watching activist Andrew Henderson filed a formal complaint with the St. Paul Police Department (SPPD) on the following day. Henderson brought along with him a disc containing evidence and several screenshots allegedly proving that the JM Roth account belonged to St. Paul Police Sgt. Jeffrey M. Rothecker. Included on the disc were Rothecker's marriage license and screenshots of his wife's Facebook page naming JM Roth as her husband. Another screen shot from September 2015 apparently revealed JM Roth confirming his identity as Rothecker.
"I was just flabbergasted," Henderson told the Minneapolis Star Tribune. "A law enforcement officer is supposed to serve and protect the people, not incite violence against them."
Citing state law, St. Paul police claim they cannot comment on an ongoing investigation. Although charges have not been filed against Rothecker, the police have confirmed that the police sergeant has been suspended, and the JM Roth Facebook account has been taken down following Henderson's complaint. On Monday, St. Paul Mayor Chris Coleman released a statement assuring the public that the officer is under investigation.
"I am outraged and disgusted by the post and have directed the SPPD to investigate. That investigation is currently underway," Mayor Coleman said in a statement on Monday. "There is no room in the Saint Paul Police Department for employees who threaten members of the public. If the allegation is true, we will take the strongest possible action allowed under law."
The SPPD also released a statement on Monday saying, "The statement is offensive, disappointing, concerning and does not reflect in any way — or align with — the views, values and practices of the St. Paul Police Department."
Black Lives Matter groups scheduled two peaceful rallies on MLK Day, calling for justice for Marcus Golden and Jamar Clark. The BLM protestors requested Golden's case to be reopened after a grand jury declined to file charges against the two St. Paul officers responsible for killing Golden in January 2015.
In Clark's case, the BLM protestors requested a special prosecutor to be called instead of a grand jury. According to several witnesses, Clark was handcuffed and lying on the ground when a Minneapolis police officer shot him to death.