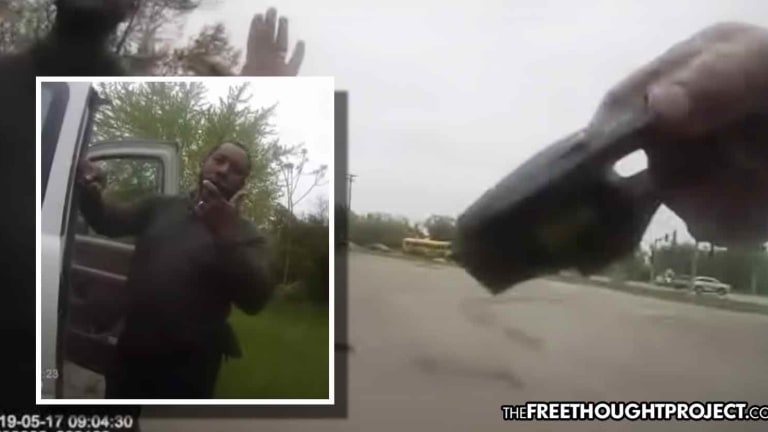 WATCH: Cop Tries to Force Man to Lick What He Thinks is Urine, Tasers Him After He Refuses
An innocent man was tasered and mauled by a police K-9 after he refused a cop's unlawful order to lick liquid off the ground.
Lynwood, IL — Infuriating body camera footage was released this week as part of a lawsuit against the Lynwood police department. In one of the most unusually cruel instances we've ever reported on here at TFTP, a cop attempted to force a man ingest, what he thought was urine.
The incident happened a year ago on May 17, 2019, when Lynwood Officer Luke Tambrini approached Marcus Mosely — a retired federal police officer — who was pulled over on the side of the road. Tambrini accused Mosely of urinating in public.
Instead of smelling it or attempting any type of investigation, the officer proceeded to make incredibly dehumanizing demands.
"Go ahead and touch that with your finger, that little puddle of water," officer Tambrini said.
Mosley then puts his finger in one of the many puddles of liquid surrounding the truck.
"Now lick it," the officer said. "See, that's piss. Because if it's water, you wouldn't be doing that."
Mosely refuses to put his finger in his mouth, telling the officer that it's not because it's urine, but that it's just gross.
"Whose going to lick dirt? You think because I'm black I'm going to sit here and touch some dirt and lick it?"
Mosely tries explaining to the officer that he had pulled over to move some of his tools in the back of his truck and tells Tambrini that he wants his supervisor to come out after he refuses to believe him.
After failing at his attempt to force a man to lick what he thought was urine, Tambrini then tells Mosely that it is illegal to park on this gravel drive. Mosley questions this and says that he sees no sign that says he cannot be there.
Tambrini then claims that there is a sign but it "got knocked over, but there's one over there."
"Okay, then I will move my truck," Mosely tells the cop. But officer Tambrini was hell bent on escalating.
As Mosely tells Tambrini he is going to wait for his supervisor, Tambrini quickly becomes impatient and pulls out his taser. Mosley lifts his hands up over his head and asks the officer not to taser him and repeats that he just wants to wait for a supervisor. Unfortunately for Mosely, this cop was waiting for no one and he tasers him.
"I'm going to stand here and wait for your sergeant to come," Mosley said over and over on the video as he is being tased.
The officer then deploys his K-9 on Mosley and forces it to maul Mosley's arm.
"Please don't have that dog bite me," Mosely said. "Will you stop your dog from biting me?" Mosely says over and over during the arrest.
Mosley was so badly injured during the arrest that instead of going to jail, he was brought to the hospital. All of this escalation; the taser, the dog, and the ensuant arrest stemmed from the accusation by Tambrini that Mosely had been discreetly relieving himself while behind the cover of his truck and two doors — harming no one. Ridiculous indeed.
Mosely claims in his lawsuit that he was stopped because of the color of his skin and he expects his case to go to trial to prove it.
"Mosley demands judgment against Defendant Luke Tambrini and Defendant Karlson for compensatory damages, punitive damages, costs, and such other and additional relief that this Court deems equitable and just," the lawsuit states.
Because Mosely had his legal and licensed firearm in his truck during the arrest, Tambrini charged him with aggravated unlawful use of weapon — despite never reaching for it or otherwise moving in the direction of it — as well as resisting a peace officer and obstruction of a peace officer.
Apparently there was not enough evidence to charge him with public urination — which was the entire reason for Tambrini's violent assault.
Mosely's charges are still pending in Cook County Circuit Court.
After watching the video below, it becomes quite clear why there is such a divide in this country between the police and the policed.