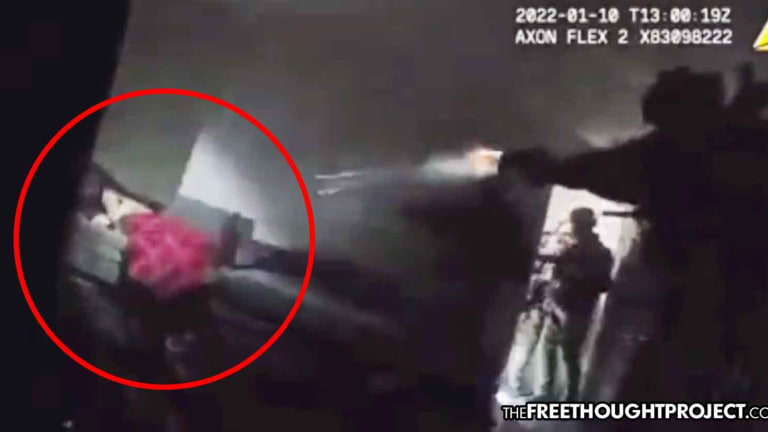 Cop Turns Activist After Her Innocent Teen Son was Executed While Sleeping During Raid on Wrong Person
A mom has gone from being a cop to being an activist after police executed her innocent son during a no-knock raid on the wrong person.
Las Vegas, NV — Isaiah Williams, 19, had big plans. He had just graduated high school and was planning a life of government service, just like his mother. Unfortunately, however, that life will never come as it was prematurely ended by cops serving a no-knock warrant in the middle of the night. Williams was not the target of the warrant, yet he was executed on a sofa where he slept.
After police executed Williams in his own home, a report from a local CBS affiliate read as follows, "Police said the shooter, 19-year-old Isaiah Tyree Williams, opened fire when officers broke a window and entered the apartment near Nellis Boulevard and Vegas Valley Drive at about 5 a.m. on Monday."
But the question is this: does defending your home from armed intruders make you a "shooter"?
Williams mother, Latia Alexander says "no," along with many others who have since taken to protesting Williams' execution.
"It's been really hard, some days I have really really bad days and some days I have okay days, a lot of breaking down and crying," Alexander told KVVU.
"Isaiah was a very loving boy... He loved to cook... He loved to build things, he just graduated from high school," Alexander added.
Had Williams been accused or suspected of a crime, perhaps police may have been more justified in their actions. However, he was not. Williams was not the person police were looking for and thanks to their brutal incompetence, two cops are recovering from bullet wounds and Alexander lost her only child.
On that early morning raid, police were looking for 23-year-old Wattsel Rembert who was not staying at that apartment. Rembert is accused of participating in a shooting at a casino back in November. Instead of simply arresting Rembert in a normal manner, police chose to dangerously show up in the middle of the night, bash in doors, throw flash bang grenades, and put everyone involved in danger.
During the raid, Williams, who was asleep on the sofa when armed intruders broke into his home, began firing after a flashbang grenade smashed through his window. Police answered back with their AR-15s and pistols, firing 23 shots into the teen's body — executing him on the sofa. He was still under the blanket when he died.
Two of the armed intruders, Officer Kerry Kubla, 50, and Officer Brice Clements, 36 were injured in the shooting.
Alexander told KVVU that body camera footage shows the flashbang go off right near his head and is disoriented her son who woke up in a state of shock and confusion.
"Isaiah definitely did not intentionally start shooting at police... He was definitely woken up out of sleep... He had no clue what was going on, he's 19. He doesn't know anything about flashbangs or raids or anything like that," Alexander contended.
Alexander was a police officer with the City of East Cleveland but her son's death has turned her into an activist. Over the weekend, Alexander and others held a protest in downtown Las Vegas to seek justice for Williams' death.
"We don't believe that he could hear see or had any orientation as to what was happening," explained Tenisha Freedom, one of the organizers of the protest.
As you watch the video below, it is clear that police did yell, "police department, search warrant." But they did so as they bashed in windows, set off a flash bang grenade and used a battering ram on the door.
The idea that a person — who had committed no crime — is supposed to wake up calmly as windows are breaking and grenades are exploding in their home is utterly asinine and speaks to the failed and ineffective nature of no-knock raids.
Exposing the entirely unnecessary nature of the raid is the fact that the actual person police were looking for, Wattsel Rembert, turned himself into police without incident.