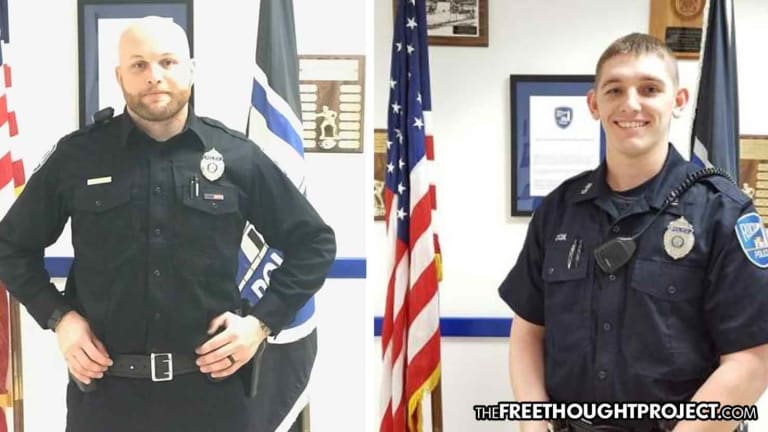 Two Cops Arrested for Pepper Spraying, Beating Porcupines to Death On Duty and Filming It for Fun
The cops would routinely go out and find porcupines and one would film it while the other two pepper sprayed and beat them to death.
Rockland, ME — In the study of psychology, there is a term for those who hurt animals for personal pleasure. It is called intentional animal torture and cruelty and even has its own initialism, IATC. Psychologists have long studied the reasons behind why a person would intentionally harm an animal and the types of people associated with this behavior are often society's worst. So, when two police officers beat porcupines to death with their batons, while another films it, it should certainly raise some red flags.
While it is common knowledge that police officers kill dogs on a regularly basis, many folks don't realize that cops also kill lots of small animals in sadistic ways as well.
This week, the red flags have been raised after two Rockland police officers were arrested for animal cruelty for torturing and beating several porcupines to death — for fun. The animal cruelty charges are also accompanied by multiple night hunting violations for how and when the animals were beaten to death.
Addison Cox, 27, of Warren and Michael A. Rolerson, 30, of Searsmont were both charged Oct. 2 with Class C aggravated animal cruelty and a misdemeanor count of night hunting. Cox was also charged with misdemeanor unlawful use or possession of implements or aids. Rolerson was charged with misdemeanor illuminating wild animals or birds.
A third officer, Officer Kenneth Smith, has not been charged nor fired despite filming the act and sharing it with other officers on Snapchat. According to the department, Smith is currently on administrative leave for another incident. According to the Village Soup, Smith is accused of posting a video of Rolerson killing a porcupine to Snapchat in June.
There were multiple officers in the Snapchat group, however, it appears that only one cop thought that beating innocent porcupines to death was horrific enough to report.
As the Village Soup reports:
One officer told the investigator that most of the photos posted on the Snapchat groups were of family and were done to boost morale, which fell since the COVID-19 pandemic struck.

In early June, a video was posted of Rolerson using his baton and beating something on the ground, then returning to the cruiser saying, "I got him." A photo was then posted of a dead porcupine. Rolerson and another officer said Smith was the officer who posted the video.

Smith denied posting the video during an interview with the investigator but said he had posted many photos to the Snapchat groups. Once a Snapchat video is played it disappears.

Another officer told the investigators that at another time, he was in a cruiser with Rolerson on Bog Road in Rockland, when Rolerson suddenly slammed on the brakes, ran out of the cruiser, leaving the door open and beat a porcupine.

The fellow officer told the investigator he did not know what to do.

Rolerson told other officers he would sometimes pepper spray the porcupines before or after beating them.
Highlighting the problem of police protecting their own is the fact that the whistleblower officer, Anne Griffith, who came forward with the allegations, was alone in her stance. Not a single one of the other cops who witnessed the killing, watched the videos or knew about it, said a thing.
"Not only are these acts in violation of law and policy, they are also a disturbing representation of his character made known to his fellow officers, especially those who witnessed the events. Several of the officers, if not all, were lower in rank than Officer Rolerson.
"This was not dispatching a deer that was hit by a car, this was not dispatching a pest animal that may be a threat to humans or domesticated animals. These porcupines were in their natural habitat and causing no harm. Officer Rolerson not only chased the animal into the woods to kill it, but returned with a smile on his face and appeared as though he enjoyed it," according to an Aug. 29 statement from Officer Griffith to her supervisor.
"I am sickened and embarrassed by the actions taken by Officer Rolerson, Officer Cox and Officer Smith. I am ashamed that their actions were witnessed or known by younger, less experienced officers," Officer Griffith stated.
Naturally, the police union disagrees with the firing of the porcupine abusing officers and Cox and Rolerson are both appealing their firings.
Sadly, police officers hurting animals — on top of shooting thousands of dogs a year — is an all too common occurrence.
Previously, TFTP reported on the case of North Sioux City police officer Derek McIntosh. McIntosh was arrested after he was caught trapping cats in his neighborhood and bringing them to a nearby cemetery, where he would kill them.
Before that, we reported on a cop in Texas who went into a dog shelter, picked up a wooden 2x4 and beat three dogs, killing one of them.
In New York, TFTP reported on two officers who were suspended after they chased down and ran over a groundhog during a police union golf tournament. Three-year veteran of the force, Tyler Sammon, drove the golf cart, and Matt Spath rode as passenger when the two reportedly chased the animal until it was exhausted, and then cruelly crushed it beneath the cart's tires — possibly more than once — in what the Albany Times-Union deemed an act of "woodchuck homicide."