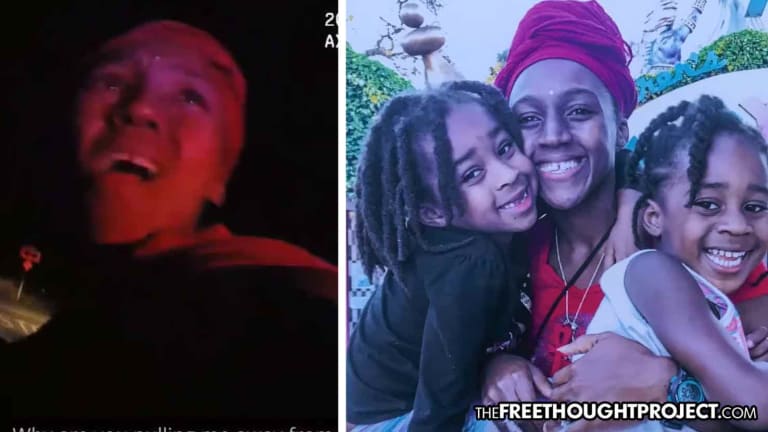 WATCH: Cops Attack, Knock Out Innocent Mom, Then Make Up Lies to Justify Beating — Lawsuit
An innocent mother was accused of crimes she didn't commit and attacked and beaten in front of her children as cops attempted to frame her.
Solano County, CA — On the night she was attacked and assaulted by deputies with the Solano County Sheriff's Office, Nakia Porter had committed no crime. Porter, a mother of two and successful software engineer with no criminal record, had pulled off the highway to change drivers during a trip with her father and her children, but would never make it back on to the highway. Instead, Porter would be beaten, knocked unconscious, and kidnapped, while her father was handcuffed and stuffed in the back of a police cruiser.
Despite knowing they were being recorded on their body cameras, after attacking the family, deputies proceeded to construct a false story to justify their attack and subsequent arrest of an innocent mother of three. Now, Porter and her father Joe Powell are suing and will undoubtedly win.
The incident unfolded on August 6, 2020 during a family road trip as they drove home to Orangevale, northeast of Sacramento, after a family trip to Oakland. Her two daughters, ages 3 and 6, and her 4-year-old niece were in the back seat.
Porter got tired during the drive and so she pulled over to a safe spot to change drivers. Their entirely legal behavior garnered the attention of Solano County sheriff's deputies who proceeded to violate their rights in every way imaginable.
While changing drivers, the deputies —Dalton McCampbell and Lisa McDowell — initiated a traffic stop and, with guns drawn, and began barking orders at Porter. Porter complied with all of them.
The deputies said they noticed the car had mismatched license plates — a California plate on the back of the car, and one from Maryland on the front. Porter had recently moved from Maryland and had simply forgotten to take the front plate of her vehicle. But the car was hers and the deputies knew this immediately.
"However, the deputies had called in the rear license plate to their dispatch and knew that it matched the description of the car and that there was no report of the car being stolen," the filing states.
"I was doing my best to do everything right, giving no reason to be treated like this," said Porter.
Unfortunately, her compliance meant nothing to the deputies. As she tried to explain that they were switching drivers, they moved in to put her in handcuffs for no reason.
While handcuffing Porter, she did not resist.
"For those that are listening, I am not resisting," Porter said into the deputies' cameras. "You are not reading me my rights."
It appears from the footage that the deputies began shoving the 5'2", 125 lb woman around before knocking her to the ground.
"Put your hands behind your back. Get on your stomach," McCampbell shouted.
Because the two cops had the small woman pinned to the ground, it is hard to see exactly what's going on. However, in the lawsuit, Porter alleged the deputies punched her in the head and the stomach, kneeled on her back and pulled her hair.
McCampbell who is described as a large male deputy in the lawsuit, "forced Nakia onto her stomach and mounted her while McDowell, a large female deputy grabbed her by the hair, even pulled out her braids and shoved her face into the concrete. She'd done nothing wrong. The beating was so extreme that Nikia lost consciousness."
As the video shows, she is then knocked unconscious. Porter said she remembered blacking out right after they got the handcuffs on her.
"I think she's out," McCambell said on the video.
For nearly a minute, McCambell continues to sit on his victim, squeezing the air from her lungs as she lies unconscious on the ground. He then grabbed one of Porter's limbs and dragged her lifeless body back to the patrol car. She was unconscious for over five minutes, according to the lawsuit, a sign of a serious concussion.
When paramedics and supervisors arrived, that's when the lies started as McCambell tells them that Porter was only knocked out for 20 seconds and that she knocked herself out. He then tells his supervisors that Porter hit herself in the head and in the stomach and caused her own injuries before punching McCambell in the face.
McCambell was never punched in the face by anyone, according to the lawsuit. What's more, Porter asked to be brought to a hospital for her injuries, complaining of head and stomach pains but she was brought to a jail cell instead.
"Deputies McCampbell and McDowell denied the request, continuing to lie to the paramedics by minimizing the assault and the injuries they had inflicted on Ms. Porter," the court filing said.
Her two children and her niece watched all of this unfold from the backseat of their SUV.
Porter was then thrown in a cage for suspicion of resisting arrest. However, she was released the next day as police had no evidence with which to substantiate the charge.
Porter has since hired attorney Yasin Almadani who filed a lawsuit accusing the deputies of violating state and federal civil rights statutes by engaging in "unlawful seizure, assault and excessive force."
Almadani credits the body camera footage with Porter's quick exoneration.
"Thankfully, the video evidence contradicted the fabricated facts," Almadani said. "So what occurred here, we believe, was a racially motivated beating and terrorizing of a Black family."
Terrorizing indeed.