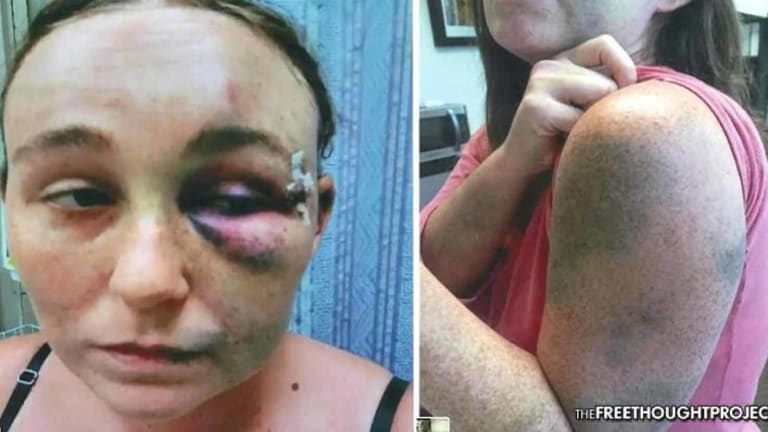 Cops Brutally Attacked Woman One Week After She Testified Against an Officer - Lawsuit
A woman has filed a lawsuit claiming she was brutally attacked by multiple police officers just days after she testified against one of their fellow officers in court.
Fort Lauderdale, FL – In a newly filed lawsuit, a woman is alleging that she was targeted and physically attacked by a local police officer just days after she testified against one of the officer's colleagues in court.
Police initially received an anonymous call about a suspect who left a restaurant without paying her bill of $63.57. Officers arrived and arrested Jessica Mooney, 24, on charges of petty theft and child endangerment.
However, the Miami New Times reported that Mooney had a copy of the receipt showing that she had paid the bill and the evidence is now included in her lawsuit against the department.
After Mooney was taken to the station, she began questioning officers as to why she was arrested and accusing them of making a false arrest. She eventually asked Sheriff's Deputy Amanda Moreno for her name and badge number, and multiple officers responded by grabbing her, throwing her to the ground, and then kicking and punching her several times.
While the officers claimed that Mooney yelled obscenities at them and attempted to hit Moreno, criminal defense attorney Scott Hecker argued that after watching the surveillance footage, it is clear that Mooney did not attempt to hit Moreno, and the multiple deputies who took Mooney to the ground and piled on top of her, used excessive force.
The incident left Mooney with a swollen and bruised face, a gash over her eye and gruesome bruises all over her arms, legs, and torso. She was then forced to spend two days in the Broward County Jail before she was taken to Broward Health Medical Center's emergency room for treatment for the injuries she received as a result of the beating.
Unsurprisingly, the department reviewed the surveillance and determined that none of its officers were at fault. While the investigation is now closed, which should result in the surveillance video being released as public record, Local 10 News reported that the State Attorney's Office is refusing to release the video by citing "a recent legal decision from Florida Attorney General Pam Bondi's office that basically opines that government surveillance video footage isn't public record because its release could compromise government security systems."
The charges against Mooney were dropped after it was determined that she did, in fact, pay her bill at the restaurant. However, the timing of the anonymous phone call alleging a false crime committed by Mooney is notable because it happened just eight days after she testified against an officer from the Fort Lauderdale Police Department in court.
Mooney said she was waiting at a bus terminal with her fiancé when they witnessed a police officer aggressively confronting a homeless man, and her fiancé began filming the encounter. Bruce LaClare was attempting to enter the terminal's restroom when he was accosted by Officer Victor Ramirez.
Ramirez can be seen grabbing LaClare's arm, and when LaClare tried to shake him off, the officer shoved the homeless man to the ground, and after exchanging words, Ramirez slapped LaClare across the face. However, Ramirez conveniently did not include that detail in his arrest report. The video went viral and resulted in protests in Fort Lauderdale.
However, despite the evidence and the fact that Ramirez's record included "nearly 40 incidents, a majority of which involve physical use of force, as well as a few Taser incidents," according to a report from the Broward-Palm Beach New Times, Ramirez was found "not guilty."
Jessica Mooney said she chose to testify against Ramirez because she believed it was the right thing to do. No matter the amount of money she receives in damages if her lawsuit is successful, she still has to live with the physical injuries she received from her encounter with Moreno, along with the knowledge that she has encountered multiple police officers who have used excessive force and faced no accountability for their actions.