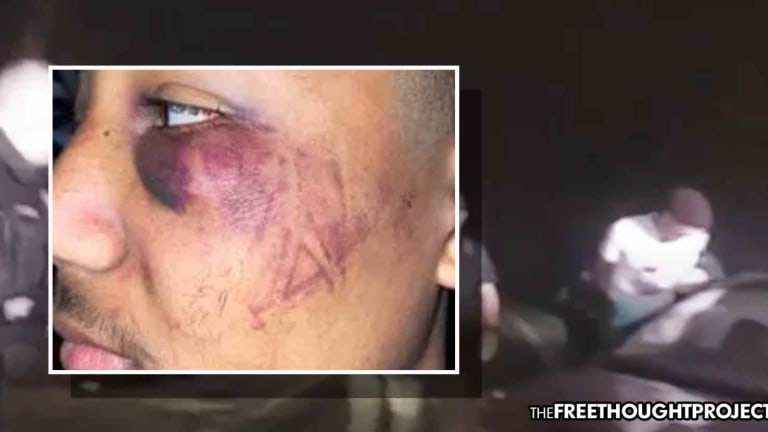 Cops Arrested After Beating Teen So Violently, They Left Boot Marks on His Face — For a Speeding Ticket
Two cops who savagely attacked a teenager for speeding have been arrested on multiple felony charges after leaving him battered and bloody.
Stockton, CA — Body camera footage released in April highlighted the gang mentality of many police officers as it showed them violently beating a 17-year-old boy over a traffic stop "like a pack of wolves." It also illustrates how far cops will go to enforce a speeding violation. But this story does have a silver lining as the two cops responsible for the beating have been indicted.
San Joaquin County district attorney Tori Verber Salazar announced that former Stockton Police Department officers Michael Stiles and Omar Villapudua were each indicted on felony counts of assault by a public officer and assault with force likely to cause great bodily injury.
"This grand jury indictment reminds us all that when police use unlawful force, they undermine community trust," she said in a statement. "As the daughter of a police officer, I know how important that responsibility is to restore community trust, safety, and honor to the profession."
"This is the start of something that we've been asking for, for police officers to be prosecuted," George Carter, Devin Carter's father said. "It's just the start of a new beginning. And the city of Stockton has taken a step toward making things right."
Naturally, the Stockton Police Officers' Association is speaking out against the charges and defended the officers, saying in a statement that their actions were justified because Carter "actively resisted arrest" and "presented an imminent threat of death or seriously bodily injury."
But this simply isn't true.
The incident unfolded in December of last year, when 17-year-old Devin Carter, a high school football star was accused by police of driving his vehicle over the speed limit. When police pulled him over, cops pounced on him like wolves tearing apart a dear. The entire time, cops were accusing Carter of "resisting" but as the video shows, that was simply not true.
The video was released by John Burris, a civil rights lawyer, who is representing Carter and his family in a federal lawsuit against the Stockton police department.
"These vicious cops acted like a pack of wolves and Devin was their evening meal," said Burris. "I have not seen a police officer beating this outrageous since my former client Rodney King was beaten by LAPD officers back in March of 1991." After you watch the video below, you will likely agree.
"The officers' conduct was so atrocious that they should be criminally prosecuted," Burris said. "The most troubling aspect of this case is that these officers must have believed that they were somehow immune from department discipline and could get away with their conduct knowing that their body-worn cameras were on."
In the video, Carter is heard repeatedly telling the officers that he is "not resisting" and it was clear that he wasn't. Nevertheless, the beating continued.
According to police, Carter was driving a Mercedes erratically at more than 100 miles per hour when a police vehicle attempted to stop him for speeding. Police claimed that instead of stopping, Carter shut off his lights and led officers on a three-minute chase.
Eventually, Carter came to a stop after police rammed him, causing his side airbags to deploy.
Carter is 17 and made a poor decision, but what happened afterward, was a far greater crime than driving fast and running from the cops — and that crime was four grown adults beating the hell out of a defenseless kid.
According to the lawsuit, Carter, who only "may have been" speeding, remained in the car with his hands above the steering wheel, until an officer yanked him from the vehicle and slammed him to the ground without warning. As Devin Carter lay in a fetal position, an officer kneed him in the face, the suit alleges. "Officers' body camera footage shows that multiple officers began to repeatedly punch, knee, and kick Devin Carter in his face, neck, and back as he laid in a fetal position screaming in agony."
While he was on the ground Carter was screaming out in agony, begging the four cops who were beating him to stop. According to Burris, Carter thought that this was it, and police were going to kill him.
Fortunately for Carter, the beating stopped and he was eventually placed in handcuffs and booked into juvenile detention for evading police.
In March, Michael Stiles and Omar Villapudua were both fired for using excessive force and now they have been charged.