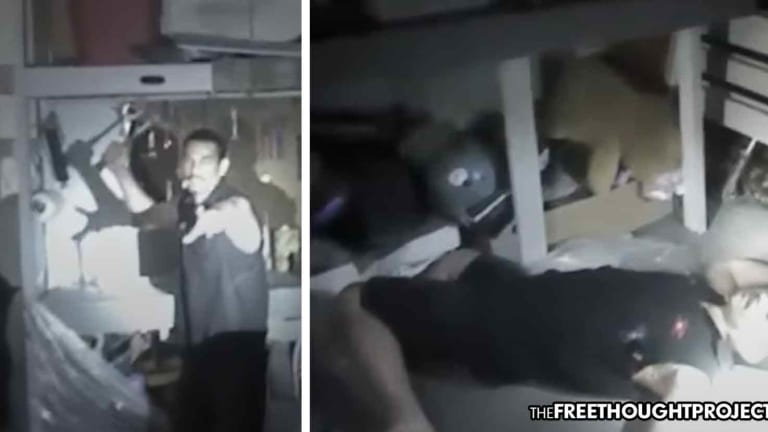 Cops Denied Immunity After Killing Man for Holding a Hammer Over 10 Feet Away
A federal court has stripped two officers of qualified immunity after video showed them senselessly gun down a man who was not advancing toward them.
Tahlequah, OK — As TFTP reported, graphic body cam footage was released showing officers needlessly escalate to deadly force as they surrounded a man who was holding up a hammer. One of the officers effectively deployed his taser to stop the man, however, it was futile as two other cops put three bullets each into him.
The victim was 49-year-old Dominic Rollice of Park Hill.
After police killed him, the Wagoner County District Attorney's Office declined to file charges against the officers, saying the fatal shooting was justified. So, the family sought justice in the form of a lawsuit instead.
Almost immediately after the lawsuit was filed, a federal judge for the Eastern District of Oklahoma granted the officers qualified immunity — an abused legal doctrine police officers use to shield themselves from liability.
"Engaging in a dispassionate discussion of a tragic death, particularly after viewing it on video, is an unavoidable task for a court," U.S. District Judge Ronald A. White wrote in his ruling at the time. "This court must follow the law as best it can, and the present regime of qualified immunity does not permit the case to proceed further."
However, fast forward to December 2020 and all that has changed. After years of battling for accountability through civil action, the family found out that a federal court panel ruled that the cops who gunned down Rollice don't have qualified immunity.
According to the Oklahoman, a three-judge panel of the 10th U.S. Circuit Court of Appeals reversed the original ruling saying "a reasonable jury could find facts under which officers Vick and Girdner would not be entitled to qualified immunity," meaning a jury could find the officers used excessive force.
Attorneys from Tulsa acting as administrator of Rollice's estate, were pleased with the court's decision, calling for improved police training and supervision.
"In recent years, it has become increasingly difficult for civil rights plaintiffs to overcome assertions of qualified immunity," attorney Dan Smolen said in a statement. "The 10th Circuit's opinion in the Bond case is not only a victory for Mr. Rollice's estate, it is a victory for all civil rights advocates."
The three officers who responded that night were Lt. Brandon Vick, Officer Josh Girdner, and Officer Chase Reed. Vick and Girdner were the ones denied immunity because they decided to begin shooting Rollice.
During Rollice's last moments alive, he was drunk and in the house where he used to live. He was in the garage when his ex-wife called the police to have him removed.
"He's drunk, and it's gonna get ugly real quick," the woman could be heard telling a 911 dispatcher.
The dispatcher warned the woman that if officers come out, they will have to take him in for public intoxication.
"He lives in Park Hill. He's got tools in the garage, but he doesn't live here," the woman said.
As police responded, they quickly backed Rollice into a corner at which time he grabbed a hammer in a seemingly reactionary move. Seconds later he'd be dead -- in spite of not advancing toward the officers.
"I'm in my house; I'm doing nothing wrong," Rollice said. It is unclear as to whether Rollice had a legal right to be in the house. However, this did not matter to police.
"I'm going less lethal," says Reed.
As Reed fired his taser, Vick and Girdner both opened fire without reason.
"Hold your hands up! Get on the ground!" the officers yell at a man who was just shot six times. Rollice responds by grunting and then collapsing backward.
"Dominic, you gotta stay with me. Stay with me," Reed, the only cop in the room who was interested in preserving life, says to Rollice while the other officers secure the scene. "EMS is on the way, OK? Stay with me."
Moments later he's dead.
Before any investigation was conducted, then-Police Chief Nate King said the officers' actions were "necessary, not just justified" because the Rollice escalated the situation and made the officers fear for their lives.
"A reasonable officer would have sensed a clear and present danger to them and to their other officers," he said.
This excuse by King would probably hold more water had an officer in the same room not immediately resorted to deadly force. 
The fact that Reed was in the same room with the other officers and chose to use a taser first shows that the use of deadly force was entirely unwarranted.
Below is a video of a man suspected of a misdemeanor charge of public intoxication who paid the ultimate price when police arrived.