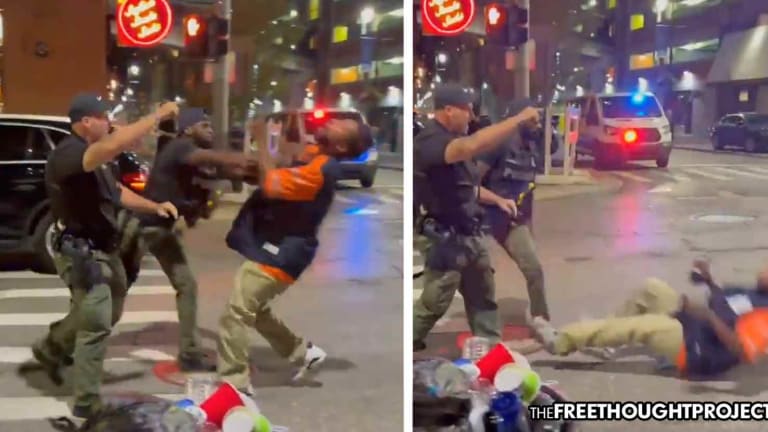 WATCH: Cop Walks Up to Random Man, Knocks Him Out in Front of Fellow Cops, Walks Away
A half dozen cops do nothing as their fellow officer walks up to a random man on the street and hits him so hard he goes flying backward, knocking him out.
Detroit, MI — A disturbing video was uploaded to social media this week showing a Detroit police officer walk up to a random person on the street and deliver a haymaker directly to his face in front of fellow officers. The punch was so powerful that it knocked the man out and sent him flying backward, smashing his head into the concrete.
The video posted Sunday on Reddit, titled and "Detroit pigs handing out the brain damage," has since spawned an Internal Affairs investigation in the department.
In the video, the officers, who are reportedly with the Detroit police department's special response team, appear to be clearing a street in Greektown. They target a man in the street who is attempting to walk away from them backward before an officer winds up and smashes the man's face in.
"Y'all ain't have to do that, dog!" a man can be heard yelling off camera.
After the unidentified victim flies backwards and slams his head into the ground, completely knocked out, the officer acts like he's trying to help him. The officer briefly sits the man up as onlookers shout at him in disgust.
When the man starts to regain consciousness, the officer then props him up and attempts to let him fall back over but the man stays sitting up. Then, without making any arrests, the cops walk away. None of the other officers who witnessed their fellow officer attack an innocent man attempted to stop it or intervene in the least.
"I think it was excessive," Deonnel Hicks, who saw the video circulating online, told WXYZ. "I know they're trying to police and get everything to be calm and peaceful, but to just come up and knock somebody out. They could've at least tried to do it in a different way."
In response to the brutal attack caught on video, the Detroit police department released a statement saying, "The Detroit Police Department was made aware, via social media, of an allegation of excessive force in Greektown. Internal affairs is reviewing the circumstances surrounding this allegation."
Last year, the Detroit police department adopted Directive Number 102.12, otherwise known as "Duty to Intervene." According to the directive:
The purpose of this policy to explain the legal and moral obligation of the Detroit Police Department (DPD) members known as the Duty to Intervene. This duty is outlined in the law enforcement code of ethics, the Standard of Conduct, and in the law. DPD members shall have a clear understanding of the expectations pertaining to the standard of conduct while on and off-duty. DPD is also committed to supporting and protecting its members who act on their Duty to Intervene to prevent or minimize misconduct or excessive force by another member.
The directive applies to all officers within the force and states that all DPD employees, "who have reasonable opportunity, must act to prevent or stop any
member from conducting any act that is unethical, or that violates law or Department policy (for example, excessive force, theft, fraud, inappropriate language, sexual
misconduct, harassment, falsifying documents, inappropriate behavior, etc.)."
Those who fail to intervene when they see bad cops in action are subject to disciplinary action and an officer "who has reasonable opportunity, but fails to intervene may be liable in a court of law and, at the very least, in disciplinary matters. Specifically, as to excessive force, a member who fails to act to prevent the use of excessive force may be held liable when 1) the member observed or had reason to know that excessive force would be or was being used, and 2) the member had both the opportunity and means to prevent the harm from occurring. Turner v Scott, 119 F. 3d 425 (1997)."
As you watch the video below, try to pick out the number of officers who directly violated their duty to intervene. According to their own policy, at least a half dozen cops should be facing discipline and possible criminal action. We won't be holding our breath.