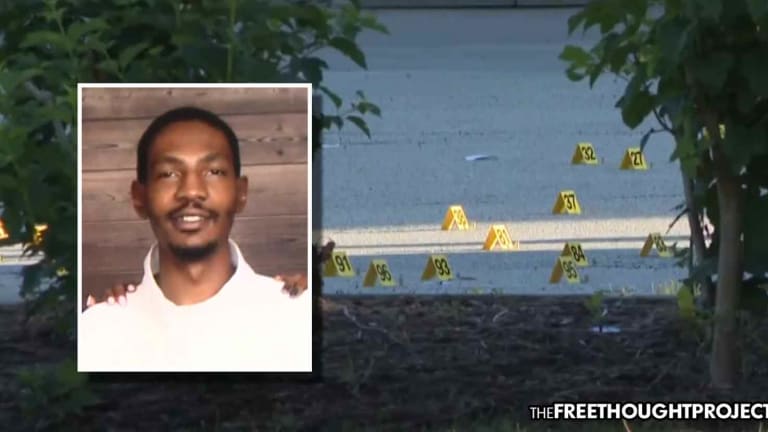 Cops Dump Over 90 Rounds Into Fleeing Man Over Stop for 'Traffic Equipment Violation'
A family is demanding accountability after cops dumped over 90 rounds into Jayland Walker over traffic stop for a simple "equipment violation."
Akron, OH — Before he was filled with taxpayer funded bullets on Monday, Jayland Walker, 25, was a standout wrestler at Buchtel High School, where he graduated in 2015. According to his family he worked for Amazon then took a job driving for DoorDash and was set to get married. All of this is over now, however, after multiple officers decided to dump more than a dozen rounds each into Walkers body after he fled a traffic stop for a simple violation.
Walker's family says their son was engaged to his fiancé, Jaymeisha Beasley, who was tragically struck by a hit and run driver last month who has yet to be found. The families of the couple are now jointly grieving their tragic losses, according to the Akron Beacon Journal.
According to Bobby DiCello, the lead attorney for the Walker family, prior to fleeing the traffic stop on Monday night, Walker had no criminal record.
"Jayland, not one time in his life, and you can search this city, this state and this country— never offended or bothered a soul. And how these events took place leaves us with many, many questions," said DiCello at a press conference on Thursday. "Our job, by doing this press conference, is to remind the police department for the city of Akron that we are here for accountability."
According to police, an officer attempted to pull over Walker around 12:30 a.m. on Monday for a "traffic equipment violation" but for some reason he refused to stop. A chase ensued and would last four and a half minutes. Video from traffic cameras show that in this short time, the single cruiser following Walker multiplied into a whopping 10 cruisers.
Police would claim that Walker fired a gun from his vehicle during the pursuit. Captain Dave Laughlin, of the Akron Police Department, told the press that officers didn't see a weapon but heard a gunshot or multiple gunshots from the car on the entrance ramp of Route 8.
Police claim Walker then came to a stop before exiting the vehicle and fleeing on foot. That's when he was surrounded by cops and executed.
"Actions by the suspect caused the officers to perceive he posed a deadly threat to them. In response to this threat, officers discharged their firearms, striking the suspect," the police statement said.
Police claim to have found a gun in Walker's vehicle but have made no mention as to whether or not he was armed when 8 officers all began shooting him like a firing squad. According to photos obtained by the attorneys, after Walker was filled with holes, police then handcuffed his dead body and waited for the medical examiner to arrive to pronounce him deceased.
"We know that no police officer ever wants to discharge their service weapon in the line of duty," the mayor and chief said in a joint statement. "And anytime they must, it's a dark day for our city, for the families of those involved, as well as for the officers."
Clearly, however, this was not the case. Officer who don't want to fire their weapons won't dump 90 rounds into a person who was likely unarmed.
Since the shooting, the 8 officers who discharged their weapons have been placed on leave.
"I stand before you all with a family who is heartbroken, devastated, confused and searching for answers. There's no words to describe what this family is going through. From what we've read, 90 shots," attorney Paige White said, pausing as Pamela Walker, Jayland's mother, burst into tears, leaning into the arms of her daughter.
"We don't treat animals that way," White continued. "Time and again, what we see across this country are white people who are able to commit crimes, to slaughter people and who live to tell the tale. Jayland Walker wasn't able to do that."
"I know a lot of people like to say that their loved ones are good," said Lajuana Walker-Dawkins, whom Walker called "Aunt Mini." "But it's the truth.
"We want you to know who Jayland was. We don't want him to be portrayed as some thug," the aunt said of the "skinny little nephew" she misses dearly.