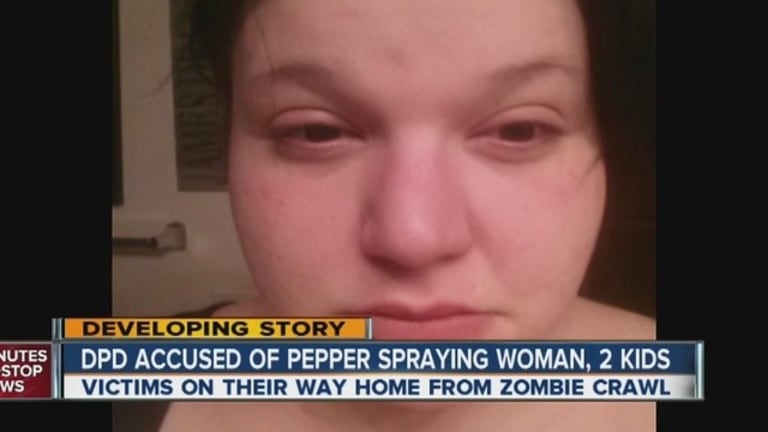 Denver Cops Pepper Spray Innocent Woman and 2 Children
"He walked up right about where you are and sprayed me in both my eyes and then my lip, I just started screaming. It felt like 40 chilies in my eyes, like the seed, it was really hot," said 12-year-old Xavier
Saturday night in Denver, during an event called "The Zombie Crawl", Denver police pepper sprayed a number of innocent people, including children, while they sprayed into a crowd attempting to break up a fight.
The Zombie Crawl is a free for all ages event that is similar to a parade, where people dress up as zombies and march along a planned route that is filled with activities and attractions.
An estimated 30,000 people participated in the event this year, and as with any crowd of that size, there are occasionally issues like fights and public disturbances. While breaking up one fight at the end of the night, police officers carelessly used their pepper spray on a crowded city street, hitting a crowd of innocent people.
One bystander, Lisa Lebrun was waiting for a friend in the same area where a fight broke out. Lebrun was unaware of the chaos taking place just steps away from her, and when she turned around to see what the commotion was, she was hit in the face with a burst of pepper spray
"I seen someone coming up to the side of me and I looked over and I got sprayed less than a foot away in my face directly. I didn't know what was going on, I didn't know why I got sprayed,"Lebrun told 7NEWS.
Nearby were two small children, 9-year-old Benaiah Bargas and his 12-year-old friend, Xavier Roybal. The children were walking with their families back to their cars when they were surprised by the same blast of peppers pray that struck Lebrun.
"He walked up right about where you are and sprayed me in both my eyes and then my lip, I just started screaming. It felt like 40 chilies in my eyes, like the seed, it was really hot,"Roybal said.
"It felt like someone made me eat the hottest chilies ever," he added.
The police department has refused to comment on the incident, saying only that they are not aware of any complaints connected to the officer's actions on Saturday night. It is not yet clear if the victims will be filing a lawsuit.
John Vibes is an author, researcher and investigative journalist who takes a special interest in the counter culture and the drug war. In addition to his writing and activist work he is also the owner of a successful music promotion company. In 2013, he became one of the organizers of the Free Your Mind Conference, which features top caliber speakers and whistle-blowers from all over the world. You can contact him and stay connected to his work at his Facebook page. You can find his 65 chapter Book entitled "Alchemy of the Timeless Renaissance" at bookpatch.com.