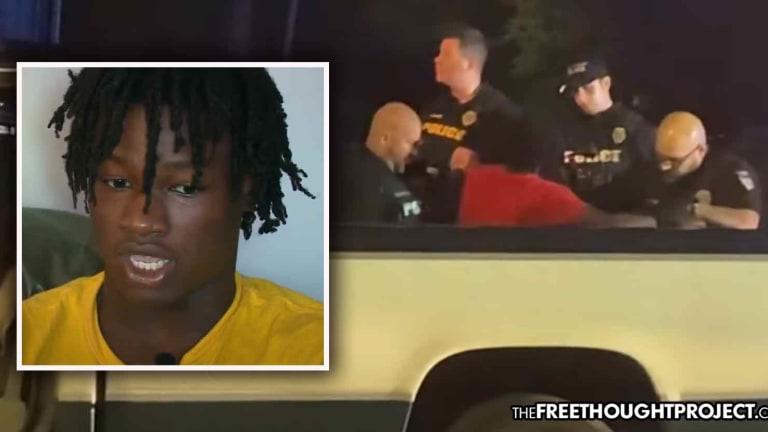 Cops Forced to Taser K-9 After it Mauled Innocent Teen for NINE Minutes
An innocent teen was detained and "for no reason" a K-9 was released on him and allowed to maul him for 9 minutes before cops removed it.
Granite City, IL — A routine traffic stop to shake down an innocent black teen turned into a nightmare for Devondrea Williams this week after cops had their K-9 maul him for 8 to 9 minutes, according to the teen's family. Now, Williams' mother is asking for answers as the police have given them nothing but violence.
According to police, they were investigating an alleged fight that had taken place between an unknown party and the driver of a truck in which Williams was riding in the back. Police pulled over the truck because the driver was involved in a fight but targeted Williams "for no reason."
According to Williams, police demanded his information before ordering him out of the back of the pickup truck.
"I see him reaching for his handcuffs, so I go to put my hand like this and then he grabs my arm aggressively. I look at him and then two other cops get pushing me. They push me onto the truck, and then I see the dog out of the corner of my eye and then the dog bites me," Williams told KMOV. "He bit me like I think five times."
Regeana Canada, who lives near where the incident unfolded says she heard the commotion outside and came out to film it.
"I'm a mom and those are somebody's kids," said Canada.
According to Canada, who captured a large portion of the stop and subsequent attack on video, the dog mauled the teen for eight to nine minutes, tearing the flesh from his leg.
"I ain't never scream like that a day in my life," Williams said.
The dog would not let go of the teen's leg even after its handler shouted the release command repeatedly. To finally stop the attack, police had to taser the dog to get him to let go of Williams' leg.
"They had to tase the dog," said Williams. "If you have a K9, shouldn't the dog listen to you?"
Canada says she has no idea why the dog was let loose since Williams was complying with officers and posed no threat.
"I'm not anti-police, there's just some questions about that particular incident I would like answered because I don't understand why the dog got let loose," said Canada.
Thus far, police are being tight-lipped and are refusing to answer any questions. Only after pressure from media did they release the following canned statement, which, according to Williams and Canada, is not true.
Officers conducted a traffic stop of a vehicle with some of the individuals involved in the incident. At this time, officers attempted to continue to gather facts to ascertain what exactly had taken place.

During the traffic stop, an individual obstructed the investigation and resisted arrest. They were taken into custody with the assistance of a police K-9. This investigation is still ongoing and as a result, no further information can be given at this time regarding this matter.
Although police claimed the teen resisted arrest, Canada says Williams never resisted. What's more, although police claim that Williams was arrested, according to both Canada and Williams, none of the occupants in the vehicle were arrested.
"No, he did not resist arrest at all," said Canada, adding that none of the people with Williams were arrested either.
Williams was subsequently hospitalized and require surgery to repair his leg and hand.