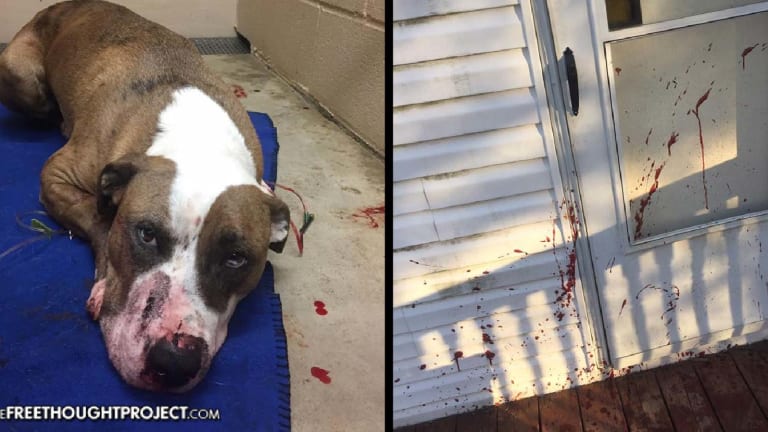 Cops Go to Innocent Woman's Home, Shoot Her Dog for No Reason, Take No Responsibility
A Kentucky Highway Patrolman reportedly shot a couple's dog after the dog for doing nothing more than barking at the officer.
Eastview, KY — Kaytlin McClure didn't call the police. She had no need to do so. She was just minding her own business in her own home this week, when the police dropped by late at night to pay her a visit. They were canvassing the neighborhood and wanted McClure's help with their search for a fugitive. But rather than catching their man, they shot her dog.
In a Facebook post, McClure described her babies.
"I have no kids. My two dogs are my children and are treated as such. I live out in the country. My dogs are trained to potty in the yard and come back to the porch once they are done," she said speaking with endearment of her beloved pets. She described why the police dropped by so late. I have no (police) record and was at home minding my business when they (Kentucky State Troopers) wanted to talk about some fugitive in the area and my dog was outside barking." She said her dogs were only barking, weren't aggressive dogs, and were doing what dogs do, bark."
Anyone who knows Hank (her dog) knows he would never even growl at someone. "He barks with his tail wagging." Tail wagging is a sign a dog is not likely to attack.
That's when it happened. One of the troopers must have been under the proverbial 'fear for his life' claims and decided he would shut up the dog once and for all. He drew his service pistol and fired a bullet into Hank's head. Alicia McClure stated her cousin had recently adopted the pit bull. She wrote, "he was only a year or so old. He is a wonderful dog. (Hank) Has been her companion. He wouldn't hurt a fly, honestly...He is a very sweet dog. He was barking at the stranger (the trooper) in his driveway in the dark."
McClure noted that Kaytlin was attempting to secure Hank and remove him from the scene when the shooting happened. "My cousin was only feet away from Hank with his leash in her hand to bring him inside when he was shot," she wrote. Echoing her cousin's position that the shooting wasn't justified she wrote, "He was only barking. He was not lunging. He truly was shot for no reason."
Kaytlin explained why the Trooper may have perceived her dog was a threat. She stated, "Hank was barking because people were in the yard at 10:45 at night as he should. My house has been broken into twice. Neither one of my dogs were even aggressive when that happened."
She says she's been traumatized and wants Hank's story told so that the incident won't happen to other dog owners when police come around. She wrote, "my main goal is to make people aware," and added she wants to see the Trooper retrained to learn how to more effectively deal with animals. She described the current pain and suffering she's feeling, "It's sad that at this point I'm traumatized and don't want my dogs, me, my fiancé, or anyone else really for that matter outside of my house because I saw everything first hand." McClure concluded, "I'm not after money. I just want his story known and for there to be some sort of retraining for the officer."
So far, the police officer, nor the Kentucky Highway Patrol has offered to pay for Hank's medical treatment. "At this particular point I am the one who had to foot the bill for the vet. Which seeing hank alive and doing better makes it worth every penny," she wrote. Many of her Facebook friends and followers have encouraged her to get a lawyer and sue the Highway Patrolman.
Predictably, however, there are many who are standing with the trooper and siding with his actions. One trooper named Josh Bunnell attempted to defend the unnamed trooper's actions by saying, "sorry if a dog comes at me aggressively I'm going to do something about it. Wouldn't matter if I wore a uniform or not. We don't know the truth obviously. I'm pretty sure he wouldn't just shoot if he was[n 't] in fear of being bit[ten]."
Bunnell later admitted he didn't have all the facts, was an animal lover himself, who even volunteered at the animal shelter from time to time.
Thankfully, Kaytlin's dog Hank is recovering from the single bullet wound to the head. She described his injuries by stating, "The bullet went through his sinus cavity and down beside his throat." She added he lost a lot of blood but fortunately was able to return home and is expected to make a full recovery. She stated the officer said the dog had lunged at him but Kaytlin denies this, saying, he was "pacing" but definitely didn't make a move toward the officer.
Ironically, Kimberly Woods, Kaytlin's fiancé, works at a veterinary clinic, and studied Veterinary Technology at Morehead State University. Those facts should invalidate anyone's claims the pair are unfit dog owners. The two plan on getting married soon and will continue to raise their family of dogs together.
As The Free Thought Project has reported, not even the courts will protect a homeowner from the actions taken by law enforcement personnel to defend themselves from barking dogs. But McClure may still have a case in civil court. After all, she did not call the police and they were the ones who intruded onto her property. They were uninvited and had no official business on her property. As such, what the Kentucky Highway Patrol should do is take care of her hospital bills, which are probably minor compared to losing in civil court, a loss which the Kentucky taxpayer will ultimately have to saddle.