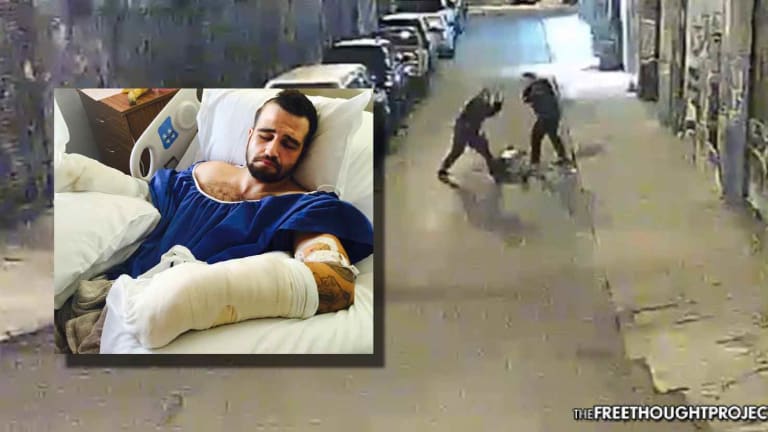 WATCH: Cops Beat Unarmed Man to Near Death With Batons 'Like Rodney King' - Hearing Begins
A preliminary hearing started this week in the case of two cops who were caught on video severely injuring a man—beating him like Rodney King.
San Francisco, CA - A preliminary hearing began Monday for two former Alameda County Sheriff's Department officers accused of excessive force after a video showing their savage assault went public.
Pulling no punches, Public Defender Jeff Adachi said the encounter was "reminiscent of Rodney King," and excessive force was clearly used by the two deputies. But excessive force is only part of their problem.
The video was released by the San Francisco Public Defender's Office, after being contacted by witnesses to the vicious attack. Months later, some of those witnesses came forward with claims that the cops bribed them not to say anything and that the deputies took a "trophy photo" of their victim, Stanislav Petrov.
At the 7-minute mark in the video, you can see a deputy posing with the bloodied man for his "trophy" photo.
In the video, deputies Luis Santamaria and Paul Wieber are seen chasing Petrov down an alley when Petrov decidedly stops and surrenders. Petrov is then shoved to the ground and severely beaten about the head and body with police batons. His attorney, Mike Haddad, said that his client suffered a concussion and broke nearly every finger bone in his hands.
For this vicious assault, in April of this year, Petrov received a $5.5 million settlement.
"We said we were going to hold Alameda County and the involved deputies accountable and we did," Haddad said. "This result should serve as a deterrent to law enforcement officers who would abuse their authority and beat a man who was trying to surrender, as these deputies did."
When speaking about the homeless witnesses who were bribed by the cops to remain silent, Haddad said, "We've learned from witnesses that they stole a valuable gold necklace from Stanislav and then they gave it to these witnesses who saw what happened to basically bribe them and silence them."
Jerome Allen and his wife Haley Harris were living in a tent on the corner during the beating that night.
"They came up to me and the first thing they said was did you like the show?" said Allen. Allen said two deputies approached him. One of them handed him some items that belonged to Petrov. "The other cop came around the corner and said, 'Hey, I found something: don't spend it all in one spot.' And he passed me a very nice gold chain with a large medallion cross on it, with diamonds, Turkish gold."

Harris drew KTVU Fox 2's Tara Moriarty a picture of the medallion which the couple hawked for $1,500. They said they spent the money on food, clothes and shoes. We found what appears to be the missing necklace on Petrov's Facebook page.

Allen said he was taken aback by the deputy's offering. "At first I look around, 'Is this being recorded or something?' You know, like they were trying to set me up or something? And I'm like, well, they want me to be quiet; they want me to not say something about that ass whooping they just gave him."
This gold chain was later seen in the officer's hand on the surveillance video—confirming their story.
Aside from the man's jewelry, the deputy gave the homeless couple money, crystal meth, and some Newport cigarettes.
After the department found out about the bribe, the officer in question was suspended and is no longer with the department. However, former deputy Sean Osborne has never been charged criminally in spite of the damning evidence against him.
"This is absolutely unacceptable, if true, it will not be tolerated," Sheriff's spokesman Sgt. J.D. Nelson told reporters last year. "They are no better than the criminals they arrest, if these allegations are true."
"Nobody bribes witnesses when they're innocent," said Haddad. And judging from when the officers wrote their reports, they are clearly not innocent.
Haddad noted that the deputies obviously wrote their reports after they had seen the video so they could get their stories straight.
"The deputies waited four days to write their reports," said Haddad, "when their policy requires the reports to be completed by the end of shift."
Deputies Luis Santamaria and Paul Wieber both wrote in their reports that they were "exhausted and dizzy" yet Wieber is the department's fitness champion and can be seen on the agency's Facebook page with trophies, posing with Sheriff Greg Ahern, reports KTVU.
It is important to note that Petrov was witnessed in a stolen car and led police on a low-speed 30-minute chase before he was beaten. He also rammed a police cruiser in the process. However, he had surrendered prior to this assault.
The deputies attempted to justify their actions by saying their adrenaline was rushing after this chase, but their brutal force on a surrendering man was over the top.
"The problem with that argument is that this is America and this is not a country where the government can get away with beating someone with steel batons on their head without any due process," Haddad said, pointing out the flawed justification used by these officers.
There is also the existence of another video that is the subject of the investigation. In spite of both officers turning off their body cameras prior to the beating, one of them accidentally started recording during the assault, and the officer had no idea.
"That body cam was inadvertently put on when Deputy Wieber tackled Mr. Petrov," explained Sgt. Ray Kelly, "and it was not discovered until after those reports were written."
"It tarnishes my badge, it tarnishes everybody's badge and we don't like it," declared Sgt. Nelson.
Hopefully, as this trial gets underway, these two abusive cops are held accountable and serve as an example to other police that savagely beating a surrendering person as if you are the judge, jury, and executioner—will not be tolerated.