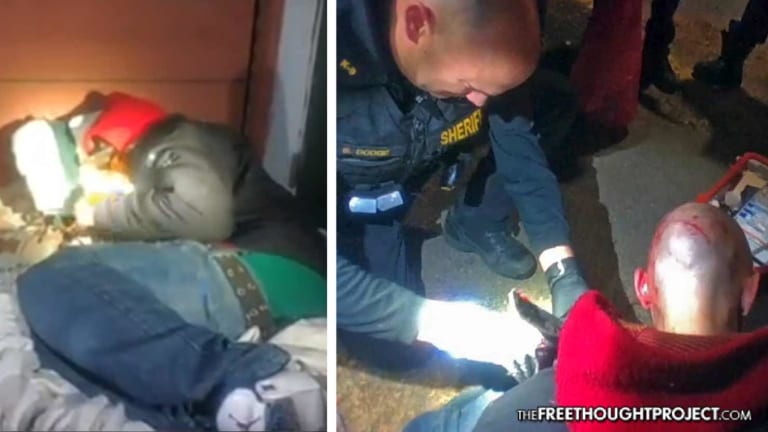 WATCH: Cops Beat Innocent Homeless Man to a Pulp Because He Was Sleeping
Two cops have been fired after they attacked a homeless man, beating him to the point of hospitalization, for sleeping outside a homeless shelter.
Shelton, WA — When 25-year-old Nicholas Heflin arrived at the Community Lifeline homeless shelter last May, it was closed. Having nowhere to go, Heflin walked around to the side of the shelter and laid down at the top of a staircase to get some sleep for the night. Hours after he'd fallen asleep, however, Heflin would be abruptly woken up to the searing hot sensation of chemicals being sprayed into his face by two of Shelton's finest. For the next several minutes, he'd be pepper sprayed, tasered, and punched repeatedly in the face—for doing nothing other than sleeping in a stairwell.
Shelton police officers, Justin Doherty and Matt Dickinson were fired earlier this month for their unprovoked attack on Heflin and they were also facing charges of assault. However, the Mason County Prosecuting Attorney's Office on Monday declined to press charges against the officers for the incident which left Heflin with a broken nose, eye injuries, and multiple broken bones in his face.
Michael Dorcy, the Mason County Prosecutor, said his office solicited advice from use-of-force and training experts who believed criminal charges weren't warranted, reports the News Tribune.
Dorcy wrote, "The burden of proof cannot be met to sustain criminal assault charges beyond all reasonable doubt in court."
Around 1:40 a.m. on May 25, Doherty and Dickinson found Heflin sleeping outside of the homeless shelter with his feet hanging off the staircase. Heflin had not harmed anyone and was merely attempting to get a night's sleep at a place designated to help homeless people.
According to Heflin, he never heard the officers' commands to get up. The officers told Heflin three times to get up and show his hands before Doherty, shining a light in Heflin's face said, "I'm going to tell you one more time to show me your hands, or I'm going to pepper spray you."
While it is clear from the body camera footage that Heflin did not immediately respond to the officers' commands, any reasonable person would have understood that it's likely due to the fact that he is sleeping. This sleep, however, was then deemed resisting arrest and so force was escalated.
After he was sprayed in his face, Heflin wakes up, clearly in shock and panic. He tries to show his hands but is writhing in agony. As police order him up, Heflin gets up on his knees and begins coughing from having his face blasted with pepper spray.
At this point, Doherty jumps onto" Heflin, "forcing him into the corner of the landing," according to the Thurston County report.
The report notes Heflin can be heard "yelling, 'Dude, dude, dude, my neck, dude, my neck.'"
During the struggle, Heflin can be heard screaming for help as the brutal sounds of repeated punches to his face painfully ring out. After a minute of punching him in his face, officers taser Heflin. For several minutes, we can hear the two officers repeatedly punch Heflin in the face.
As the News Tribune reports, the Thurston County report states the "majority of the strikes appear to have connected with (Heflin's) face." It also says the officers were wearing "knuckle guard riot style gloves" which may have made the man's injuries worse.
Heflin is now planning a lawsuit against the City of Shelton for $15 million. Tuesday night, his attorney Jeanette Boothe said Heflin was "quite emotional about the fact that (the police officers) were not going to be criminally charged."
Boothe told reporters they are exploring other options to hold the officers accountable such as a federal criminal investigation.
"We think this is an egregious assault on this young man," Boothe said. "And he's certainly going to have lasting results from it."
Naturally, the lawyer for the two officers, Alan E. Harvey, is claiming that his clients did nothing wrong and "acted within the training they have received at the Shelton Police Department, and acted within policy, and that they committed no crimes."
Harvey claims the officers being fired was due to the fact that the chief of police had "succumb to public pressure, and, as a result, two officers were unjustly terminated."
If history is any indicator, both of these officers will likely be rehired in the future and given back pay.
Below is a video of what sleeping looks like in a police state.