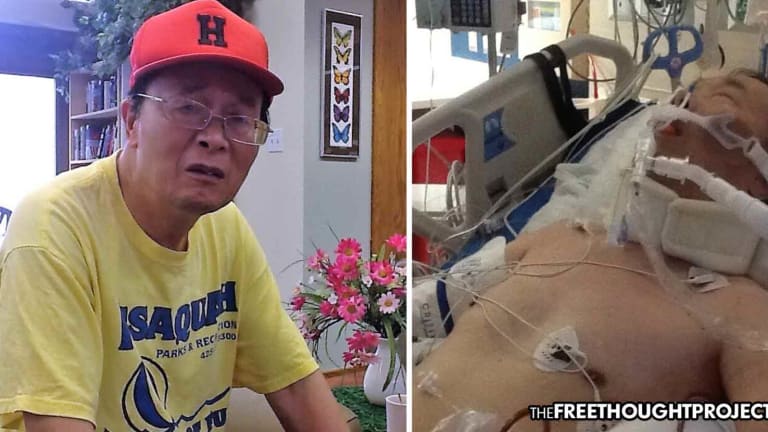 Cops Invaded an Innocent Alzheimer's Patient's Home, Broke His Neck and Killed Him
While responding to an unrelated noise complaint, police in Washington invaded the home of an innocent Alzheimer's patient and broke his neck.
Issaquah, WA — A Chinese immigrant who moved with his wife in 2010 to seek a better life in the United States had that life ended last year by those sworn to protect and serve. Wangshen Leng, 66, was suffering with Alzheimer's when police attacked him so violently that they broke his neck and he died, according to a lawsuit filed this week by his wife.
On August 5, 2018, police officers kicked in the door to Leng's home following a noise complaint that they claimed was a case of domestic violence. When police entered the home, the officers found him "waving his arms around yelling something."
Clearly ignorant of Leng's Alzheimer's diagnosis and entirely in the wrong place at the wrong time, police forcefully grabbed him, threw him down and placed him and handcuffs. During this process, the force used against Leng was so great that it broke his neck.
"The police proceeded to come in, to separate the two, and to force Mr. Leng down onto the couch — pushing on his neck in such a way that it ended up breaking his neck," said Harry Williams, an attorney for the family, according to KIRO 7.
Both Leng and his wife do not speak English so attempting to explain themselves to the police was futile. Nevertheless, instead of attempting to communicate with the couple, according to the lawsuit, brute force was the tool used by police against the elderly Alzheimer's patient. The 66-year-old Chinese immigrant was gravely injured inside his own home, for doing nothing other than holding his hands in the air in front of killer cops, according to the suit.
Leng became unresponsive after the arrest and was hospitalized with a broken neck, according to the lawsuit. Sadly, he would never recover from his injuries. Just one month later, after being attacked by police for no reason, he died in the hospital, never regaining consciousness.
"A healthy person, who that morning had walked to the Issaquah Community Center," Williams said. "And after an interaction with police, someone who was never conscious again and died a month later," he said.
His wife of 30 years didn't want to be on camera, but told KIRO7 that they took walks every day, she would cook for him, and they were happy together.
Leng's neighbor, Jim Lemming told KIRO7 that he was the one who called police. However, he noted that he did not call police to report Leng. Lemming told KIRO7 that they have had trouble with people hanging around the dumpsters at the apartment complex, so when he heard banging, the first thing he did was dial 911.
"When I heard real heavy banging is when I called 911 without knowing what was going on, I figured better safe than sorry," he said.
Sadly, that 911 call would be a death sentence for Leng.
Lemming told reporters that he had no idea his 911 call is what led to Leng's death.
"Sad the way ended, everyone has 20/20 hindsight," Lemming said, seemingly regretting making that call.
According to the lawsuit, the King County Medical Examiner's Office ruled Leng's death a homicide.
Attorney's representing Mrs. Leng, say the officers who responded to a noise complaint that day acted "unconstitutionally and unlawfully."
"They didn't exercise any patience and call a translation line or try to figure out what was happening. Instead they went into the apartment, physically moved people, and unfortunately Mr. Leng ended up dying," Williams said.
According to the King County Sheriff's Office—who refused to comment on the incident—an investigation into Leng's death is still underway.
Whether or not these officers will be held accountable is up in the air. However, if history is any indicator, not a single one of the cops responsible for breaking Leng's neck, will ever get so much as a slap on the wrist.