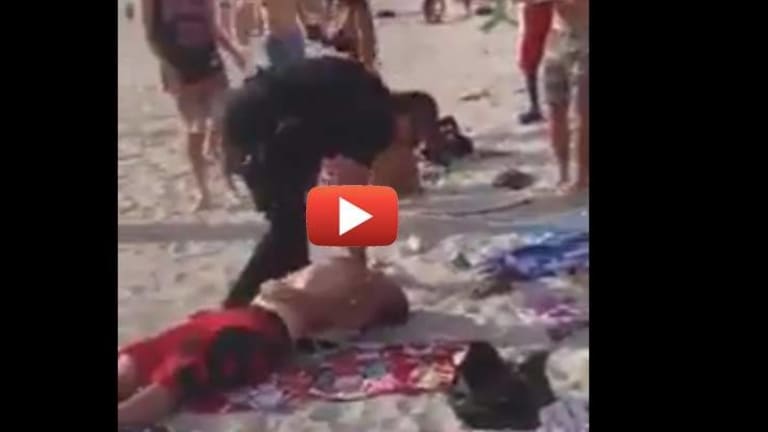 Spring Break Cop Slams Beachgoer to the Ground, Chokes him out
Beachgoers cheered a Pinellas County deputy as he took down two men in the sand.
Pinellas County, Florida - Spring break got off to a violent start in Pinellas County this Sunday, when police responded to an alleged fight on the beach. Details of the fight are unclear, but when police arrived on the scene, the situation escalated to dangerous heights.
Instead of breaking up the altercation, police joined in and became a part of the debauchery. The police officerSpring squared off with 25-year-old Joshua McMahan, who showed resistance at first but quickly gave up after the cops began to beat him. Still, the officers continued to attack the young man even when he had given up.
In a video taken by a bystander, Sgt. Bryan Bingham can be seen placing his hands around the neck of Joshua McMahan, and then slamming his head to the ground. Next, 24-year-old Justin D. Lewis attempted to intervene, seeing that McMaham was in physical danger, but he too was thrown to the ground by Bingham. Another officer can be seen in the video sitting on one of the men and wrapping his hands behind his back.
Lewis spoke to ABC Action News on Monday evening, explaining why he attempted to intervene in the arrest.
"When I got there, my friend's face was blue. He was already passed out before he hit the ground and the cop was just not letting up," Lewis said.
For attempting to intervene as he did, he was charged with assaulting a police officer, a claim which he strongly denies.
"I got marks, banged up. There's times in that video I have my hands at my side. I'm tapping, tapping out. I'm not even resisting," he said.
Local legal expert Jeff Swartz suggested that the chokehold the officer used may have been illegal but admitted that it doesn't really matter.
"If the hold was illegal and could have been considered to be deadly force, then the officer might have a problem, but not much of one," he said.
There is no doubt that spring break can get out of control and violent, especially when alcohol is involved. However, when responding to a fight, shouldn't the police be concerned with breaking it up instead of joining in? The man was not resisting before the initial takedown and he most certainly wasn't resisting after. The officer's actions seem to have been punishment or gloating.
These two men may have been in the wrong, but there is no doubt that the initial actions of this police officer escalated this situation. He seemingly took sides with the crowd and began acting on their behalf.
Below is the view of the altercation from a private individual's drone.
John Vibes is an author, researcher and investigative journalist who takes a special interest in the counter culture and the drug war. In addition to his writing and activist work he organizes a number of large events including the Free Your Mind Conference, which features top caliber speakers and whistle-blowers from all over the world. You can contact him and stay connected to his work at his Facebook page. You can find his 65 chapter Book entitled "Alchemy of the Timeless Renaissance" at bookpatch.com.