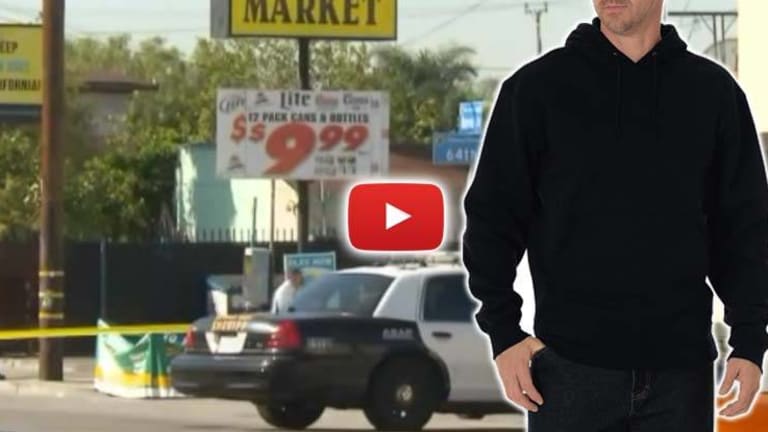 Trigger Happy Cops Gun Down Unarmed Man For Pointing at Them While Wearing a Black Hoodie
Responding to a non-existent robbery, Los Angeles deputies gunned down an unarmed man pointing a finger at them.
Florence, CA – Responding to a 911 call reporting a robbery in progress, two Los Angeles County sheriff's deputies pulled up to a payphone and gunned down an unarmed man pointing his finger at them. After killing the unarmed suspect, police investigators later discovered that no robbery had occurred.
Around 4:30 a.m. on Wednesday, police dispatchers received a call reporting a robbery in progress near South Los Angeles. According to a statement released by the Los Angeles Sheriff's Department (LASD), the caller described the robbery suspect as wearing a black hoodie and black shorts while carrying a black handgun. Approaching a Hispanic male reportedly matching the description and standing next to a payphone, the deputies summarily opened fire.
According to homicide Lt. Eddie Hernandez, it remains unclear whether the deputies turned on their siren or even announced their presence before confronting the suspect. Hernandez claimed that the suspect assumed a two-hand shooting stance pointing his finger at the deputies when he realized they were approaching him.
After investigators took statements from the deputies, Hernandez stated, "What's being described to us is: He turned in the direction of where the deputies were approaching and when it appears he saw who they were – of course we don't know this for sure – when the deputies were there, he took that stance. Prior to that, he was not in that stance."
Although both deputies fired multiple shots, police refuse to disclose how many times the unarmed man was shot or how many bullets they fired at him. Neither deputy was wounded. After determining that the suspect did not have a gun, investigators later discovered that no robbery had taken place.
While searching the area for security cameras, police located one that may provide video of the shooting according to Hernandez. A liquor store owner reportedly told local residents that he witnessed the police shooting next to his store according to KTLA.
After tracing the initial 911 call, investigators learned that the caller had used the same payphone that the unarmed man had been gunned down next to. Describing the circumstances, Hernandez said, "It's suspicious. That is where the call originated and he was the only one standing in the area. The only…inference is he was the one who possibly made that call…Right now we can't draw any conclusions."
Despite the fact that no crime had been committed, two deputies killed an unarmed man for pointing a finger at them. Officials seem to be hinting at suicide by cop, but until footage of the shooting is released or a witness steps forward, the official narrative remains inconclusive.
[author title="" image="https://"]Andrew Emett is a Los Angeles-based reporter exposing political and corporate corruption. His interests include national security, corporate abuse, and holding government officials accountable. Andrew's work has appeared on Raw Story, Alternet, Activist Post, and many other sites. You can follow him on Twitter @AndrewEmett and on Facebook at Andrew Emett.[/author]