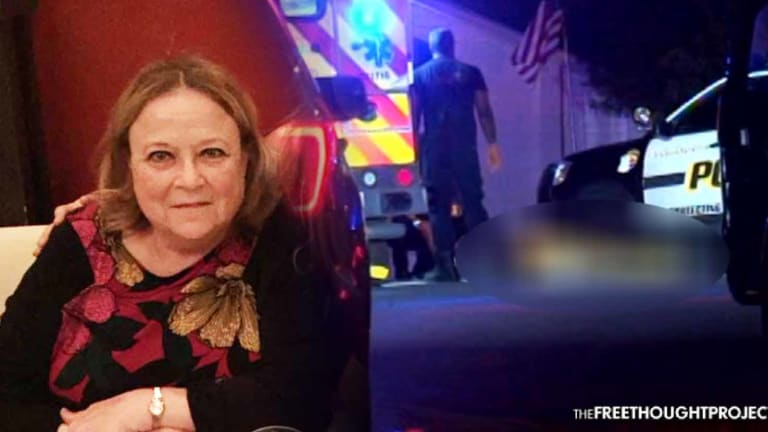 Cop Responding to 'Illegal Fireworks' Runs Over Innocent Mother, Killing Her
A beloved mother of two had her life ended abruptly after a police officer responding to 'illegal fireworks' ran her over, killing her.
San Antonio, TX - An unnamed police officer ran over a 63-year-old woman and killed her this fourth of July when he was responding to a call about illegal fireworks.
According to witnesses, the officer responded to a call in the 14500 block of Crainwood street and spoke to a man about setting off illegal fireworks in the neighborhood. It was not clear whether this resident received a fine or just a warning.
When the officer was finished with the call, he got back into his car and began pulling away from the house when he hit 63-year-old Josephine Carter. Carter had reportedly left her house to speak with the officer as he was pulling away, but he did not see her and ran her over.
That morning, the kind-hearted Carter posted a
">video to her Facebook page wishing everyone a safe 4th of July.
Sergeant Jesse Salame told KENS5 that the officer did not even see the woman in the street.
"He heard a thud on the left side of his vehicle, the left front side. He immediately got out and saw that he had struck the woman," Salame said.
The car rolled over the woman's leg causing her to fall and strike her head on the ground. Carter was later pronounced dead at the scene, likely due to the head trauma.
Police are not releasing the name of the officer, but they said in a statement that he worked for the department for 6 years and was placed on administrative leave pending an investigation.
"It's not a finding that he did anything wrong or that he's in any kind of trouble, but because of the nature of the incident and somebody lost their life," Salame said.
"We're going to look into every aspect of it. We're going to use the dash cam, the body cam, whatever evidence is available to us, in addition, we can tell how fast the officer was going," he added.
The department said, however, that they don't believe speed was a factor and said that the cul-de-sac was dark and that Carter was wearing dark clothing.
"Was the officer looking at the road, was the person in the roadway, were they wearing dark clothing. There's a bunch of questions that need to be answered before we can make any real definitive statements on the status of the case and what's going to happen," Salame said.
According to FOX29, investigators will be sifting through the dash cam video footage to determine if there was any fault on the part of the officer.
Ed Lilly, one of Carter's neighbors described the scene after the collision.
"He just kept saying, 'I ran over her. I ran over the girl. I got down and felt her arm. I thought maybe she was just unconscious or something,"Lilly said.
Another neighbor told reporters that Carter was a kind woman who would "do anything for anyone."
According to a report by United State Consumer Product Safety Commission, at least four people were killed in firework-related incidents last year, with another 11,100 being treated for injuries. 68 percent of those injuries were reported between June 18, 2016, and July 18, 2016. However, this is no reason to impose laws on people who are responsible for their own well-being.
It is ironic that millions of people across the country celebrate freedom by breaking the law to set off fireworks, when the fact that fireworks are illegal should make it clear that freedom does not exist in this country.