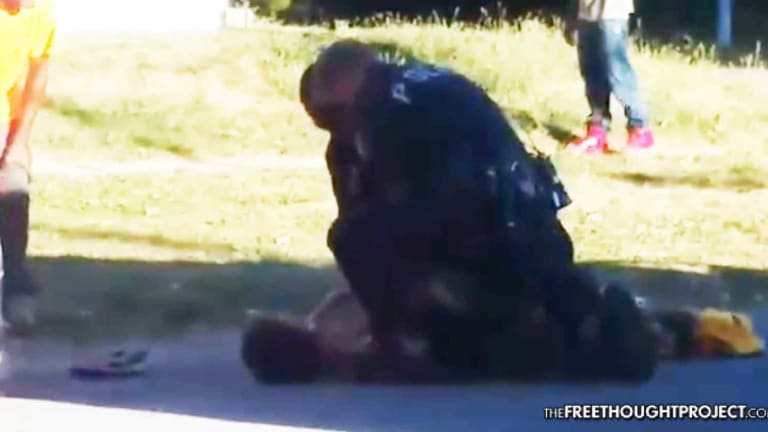 WATCH: Cops Slam 9mo Pregnant Woman Down, Kneel On Her—Dept Says 'Justified'
Ohio police officers will face no consequences after being seen on video allegedly throwing a pregnant woman to the ground and kneeling on her.
Lima, OH — Last September, 32-year-old Kenyatta Secession was on her way to the hospital because she was having an issue with her late-term pregnancy when she was stopped by police who were there to arrest her over her failure to show up to court.
On an afternoon last September, police targeted Secession because she had outstanding warrants for failure to appear in court—also known as being too poor to pay heavy fines for victimless crimes. During the stop, a dispute arose and Secession was wrestled to the ground by Ptl. Matt Boss and Ptl. Brandon Stephenson.
As Hometown Station reported, "Secession said she was on the way to the hospital to have an issue with her pregnancy checked out, when officers pulled her over for an outstanding warrant. She claims that the officers pushed her onto her stomach and put their knees in her back, even though she says she told them that she was pregnant. She alleges that the officer continued to confront her at the hospital until the nurse asked them to leave because her blood pressure was rising."
Video of the incident was posted to Facebook and quickly put the Lima Police Department into the spotlight—even prompting a response from the mayor.
"As a father, grandfather and mayor of this city, I find the video disturbing, and my heart goes out to all those involved," the mayor said. "I have spoken with Lima Police Chief Kevin Martin, who has pledged an objective, thorough and fair investigation," Berger said at the time. "Further, I have asked Chief Martin to review departmental policies and practices regarding the arrest of pregnant women."
Sadly, however, the investigation was completed this week and none of the officers will face discipline for the alleged assault on a pregnant woman. After the department investigated themselves, they found they did nothing wrong, despite video showing the terrifying arrest.
Following the arrest, both officers were disciplined, however, it had nothing to do with their use of force. Instead, one of the officers was suspended for three days without pay for failing to turn on his body mic, while the second officer received a verbal reprimand for an unknown 'infraction.'
As LimaOhio.com reports, in responding to this incident, ministers from the Lima Area Black Ministerial Alliance said this highlights the need for body cameras and that the department must move faster to get them in use by patrol officers.
"We've been saying from day one that body cameras will not lie," said the Rev. Cleven Jones of Shiloh Missionary Baptist Church. "It will tell the truth on both sides of the issue. So that's our concern, that the police department get body cameras so, from start to finish, when these incidents happen, the community, as well as the police department, can have a full view of what actually happened."
Sadly, this incident was captured on film and yet it still did not change the outcome. Although the initial takedown was not captured on video, we can hear the woman filming describe it as it happened.
"He slammed the fuck out of her," the woman filming says.
This woman was seen being thrown to the ground and knelt on by officers—after telling them she was 9 months pregnant—yet the department saw nothing wrong with it.
"Any time you have a woman who, from the video, looks like she weighs no more than 130 or 140 pounds and you've got two officers there who appear to be 200 pounds plus, you mean to tell me that they can't handcuff that woman standing up with the two of them versus her being slammed to the ground with a knee in her back?" the Rev. Arthur Butler of Providence Missionary Baptist Church said. "That's uncalled for."
Indeed it is.