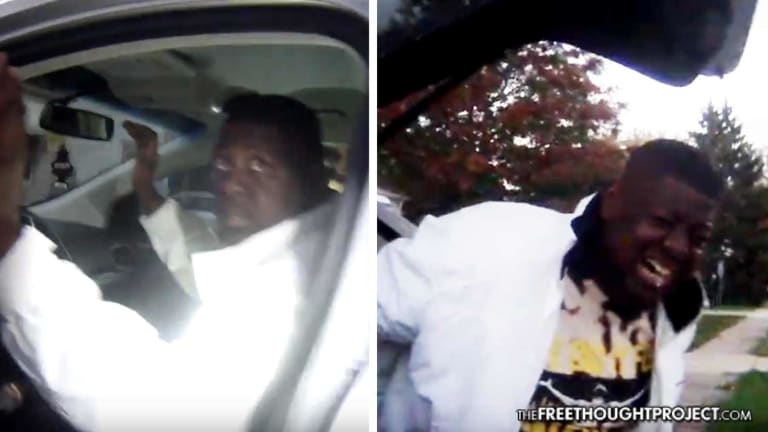 WATCH: Cops Mistake Innocent Man's Colostomy Bag for a Gun—Beat, Taser, Mace Him
Fearful cops mistook a colostomy bag on a man writhing in pain from just having surgery as a threat—so they beat, pepper sprayed, tasered and falsely charged him.
Euclid, OH — Tensions among police and citizens in Euclid, Ohio have come to a head recently after police killed an unarmed 23-year-old man over a marijuana roach and officers were seen on video pulverizing another man over a suspended license. Now, the Euclid police department is sure to become infamous after body camera footage was released as part of a lawsuit against cops who mistook a colostomy bag for a gun and severely beat an innocent man.
Lamar Wright had recently undergone a surgery last year when he was driving home and stopped to use the phone. According to a federal lawsuit filed against the Euclid Police Department on Thursday, Wright had simply pulled over to safely use his phone and was subsequently attacked, assaulted, and arrested by belligerent cops for no reason.
According to the civil complaint, Wright pulled into a driveway on East 212th Street "to safely use his cell phone" on Nov. 4, 2016. Two armed men approached his vehicle, and, realizing they were police officers, Wright placed his car in park and held his hands up.
Officer Kyle Flagg's gun "was raised and pointed toward Wright," as he stood next to the driver's door. Office Vashon Williams stood behind Flagg, his gun raised as well, reports the Cleveland Scene.
Flagg ordered Wright from the vehicle, but before he could even comply, the cops started forcefully prying the recovering surgical patient from the car.
"Flagg yanked on Wright's left arm," the lawsuit reads. "Wright was still seated in the car at this time, and had staples in his stomach and a new colostomy bag. This, in combination with Flagg yanking on his left arm, prevented Wright from extending his right arm toward Flagg. … Flagg's conduct caused Wright extreme pain. Wright cried out to Flagg several times that he was hurting his arm, but Flagg ignored him."
Clearly in agony from the brute force of the cops attacking the post-op patient, Wright grabbed at his colostomy bag, crying out in pain, all the while attempting to explain to the cops what was going on. They wanted nothing to do with hearing his problems, however, and proceeded to taser, pepper spray, and slam Wright to the ground before he could get a word in edgewise.
The lawsuit notes that both cops "had the duty and opportunity to intervene to protect Wright, and to prevent the unconstitutional use of force against Wright. Neither Flagg nor Williams did anything to prevent this unlawful attack."
"I got a shit bag!" Wright yells as the cops forced him to the ground causing him excruciating pain. Again, the cops proved they couldn't care less about the pain and suffering—caused by their fear, ignorance, and violence—of an innocent man.
As the body camera continues to roll after Wright is taken out by the officers, we can hear them claiming they thought the colostomy bag was a gun. Even after Wright explains to them what it was, they were still seemingly oblivious.
"Dude, I thought he had a gun," Flagg says.
"He started reaching," Williams says.
"Why the fuck are you reaching like that?" Flagg asks Wright.
"I told you I got a bag!"
"No, dude, you were reaching with your right hand."
"I got a bag!"
"What's a bag?" Williams asks.
"A shit bag, man!"
"OK, but what are you doing reaching for it?" Williams asks.
"I don't know if you're getting ready to shoot me or what, man," Flagg says.
For committing absolutely no crime, Wright was charged with obstructing official business, resisting arrest, and criminal trespass — all fabricated, according to the lawsuit, to justify the horrific abuse.
The suit also alleges that the officers "mocked" Wright for his pain upon taking him to the hospital, and that although he made his nearly $900 bond, "he was subjected to a search via a full-body x-ray scanner. … Only after this scanning was complete, approximately four to five hours after bond had been posted, was Wright finally permitted to walk free."
Wright says in the suit that he was forced to pay $1,000 for the damage the pepper spray caused to the rental car and he's since been put on a "do not rent" list as a result.
In spite of all the egregious charges being dropped and video showing the unnecessary and brutal escalation of force, neither of the officers were disciplined and, in fact, chief Scott Meyer announced last week that the Department had been awarded the AAA Platinum Award for community traffic safety. You cannot make this stuff up.
"I filed this case to stand up against police brutality, and to stand with other victims of senseless attacks by officers from the Euclid Police Department. These officers' illegal treatment of people in the city must stop," Wright said in a public statement. "We need justice for all the victims of the EPD."