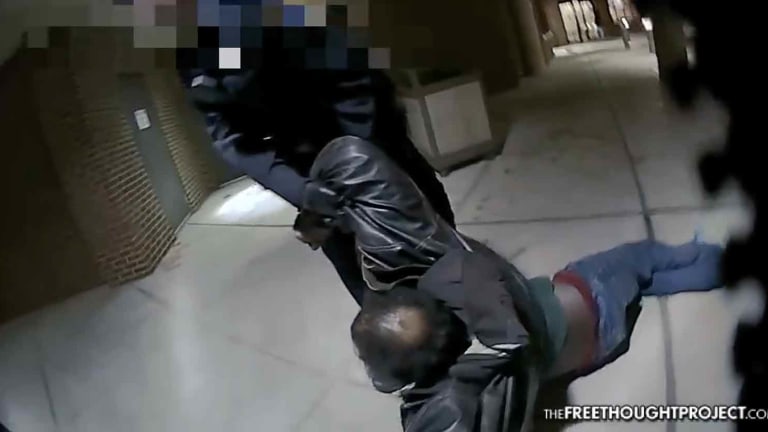 WATCH: Innocent Man Dies 2 Hours After Cops Mock & Abuse Him for "Pretending to Be Sick"
Instead of helping a dying innocent mentally ill man, police mocked, assaulted, and then arrested him only to have him die in their custody two hours later.
Norman, OK — Infuriating body camera footage has been released showing two police officers torment, mock, and physically assault an innocent man who was merely trying to get treated at a local hospital. Only two hours after Norman police officers accused Marconia Kessee, 34, of "faking it," this innocent man would be dead.
A local activist group is now calling for the officers involved in the deliberate torment of an apparently dying man to be fired after body camera footage from Officer Kyle Canaan and Officer Daniel Brown showed the disgusting act.
As OU Daily reports, the Norman Citizens for Racial Justice's press release states that the group believes the Norman Regional Hospital was negligent and the Norman Police Department "treated Marconia with extreme cruelty, denying him basic human rights, and profiling him because he was black, homeless and ill."
"We fear for the future of Norman if there is not a way to protect the community from a police force that is exhibiting aggression, militarization and a lack of ability to properly interact with homeless, mentally ill and people of color communities," the press release states.
According to family members, Kessee went to the hospital that day complaining of a headache. Kessee's uncle, Michael Washington told Oklahoma's News 4 that the hospital was inadequate in treating his nephew.
"I wasn't there, but I believe it in my heart that he refused to leave because he wasn't treated and he felt that he needed more medication because his headache was still hurting him," Washington said.
Indeed, only hours later, this innocent man would be dead.
The incident happened on January 16, and as the body camera footage shows, the police officers were dispatched to the hospital to remove Kessee from the hospital grounds. When they arrived, Kessee was unable to walk and appeared to be in severe distress.
Officers did not believe Kessee when he told them he was suffering and instead resorted to mocking the man, demanding he get himself to the Salvation Army.
"You can't just act like this to get back in the hospital, that's not how it works," one officer is heard saying.
Kessee was in so much distress that he could barely put on his own shoe. However, the officers thought this was an act, so they mocked him further.
At one point, one officer shows his utter lack of humanity and compares Kessee to his dog, saying, "I could teach my dog to put a shoe on quicker than this."
After several minutes, the officers lose patience.
"Here in about 15 seconds, I'm going to drag your ass to the curb to get you off this property and then you can find your own way to the Salvation Army. OK? Put your shoe on. I'm losing patience," an officer says in the video.
Instead of realizing the man is suffering—and apparently dying—they then proceed to drag him to the patrol car and book him for trespassing.
Kessee was then transported to the Cleveland County Detention Center where he was thrown in a cage. As the police report notes:
NPD was later notified that Kessee was found unresponsive in his cell approximately two hours after being booked into the detention center. Detention center staff called 911, and a medical response by the Norman Fire Department and EMSSTAT was initiated. Kessee was transported by EMSSTAT back to Norman Regional Hospital – Porter Campus where he was pronounced deceased.
Two hours after he was arrested for trying to seek treatment at the Norman hospital, Kessee was brought back to the same hospital only to be pronounced dead. A travesty indeed.
Below is an infuriating video showing what happens when the system fails society's most vulnerable. We are told that all this exists to protect the innocent and help those in need. However, Kessee's case illustrates the antithesis of that philosophy. He was in dire need of help and those who claim to ostensibly protect him ended up playing a role in his untimely death.
Kessee's cause of death has still not been released. Both the hospital and have since launched separate investigations into his death as well as the Oklahoma State Bureau of Investigation.
"Norman Regional Health System is saddened by this loss of life. We are internally reviewing this case," a representative for the hospital told The Mighty.
According to the department, the officers involved have been placed on paid leave involving the results of an internal inquiry.
There is no indication at this time that the actions of the two officers contributed to the death of Kessee. However, the department has launched an administrative review of the actions and disparaging comments made by the two officers. By policy, the officers have been placed on administrative leave pending the outcome of the internal investigation.