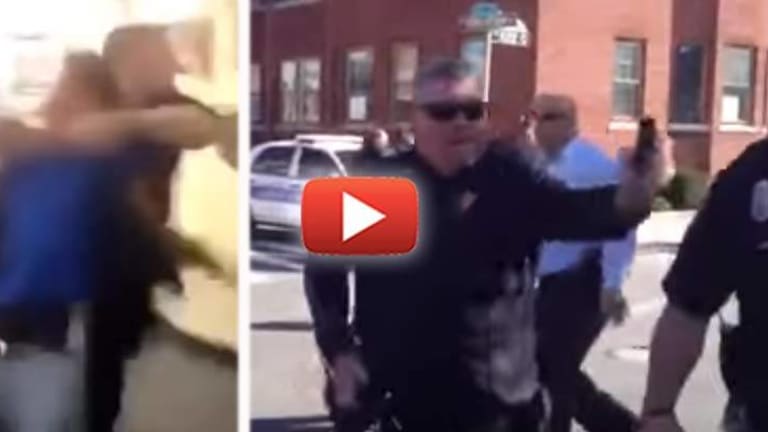 Cops Pepper Spray Crowd of School Kids Protesting a Cop Caught on Film Body Slamming Child
After video surfaced of a school officer body-slamming a 14-year-old boy, protests ensued. Protesters were met with heavy doses of pepper spray.
Pawtucket, RI -- At Toleman High School on Wednesday, a brief video sparked outrage showing a police officer violently arresting a 14 -year-old boy.
Police said that student was acting unruly before the incident, allegedly trying to fight another student, so they moved in. According to police, while the officer was trying to arrest the 14-year-old, the student's 17-year-old brother attacked the officer.
The video does not show the attack; it only shows the 17-year-old boy face down on the floor. At this point, the 14-year-old approached the officer, and he's immediately and violently slammed to the ground.
On Wednesday, the video quickly went viral sparking a subsequent protest at Toleman high on Thursday. The protest was entirely peaceful at first but became a bit chaotic when the fire alarm went off inside the school, and all the students were forced to evacuate.
As the protest grew, the mayor got involved. "I'm asking you to put your trust in me," Mayor Don Grebien said to the students. "I'm going to listen to you."
According to WDAM, Grebien pleaded for the students to head back to class. He decided to meet with a few students at city hall.
As the police presence increased, so did the tension, and a window was allegedly broken.
After police arrested two adults and eight teenagers, they then began to move in on the crowd, dousing them with pepper spray in the process. Police say they were forced to pepper spray the crowd of high schoolers because they were "being threatened."
"Myself along with Chief King, the Pawtucket Police Chief, spoke with State Colonel Steven O'Donnell and we had conversations and we all agreed that the Pawtucket Police Department and Rhode Island State Police will be jointly conducting a full investigation of the video that we've all seen and the issue at hand," Grebien said. "I believe that we need to make sure this is a transparent process, there needs to be some open dialogue."
The protest wrapped up by 11:30 am and there were no further incidents.
On Thursday, WRPI spoke with the two teens who said there was no need for the police brutality.