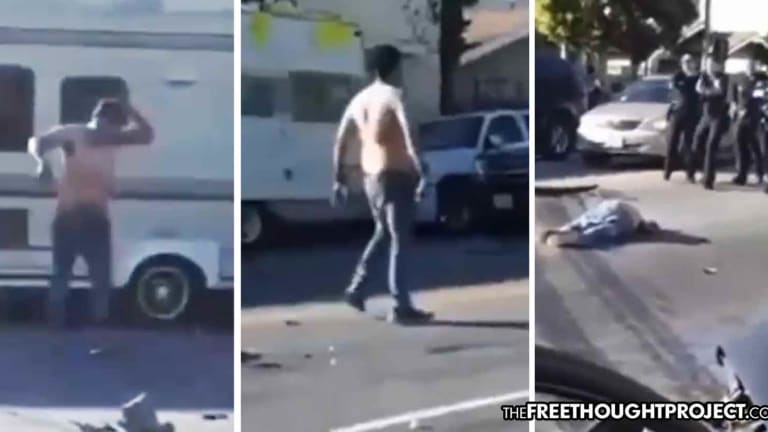 WATCH: Cops Publicly Execute Shirtless Man for Walking at Them from 30 Feet Away
A disturbing police shooting in LA unfolded this week in which cops executed a shirtless man for walking toward them with his arms outstretched.
Los Angeles, CA — What started out as a multi-car traffic accident ended in a hail of police bullets into an unidentified man who witnesses say was unarmed but who cops claim had an "edged weapon" that was "several inches long."
According to LAPD Headquarters, LAPD's Newton Division first responded to a report of a crash involving several vehicles at 32nd and San Pedro streets.
"At approx 5:30pm Newton Division officers responded to a multi-vehicle traffic collision in the area of 32nd St. & San Pedro. Upon arrival they encountered a male Hispanic in the street armed with a folding edged weapon, at which point an Ofcr-Involved Shooting occurred. The suspect was struck by gunfire & pronounced dead at scene. The weapon was located next to the suspect & no officers were injured during the incident. Two people were transported to a local hospital with non life threatening injuries from the initial traffic collision call."
Police claim to have found the weapon and described it as some sort of folding knife with a blade several inches long, next to the suspect.
"Detectives will be working on this case throughout the night," LAPD Lt. Chris Ramirez said on Wednesday.
That was two days ago and police haven't released anything else in regard to this case. No media has reported on the videos of the shooting either. So, while the case seems cut and dry from the LAPD's description, the videos taken from bystanders paint a different picture. TFTP was given two separate videos of the shooting which imply how entirely unnecessary it was.
As the first video shows, the scene is quite chaotic as multiple injured people are seen sitting in their cars. As the man filming asks the injured crash victims if they are okay, he pans the camera to a shirtless man in the street.
A female officer is heard yelling something before the shirtless man turns and begins walking toward her. He does not appear to be holding or presenting anything in his hands that is large enough to see in the video. In fact, as he walks toward the officers, he wipes the back of his head, clearly showing that hand is empty.
We can hear the female officer yell at the man to "show me your hands."
"Let me see your hands," she says. "Stay right there."
The man does not stay right there, however, and begins walking toward her with his hands out. It is unclear what she says next, as the man filming is talking over her. What is clear however is that she opens fire on him from well over 30 feet away.
The first two shots appear to hit the shirtless man before he falls to the ground. He fumbles momentarily as he tries to get to his feet and instead of putting up her gun to reach for a taser or do anything else that may have preserved life, she dumps four more rounds into the man as he falls to the ground.
There were at least a dozen people in the vicinity of the officer when she opened fire showing her careless disregard for life.
In the second video, taken from the angle of the police officer, we see exactly how far away he is when the cop opens fire. Although a portion of the video is blurred out, we can't see anything in his hands in this video either requiring this lethal force.
Also, as the cop keeps dumping rounds into the man, there are dozens of people in her line of fire behind the man.
TFTP has reached out to the LAPD for a statement on this shooting, but we have not yet heard back. If you have any further information on this shooting, please email us at [email protected]
WARNING: the two videos below are graphic.
" width="560" height="315" frameborder="0" allowfullscreen="allowfullscreen">