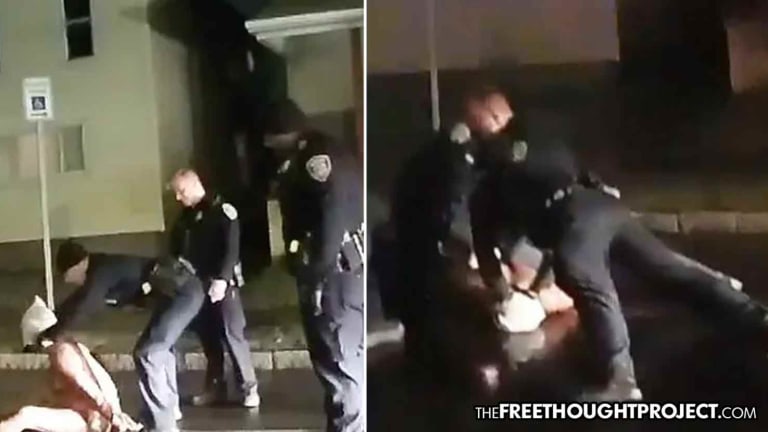 Cops Put Hood on Handcuffed Father, Smash His Face In Until He Stops Breathing and Dies—Lawsuit
A man in need of medical attention received police violence instead and had a hood placed on his head and held to the ground until he stopped breathing and died.
Rochester, NY — When Daniel Prude died on March 30, 2020, not a single mainstream media network covered it and it was but a blip in local media. It wasn't until his family fought for months to find out what happened that Prude's case finally saw the light of day. In the midst of a mental health crisis, Prude was compliant and sat on the ground when asked by police and placed into handcuffs. Moments later, he'd have a hood put on his head while cops shoved his face into the pavement until he stopped breathing and eventually died.
Seven days after Prude stopped breathing on his own, he would die on life support.
After fighting for accountability, last month Prude's family found out that the officers who killed Prude would face no charges. The grand jury's decision sparked immediate protests, prompting street closures as citizens called for change.
Now, after the system failed them, Prude's family has taken their action in civil form and have filed a federal lawsuit against the city of Rochester, N.Y. and at least six police officers in federal court, alleging civil rights violations, gross negligence and wrongful death.
According to NPR, attorneys representing Nathaniel McFarland, one of Prude's five children and the administrator of his estate, filed the lawsuit on Monday in the U.S. District Court for the Western District of New York.
The lawsuit alleges that police violated Prude's constitutional rights protecting against unreasonable search and seizure and accused officers of covering up this father's death.
Six officers are named in the lawsuit: Mark Vaughn, Troy Taladay, Francisco Santiago, Michael Magri, Andrew Specksgoor and Josiah Harris. There is also an "other as-yet-unidentified Rochester police officers" named as a defendant.
"For years before Daniel's death, Rochester has maintained a policy of deliberate indifference to the rights of people of color who encounter its police officers, in particular those people experiencing mental health crises," the complaint reads. "As a result of the City's policy failures, people in Rochester have endured years of abuse, and vulnerable people like Daniel Prude have been killed."
Given the fact that in the last two months alone, Rochester police have made international news for abusing children and their mothers, the above statement rings infuriatingly true.
"My father had a hard life, but he was a great dad. He always showed me and my brother and sisters how much he loved us," McFarland said in a statement, according to The Associated Press. "Our hearts are broken by his death, but this lawsuit has given us hope for the future."
According to WHAM, in statement, Interim Rochester Police Chief Cynthia Herriott-Sullivan said even though the officers were not indicted, the department will continue with its own internal investigation. The officers involved remain on leave.
As TFTP reported at the time, Prude's brother called police that evening to get help for his brother. This is a decision he now regrets.
"I placed a phone call for my brother to get help. Not for my brother to get lynched," Prude's brother, Joe Prude, said at a news conference. "How did you see him and not directly say, 'The man is defenseless, buck naked on the ground. He's cuffed up already. Come on.' How many more brothers gotta die for society to understand that this needs to stop?"
Joe Prude was far more qualified to get his brother under control than the officers and he should have never called them to do it for him. Sadly, this type of scenario plays out like a broken record as family members rely on police officers to help their loved ones and "help" is often times last on the list. He's family has since come out, saying the decision to dial 911 that day was a "fatal mistake."
As the video shows, Prude is initially compliant with police and sits down on the ground, allowing officers to handcuff him. However, he slowly becomes agitated after officers put a hood on his head.
It is unclear if Prude attempted to spit on officers prior to having the hood placed over his head. However, this incident took place as COVID-19 deaths began mounting in the state, so officers said they placed the hood on his head for their protection.
For no apparent reason, other than dishing out punishment, officers then slam the man's head into the concrete. One officer then holds his head down against the pavement with both hands, saying "calm down" and "stop spitting." Another officer places a knee on his back.
"Trying to kill me!" Prude says, his voice becoming muffled and anguished under the hood.
"OK, stop. I need it. I need it," Prude begs, his voice growing softer as the air is squeezed from his body.
For over two minutes police held Prude's face to the ground with a hood over it until eventually fluid started running from his mouth and he stopped breathing.
"My man. You puking?" an officer says.
The lawsuit points out how officers physically and verbally abused Prude while "chatting casually and making jokes at [his] expense" instead of providing him with life saving help.
By the time officers stopped joking and removed the hood and the handcuffs but it was too late, Prude would never start breathing on his own again and would die days later in a hospital.
According to the report a medical examiner concluded that Prude's death was a homicide caused by "complications of asphyxia in the setting of physical restraint." The report lists excited delirium and acute intoxication by phencyclidine, or PCP, as contributing factors.
The lawsuit describes the city's "broken system" of allowing police abuses to go unchecked for years and blames this corrupt negligence for Prude's death.
"As a result of the City's failure to meaningfully investigate or discipline officers who engage in excessive force, RPD officers can mete out force against citizens with impunity and take comfort in the fact their acts of violence will never be meaningfully scrutinized, even when those acts are captured on video," the complaint alleges.