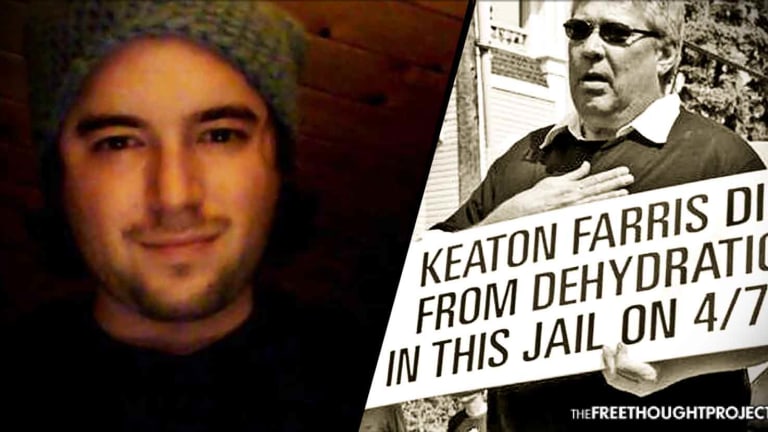 Officers Sentenced to Only 5 Days in Jail for Dehydrating Man to DEATH and Covering It Up
Officers responsible for dehydrating a mentally ill man to death in a prison cell were sentenced this week and received an insultingly low five-day jail term.
Island County, WA -- In 2015, Keaton Farris, 25, was accused of trying to cash a $355 check that wasn't written out him. After failing to appear for his court date, he was arrested on March 20. He would not leave the jail alive.
Now, after three years of trying to hold the officers responsible for his death accountable, Washington state's version of "justice" has been served. The officers responsible for his death have been sentenced for their crimes. However, it is a kick in the teeth to Farris' family.
As HeraldNet.com reports:
On Tuesday, two former Island County jail guards were sentenced for forging safety logs to make it seem like they'd been checking on Farris more often than they did.

David Wayne Lind, 55, and Mark Edward Moffit, 61, pleaded guilty to false reporting by a public officer, a gross misdemeanor. They were sentenced to a year in jail with all but three months suspended, a Whatcom County Superior Court judge ruled. Five days must be served behind bars. The remainder can be community service, outside of a jail.
For causing the death of a presumed innocent man—in one of the most horrifying ways possible—these two former jail officers will only spend five nights in jail.
"If we were outside of the jail, and we cut off somebody's access to water, and we were in control of their environment, and we didn't feed them enough — there's no question that's going to be a serious crime," Fred Farris, Keaton's father said.
"It was many people," Whatcom County prosecutor, Dave McEachran said in court Tuesday. "It was the whole system that just wasn't working. … It was a total failure by the entire staff, by people who should have known better."
Indeed, as the story below points out, everything that could've been done wrong, was.
As TFTP reported at the time, Farris had no prior criminal record but had struggled with a history of mental illness. He was diagnosed with bipolar disorder in 2013, but had improved with medication, according to family members.
20 days after being taken into custody, on April 8, Farris was found dead in his cell.
After his death, Island County Sheriff Mark Brown released a report apologizing for dehydrating and starving this young man to death.
"I am truly sorry for this tragic death," Brown wrote in the report. "Our highest priority is the safety and well-being of our inmates and staff and this report describes a systematic breakdown of policies, procedures and communication that led to this tragedy."
"We are determined to do everything possible to minimize the chances of this kind of a tragedy from occurring in our jail ever again," Brown said, adding he had met with Fred Farris, to express his condolences.
However, no apology will ever bring Fred Farris back his son.
What's more, the "breakdown of policy" was actually a deliberate cover up of a man's death in the custody of law enforcement.
Sorry, we killed your son.
In the days leading up Farris' death, an incompetent system of brutality and neglect would come together to facilitate the killing of this young man.
Upon arriving at the Lynnwood jail, Farris pleaded with officers. He tried to tell them that he was off of his medication. His father even called in and told jail officials the same. However, these requests were ignored.
Instead of treating the obviously mentally ill and distressed man, Farris was met with force, tasers, and restraints. He would be transferred to multiple prisons as law enforcement officers refused to render aid.
He was moved to the Snohomish County Jail where staff made notes that Farris appeared "gravely disabled" and was displaying symptoms of psychosis, according to the Daily Herald.
The Herald reported at the time:
He arrived in Skagit County in a restraint chair and refused to speak. Jail staff were advised that he had been shocked with an electric stun gun while at the jail in Everett.

Skagit County corrections officers restrained him and requested he be seen by a designated mental health professional. That never happened because the request was too vague and there was a question about who had jurisdiction over the man.

He ended up at the jail in Coupeville because San Juan County doesn't have a jail and uses Island County's under a contract. When San Juan County deputies arrived in Skagit County to take custody of Farris he refused their commands to stand up, and he began to ramble.
During his stay at Coupeville, Farris had completely broken down. He then flooded his jail cell after putting his pillow in the toilet.
Instead of seeing this as the obvious mental condition that it was, officers simply cut the water off to his cell.
Jail policy is to check on an inmate in Farris' condition once an hour, and according to their logs, jail officials did check on Farris. However, according to the surveillance footage, which doesn't lie, they never checked on him.
Two days later, Farris would be found dead in his cell at 12:40 AM on April 8, 2015.
After his death, the system attempted to reform itself by hiring a new jail chief, Jose Briones, who has expertise in dealing with the mentally ill. Also, mental health professionals are now required to assess inmates daily and document their interactions.
After the sentencing, both officers expressed their remorse, but stopped short of taking the entirety of the blame and passed onto the culture of the jail at the time.
"I am so, so sorry for everything that happened here," Lind said. "It's unbelievable. When I found Mr. Farris deceased, I was stunned, I was shocked, I was in disbelief."
"I agree with Mr. Lind. I was caught in the same trap that he was, in that jail," said Moffit. He then turned to Keaton's family and said through tears, "Most of all I want to apologize the family. To the mother, the father. I can't even imagine. I accept whatever punishment they give me."
As the Herald points out, Fred Farris has had a voice in the reforms at the jail. Yet he fears there will never be real justice for Keaton.
"At this point, if I had any control over this never happening to anybody again," he said, "I'd do whatever it took to get there."