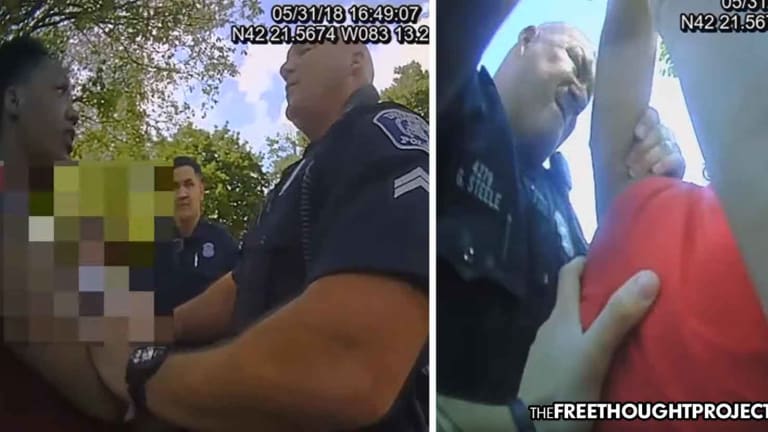 WATCH: Cops Attack Innocent Mom, Take Her Baby, Break Her Arm, Kidnap Her
After an innocent mother defended herself from an attacker, confused cops showed up and arrested her—taking her baby and breaking her arm in the process.
Detroit, MI — Elaine Murriel, a single mother, was dropping her infant son off at the baby's father's house when she says the man's girlfriend — whom Murriel has a restraining order against — attempted to run over her with her vehicle. As the car steamed toward her, Murriel pulled out her legally licensed handgun and fired a single shot at the car "to alleviate the imminent threat of harm." The act of self-defense saved Murriel and her son's lives. But when police arrived to investigate, this act would leave Murriel in a cage with a broken arm.
The incident unfolded on May 31, 2018 and is now the subject of a lawsuit against the Detroit police department. Four officers showed up to the scene after Murriel defended herself from her attacker and instead of treating her like a victim, Murriel was treated as if she was the criminal.
Detroit officer Gary Steele — who has since been fired for posting incredibly racist videos to Snapchat — was one of the four responding cops. And, his inability to be a half-decent cop caused an innocent woman severe grief and pain.
Despite Murriel telling the officers why she fired the single shot, Steele ignored her and the officers moved in to arrest her. Steele also moved forward with the arrest, according to the lawsuit, in spite of the fact that Murriel's claims of self-defense were also corroborated by her child's father.
Nevertheless, Murriel was compliant and was going to let the officers arrest her. She simply asked to call her mother so she could give her infant son to her before going to jail. The officers are seen on video verbally agreeing to let her do this. However, they moved in to arrest her anyway.
As the video shows, the cops rip the baby from Murriel's arms as she screams in protest. After the officers steal her baby, Steele bends Murriel's arms up so high behind her back that one of them snaps.
Video of the incident shows that it is Steele who, according to the lawsuit, manipulates Muriel's arm "in an abnormal manner" before an audible crack is heard and she starts wailing in pain. "
You broke my arm! You broke my arm! Oh my God, you broke my arm," Muriel screams.
"Ow! Ow! Ow! You broke my arm!" Murriel screamed as police put her in handcuffs.
As more cops show up on the scene, Steele's inability to properly assess the entire situation led to the officers fighting with each other in a fit of confusion.
"What the f*** happened," one officer asks. "He (Steele) didn't want to listen to the whole story... and now all this just f****** happened for no reason," another officer responds.
According to the lawsuit, Murriel was taken to the hospital where an X-ray confirmed her arm was broken. She was given a sling and transported to jail, where she stayed for four days without medical assistance before being released.
For saving she and her baby's lives, Murriel was kidnapped and thrown in a cage, despite never being charged with a crime.
"By making my client languish in jail with a broken arm for four days, that's outrageous," said Murriel's Southfield attorney Geoffrey Fieger.
We agree.
For those who don't recall, officer Steele was fired earlier this year — not for arresting an innocent mother, stealing her baby, and breaking her arm — but for stealing a black woman's car and making racist posts on social media laughing about it. This is the subject of a second lawsuit against the department.
As WWJ reports:
The second lawsuit stems from an incident that happened January 28, 2019 after Steele and his partner stopped a driver for an expired plate on Stout Street near Joy Road on the city's west side. After pulling her over, Steele asked 24-year-old Ariel Moore to get out because he was going to impound her vehicle. Steele then shot and shared a video showing Moore as she was forced to walk home alone in the snow as one of the officers says, "Bye, Felicia." The post included the captions: "What black girl magic looks like" and "celebrating Black History Month." Both Steele and his partner were fired following an investigation into the incident.