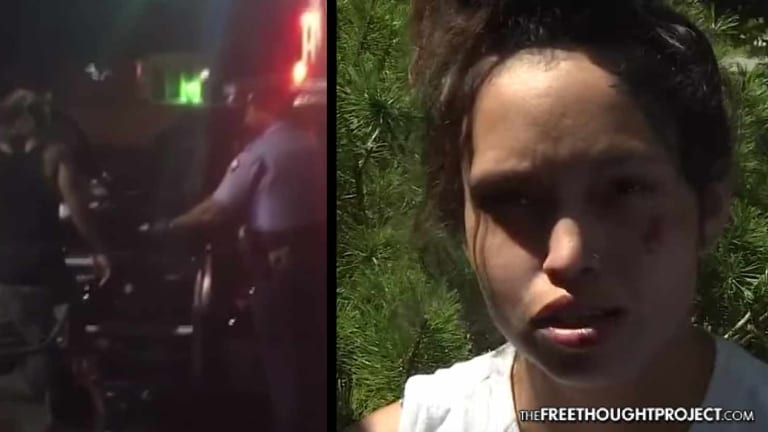 WATCH: Cops Said They 'Smelled Pot' So They Smashed a Woman's Face In
Minneapolis police left a woman battered and bloody during a traffic stop this week because an officer claimed he smelled a plant.
Minneapolis, MN — When police officers smell a plant in the land of the free — take cover — as they are now authorized to kidnap, cage, beat, and/or kill you. An innocent couple found this out the hard way while they were getting gas late Monday night.
A woman, who goes by the name Mixie, is now filing a complaint against the Minneapolis police department after they left her battered and bloody while harassing her over a plant.
According to police, the stop originated because Mixie's boyfriend 'fit the description' of a wanted felon. The fact that police were wrong and Mixie's boyfriend was not the man they were looking for is irrelevant, however, as once they initiated the wrongful stop, cops then claimed they smelled pot.
Mixie told KARE 11 how an officer "pushed me to the ground, chipped my tooth, now my face looks f***ed up."
Even though the cops were wrong, the couple was still detained and arrested — because they smelled a plant.
According to Mixie, the officers held them at gun point as they attempted to comply. She thinks they were the subject of racial profiling.
"They started shouting, 'Put up your hands,'" she said. "We were very scared. This all happened within like 30 seconds to like a minute to where they pulled out a gun. They thought he was somebody else who had a felony warrant and basically all I can say about that is it was racial profiling. They pretty much admitted that at the end by letting us go with a citation."
By going to the media, Mixie is hoping to raise awareness to make sure this type of irresponsible and brutal action does not happen again.
"That's my goal through all of this," she said. "We need more accountability so this doesn't happen to anyone else."
After cops beat her, Mixie was issued two citations: one for interfering with the legal process and one for cannabis. Mixie was then brought to the ER for her injuries where doctors told her she might have a concussion.
Naturally, the Minneapolis police department is attempting to justify their brutal incompetence by noting that they smelled marijuana. However, they have announced that the incident is under investigation — as is standard procedure when cops leave small young women bleeding and concussed.
Minneapolis police say their Internal Affairs Unit is conducting a use of force review. They issued a statement on the incident:
"On August 14th, Fifth Precinct Officers pulled over a vehicle, believing the driver had a felony warrant issued for his arrest. Both the driver and passenger refused to follow officer's directives. After multiple requests for the driver to exit the vehicle, the driver unlocked the vehicle doors. Officers then removed the driver from the vehicle and in doing so smelled the odor of marijuana emanating from within the vehicle. The officers then attempted to remove the passenger from the vehicle to conduct a search for unlawful contraband.

The female passenger ignored the officer's requests to exit the vehicle and was eventually pulled from the vehicle as she was now obstructing the officers from conducting a search of the vehicle. During the process of removing the passenger she was taken to the ground and placed in handcuffs. Officers then observed that the passenger had an injury to her face and summoned medical attention.

Officers requested a supervisor respond to the scene and conduct a use of force review. This is standard protocol and the force review process is still being conducted by the Minneapolis Police Department's Internal Affairs Unit. Body camera footage from multiple officers documents the incident from beginning to end. Suspected marijuana was recovered from the vehicle. The passenger refused medical attention before she was cited for obstructing the legal process and possession of marijuana."
In the land of the free, pumping gas with your significant other can end in your harassment and physical assault, and this will be referred to as 'justice.'