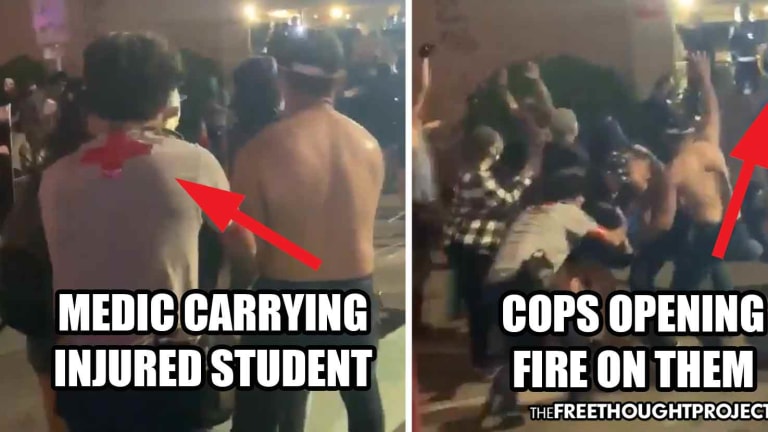 WATCH: Cops Shoot Innocent Student in Head with Rubber Bullet, Open Fire on People Helping Him
After shooting an innocent student in the head with a 'less lethal' projectile, police then opened fire on the people trying to help him.
Austin, TX — Across the planet, the red cross emblem is an internationally recognized symbol of protection and neutrality; used to identify medical services as well as the people, programs and objects connected with humanitarian activities. Military are taught not to engage people wearing this symbol and for the most part, this is universally accepted. In the land of the free, however, when cops are in a heightened state of aggression and violence because people are protesting, the red cross seemingly becomes a target, as the following video shows.
According to The Battalion, Texas A&M's student newspaper, the victim in the disturbing video below is Justin Howell, a graduate of Communication Arts High School in San Antonio who is currently an undergraduate student at Texas State University where he is pursuing a degree in Political Science.
Howell was peacefully protesting police brutality in Austin this week when he was shot in the head by a "less than lethal" projectile. In a news briefing this week, Austin Police Chief Brian Manley said police video shows Justin standing near Austin police headquarters around 11 p.m. when another man throws a water bottle and a backpack at officers guarding the building.
"Within a moment's notice after that, one of the officers fired their less-lethal munition at that individual apparently, but it struck [Justin Howell] instead. [Justin Howell] then fell to the ground and it appears as though he hit his head when he fell to the ground as well," Manley said.
As the Texas Tribune reports, Manley said after the man was shot, people nearby talked to officers about getting him medical attention and were given instructions to bring him toward police. Video shows a group of people carrying a man toward the officers on the steps of the police building and then being shot at themselves. Manley said it was reported that less-lethal munitions were again used, and one person at the protest providing medical attention was struck in the hand.
In that video which looks like a war zone, four people are doing exactly what the officers instructed them to do by carrying Howell to the station. Instead of being received by officers like they were told was going to happen, cops opened fire on them again. This was in spite of the fact that they were carrying a victim and at least one of the people carrying him had red cross emblems on his clothing.
Eventually, the heroic protesters were able to get Howell loaded into an ambulance and get him to a hospital. The political science major is in ICU in critical condition suffering from a fractured skull and brain damage.
In his statement, Manley claimed that "we are praying for this young man and his family, and we're hoping that his condition improves quickly."
However, Justin Howell's brother, Joshua Howell who is a computer science graduate student and opinion editor for The Battalion, says their family wants none of his prayers.
Joshua writes, "To which my family, a deeply religious one, says this: We aren't interested in your prayers. We are interested in you appropriately using the responsibilities with which the people of Austin have entrusted you. Prayer is not an excuse to abdicate responsibility. And responsible you are. Because Justin won't be improving quickly. 'It will be a marathon, not a sprint,' according to one of his doctors."
Below is the video illustrating why Joshua Howell and his family are reluctant to take solace in the words of the Austin police department.
Howell's injuries, while shocking, should come as no surprise to those who have been watching this police violence unfold. On Wednesday alone, TFTP reported on two horrifying incidents: an innocent grandmother who was shot between the eyes with a rubber bullet and a man was pepper sprayed before being shot in the face with a tear gas grenade.
The Austin PD is also shooting children in the face with rubber bullets too. Manley confirmed that another video showed that a Hispanic teenager, either 15 or 16, was struck in the forehead with less-lethal ammunition from officers.