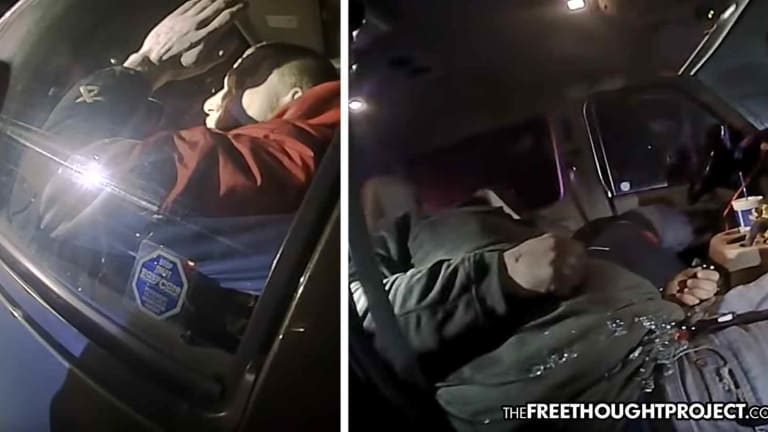 WATCH: 'Don't Shoot Him!': Cops Disobey Sgt, Shoot Two Unarmed Men and Get Away With It
A man was sleeping in the passenger seat of a van when two officers disobeyed their sergeant and began shooting him.
Akron, OH — The family of a man who was severely injured and left permanently disabled by police is seeking civil justice against the officers who shot him after the criminal justice system failed them. Matthew Burghardt is now blind and permanently cognitively incapacitated because he was a passenger in a van.
Lakemore officer Ezekial Ryan and Springfield Township officer Kristofer London shot Burghardt last year as he sat unarmed in the passenger seat of a van. The officers were both found by their superiors to be justified in their actions, despite video evidence showing what they did was entirely unjustified, illegal, and against the direct orders of their superior.
One year ago, police were called out to a possible burglary call when they found Burghardt and Christian Beard asleep in a van nearby. When officers attempted to jimmy the door open, Beard sat up, put up his hands and appeared to temporarily comply.
However, Beard then disobeyed the officer and started the vehicle to make an attempt to flee. He then put the van in reverse and tried to take off. At no time did Beard pose a threat to the officers even though he was backing up.
As the van began to move, the ranking officer on the scene, Springfield Township police Sergeant Eric East is heard saying, "Don't shoot him, don't shoot him," because he knew that no lives were in danger.
But the other two officers disobeyed the sergeant and opened fire.
"Whoa! Whoa! Whoa!" East yells as he runs for cover while his fellow cops attempt to murder two people.
Ryan and London each fired three shots at the men in the van, according to the lawsuit. Burghardt was struck in his head and arm. Beard suffered several, mostly superficial wounds.
The officers' cameras captured the entire scenario.
According to Cleveland.com, paramedics rushed Beard and Burghardt to a hospital where Burghardt underwent emergency surgery and remained hospitalized for months, according to police. He requires round-the-clock care, the lawsuit claims.
"My son was unarmed," the victim's mother, Michelle Burghardt, said in a statement. "He did not hurt anyone. They shot Matthew anyway, when he was only sitting in the passenger seat. His entire life is changed and he'll never be the same."
Burghardt was never charged with a crime and was shot for simply being in the passenger seat of a vehicle around two trigger happy cops.
"We want justice for our son," said Burghardt's father, also named Matthew Burghardt.
Attorneys for Burghardt's family filed the suit on the eve of the anniversary of the shooting and then released the video. They are now attempting to seek accountability for the unjustified shooting.
"This shooting was objectively unreasonable and constituted excessive force, in violation of Matthew Burghardt's rights under the U.S. Constitution and Ohio law," lawyers Jacqueline Greene and Sarah Gelsomino said in a press release.
"The law is clear - officers may only shoot when faced with an immediate threat of death or serious bodily harm. No such threat was present here," Greene said, adding that the officers fired at Burghardt despite East's orders not to shoot.
"Their actions were unreasonable, illegal, and have tragically altered the lives of Matthew and his family," Greene said.
As you watch the video below, try to imagine how a system that claims to uphold the law would ever find that this shooting was acceptable. What's more, immediately after they shot two unarmed men, the process of clearing the officers began and the cops are treated as victims instead of the ones who just shot an innocent man.
Sadly, officers killing people for attempting to drive away is not a rare occurrence. Being held accountable for it, however, is.
Seneca Police Lt. Mark Tiller made the same assertion when he shot and killed 19-year-old Zachary Hammond over the possession of a small amount of marijuana. Officer Ray Tensing was caught on video killing Sam Dubose in a similar fashion. In September 2015, cellphone footage was released showing police murdering 33-year-old John Barry, a mentally ill man who attempted to flee from police during a breakdown.
One of the most disgusting examples of cops claiming to fear for their lives as cars drive off is the case of Officers Derrick Stafford and Norris Greenhouse, Jr., who, in November 2015, opened fire on a car occupied by 6-year-old Jeremy Mardis, killing him and severely injuring his father.