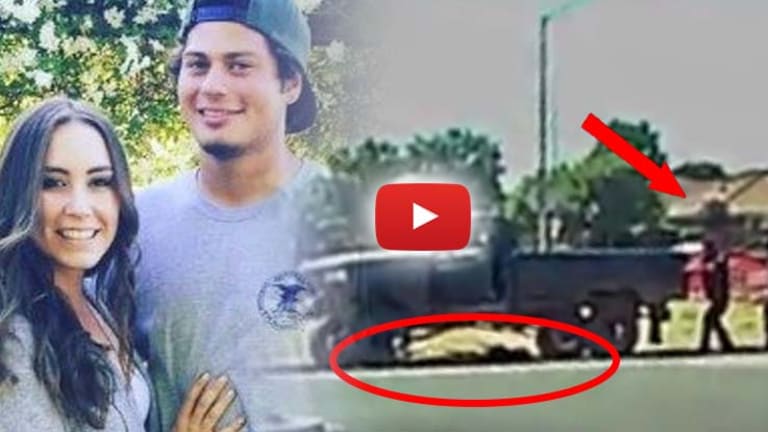 Video Shows Cowardly Cops Shoot Unarmed Teen As He Lays on the Ground
New video of the shooting death of Dylan Noble shows the 19-year-old on the ground as police fire two shots into the already wounded man.
Dylan Noble, according to those who knew him, loved everyone, wanted to make people laugh, and thoroughly enjoyed life — until Fresno Police abruptly ended everything in an as-yet unexplained shooting on June 25.
"We lost a very unique and beautiful soul," a friend posted following Dylan's untimely death at the hands of police, according to the Daily Beast. "He was never a man who believed in a day without laughter … He made everyone feel like family … He's made his mark on this earth by always making people filled with laughter and joy."
Though Fresno Police have yet to release body cam footage showing precisely what led officers to shoot the 19-year-old four times during a traffic stop, new video posted by the Fresno Bee evidences the final two shots — delivered as Dylan lay wounded on the ground.
According to police, officers had been summoned to the area on reports of a man carrying a rifle, possibly driving a pickup truck. Dylan — who by all accounts appeared to have been caught in the wrong place at the worst possible time — had been driving his 'jacked up' pickup, doing donuts in a dusty field in the same area.
Police spotted Dylan's truck and attempted to pull him over, though the young man drove several blocks to a Chevron station — something his friends surmised he did either initially unaware of the cops behind him, or to find an ideal location to provide identification since the elevation of his truck would have made a traffic stop on the street an awkward affair.
Shortly after pulling over, Dylan became yet another needless victim of police violence.
Fresno Police Deputy Pat Farmer attempted to justify the shooting to reporters in a press conference Saturday evening.
"The subject was told to show his hands," Farmer stated, distancing police from the shooting death in typical fashion by refusing to use his name in discussing the incident. "The solo occupant of the pickup truck would show the officers one hand at a time and kept one hand hidden during the contact.
"The subject made a statement that he hated his life and made affirmative movement to the small of his back at which time he was shot several times by officers at the scene."
Friends scoffed at the notion Dylan said anything about 'hating his life,' instead gathering it was more likely he said something to the effect of, 'fuck my life' — as in, 'Oh, great, I got pulled over. Just my luck.'
"None of us who knew Dylan believe that for a second," said Lou Standifer, the teen's former English teacher, reported the Daily Beast. "This kid loved everything about life."
Fresno Chief of Police Jerry Dyer explained Dylan repeatedly refused to show cooperate with commands from officers to show his hands, so "they felt that this individual was armed with a firearm. And that was based on the fact that he had placed one of his hands behind his back — his right hand — as he was walking toward the officers very rapidly. And at some point made the comment, 'I hate my effing life,' and then pulled his hand out very quickly."
Without the officers' body cam footage to show with certainty the moments leading to the fatal shooting, we can only theorize and take into account police descriptions.
But police around the country haven't exactly been known for honesty in recounting shooting incidents in which they claim they 'feared for their lives' — the South Carolina shooting by police in the back of a fleeing and unarmed Walter Scott immediately comes to mind, though a plethora of other cases also prove this.
According to Dylan's friends, they believe he may have been reaching for his wallet — and the fact no weapon was found on Dylan's person nor inside his vehicle afterward would appear superficially to lend credence to the theory.
Even after suffering four gunshots — two, as the new video shows, after he lay severely wounded on the ground outside his truck — Dylan clung to life and was rushed to emergency surgery. But the effort proved futile and he later succumbed to his wounds.
On Wednesday, the New York Daily Newsreported, Dyer stated the FBI, Fresno County District Attorney's office, and Fresno PD's Internal Affairs would all be reviewing footage of the killing. The chief also noted body cam footage from the officers involved — who have a combined 37 years on the force — shows the entire incident, though that's being withheld pending the investigation.
Attorneys for Dylan's mother and father requested "an outside, independent investigation" in addition to the others, in a letter dated July 1.
"He was a beautiful soul," Standifer lamented of Dylan. "He really was."