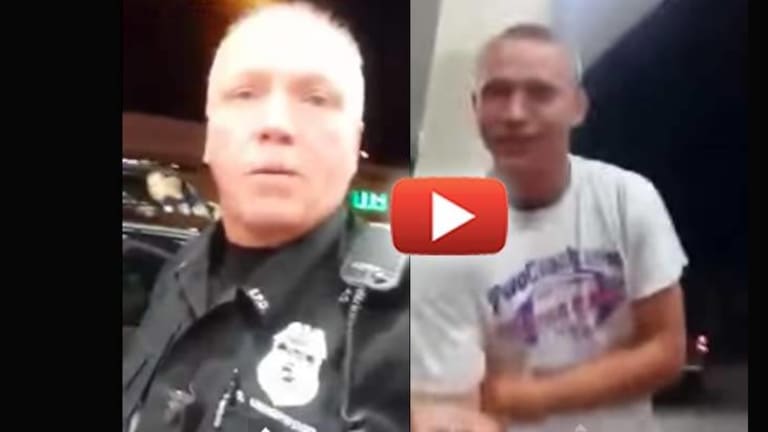 Cop's Son Assaults Man While On Ride-Along With Dad, Tries To Break His Phone For Filming
Son goes on ride-along with his police officer father, he then attacks a witness, snatching his phone from him in and attempts to break it.
Evansville, IN - While on a ride-along with his police officer father, 21-year-old Brock Underwood assaulted a man and attempted to break his cell phone for filming a police encounter.
His father, Officer Bryan Underwood was stopped at a gas station and making an aggressive arrest when a witness quickly took out his cell phone and began filming the situation. The bystander tried to get as close to the police vehicle as he could to check if the suspect was alive and okay, as the officer had allegedly shot him just before the arrest.
As the bystander was moving to get a better angle of the suspect in the back of the car, Officer Underwood quickly pushed him away and began to threaten him with arrest.
The man filming made the terrible decision of smoking a cigarette near a gas pump, which Underwood then began using as a reason to harass him. The man threw the cigarette down after being told by Underwood that he shouldn't be smoking near the pumps; which quickly escalated the situation.
The man backed toward his car, and the officer followed him, demanding to see his ID and making various threats.
Realizing that he had nothing to charge the man with, Officer Underwood began to walk away. At this point, his son walked up to the window of the car and began arguing with the man who was filming, regarding whether or not the suspect had been shot. During the argument, Underwood's son grabbed the man through his window, took his cellphone and attempted to break it.
As a result of this incident, the Evansville Police may be forced to change their ride-along policy to prevent family members from riding with officers. However, Evansville Police Chief Billy Bolin is hesitant to make any changes, claiming the ride along program ends up recruiting a lot of police officers.
"I don't want to be knee-jerk. Many family members decide to become police officers after a ride-along," Bolin said.
"The ride-along program is an observational program. The ride-along should never be part of the run. I'm very displeased with how (Underwood's) ride-along went," he added.
Displeased that it was exposed maybe. How often does this happen and get swept under the rug, only to train recruits to attack violently when unprovoked?
His sentiments were shared by police spokesman Sgt. Jason Cullum, who stated "This is a very popular program. We don't want one bad apple to spoil it for everyone."
For the son of an officer to be this quick to assault a peaceful person in front of his father is a testament to the type of behavior that was acceptable growing up, and quite possibly the kind of mentality that his parents instilled in him.