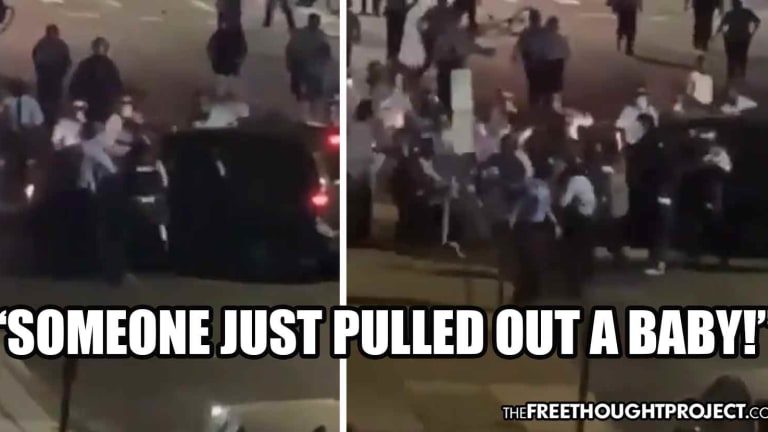 Police Mob Swarms SUV, Smash Windows, Allegedly Drag Out Parents, Beat Them in Front of Kids
A horrifying video shows dozens of cops swarm an SUV, smash out the windows, and allegedly drag parents out and beat them in front of kids.
Philadelphia, PA — As the Free Thought Project reported this week, the police shooting death of Walter Wallace Jr., a Philly man in a mental health crisis who charged officers with a knife, set off massive unrest in the city.
On the first night of unrest, TFTP reported on multiple instances of police officers being attacked and actually retreating from rioters. On the second night, however, at least according to the video below, the cops appeared to be the ones rioting.
In a video posted to Twitter late Tuesday night, dozens of riot officers are seen swarming an SUV. For an unknown reason, they begin smashing in all the windows on all sides with a complete lack of concern for anyone inside.
When the driver's side door is open, the driver is pulled from the vehicle as officers continue pummeling him with their batons. He is thrown to the ground and cops continue to beat him. The passenger also appears to be pulled from the vehicle and beaten.
It is a scene reminiscent of the Rodney King beating but worse, as there were reportedly children involved.
According to the person who uploaded the
Looks like Philly PD smashed the windows of a passing vehicle that was trying to turn around, then dragged the parents out and beat them on the ground in front of their terrified children. [@MrCheckpoint] pic.twitter.com/dNBf0aLGAf
— Chad Loder (@chadloder) October 28, 2020
" target="_blank" rel="noopener noreferrer">video, the "Philly PD smashed the windows of a passing vehicle that was trying to turn around, then dragged the parents out and beat them on the ground in front of their terrified children." While this is unconfirmed, the person who is actually behind the camera and recording the scene, says, "there are kids in there, someone just pulled out a baby." Many people in the thread claim that the car was simply trying to drive away from a chaotic scene and were cornered by police as they attempted to turn around. If this is indeed true, every one of the officers involved in this wanton display of police brutality needs to be found and arrested immediately. This is not a scene that should represent the supposed land of the free. This is a scene out of a war torn hell state. If the people in the car were actually wanted criminals, or had harmed someone, or shown a propensity to violence, police likely would not have charged the vehicle in this manner as it could put their safety at risk from being run over or shot. The fact that they felt comfortable enough to walk up to the vehicle and begin smashing out windows, indicates that they did not feel threatened from an armed occupant or a potential for being run over. In other words, this massive gang of riot police appear to be carrying out an alleged act of violent aggression on a family trapped in the chaos. So far, there have been no reports from local media and our emails to the police department have not been returned.

As TFTP reported, the unrest began on Monday night after video surfaced of two Philly cops fatally shooting Walter Wallace Jr. The chaos unfolded immediately after the shooting took place and eventually spread to the police station.
On Monday night, one officer was hospitalized and at least 30 others were injured after being struck by rocks, bricks, and other projectiles during the unrest.
The unrest unfolded shortly after 4:00 p.m. Eastern on Monday when police said two officers responded to the 6100 block of Locust Street over a report of a man with a knife. That man was Wallace.
The interaction was captured on a bystander's cell phone video and shows Wallace advancing toward officers, allegedly armed with a knife. Wallace ignored commands to stop and put down the weapon. He also pushed passed a woman, later identified as his mother, who appeared to be trying to hold him back.
Both officers were well over 10 feet away from Wallace when they opened fire on the man. At least 10 gunshots can be heard before Wallace is seen collapsing to the ground.