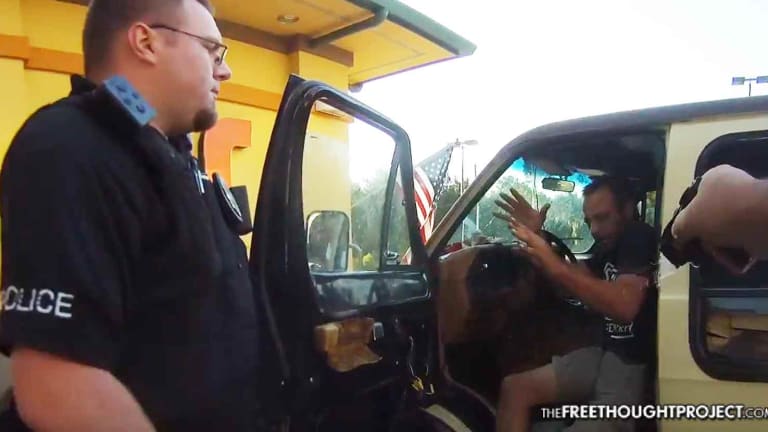 WATCH: Cops Tase, Assault Handicapped Vet—Then Arrest Him For Half a Gram of Cannabis
When police arrived to address a handicapped veteran who was accused of panhandling, they refused to let him retrieve his cane, and instead Tased him, pulled him from his car, and left him lying on the ground.
Jasper City, FL – Disturbing body camera footage has just been released that shows a handicapped man being tased and manhandled by police officers for the heinous crime of flexing his rights.
Corey Bracken, 38, was trying to eat his lunch in his van outside a convenience store when officers approached him and demanded that he exit his vehicle. Bracken, aware of his rights and his need to protect himself against unlawful prosecution, began recording the incident.
Bracken rightfully asked for the officer's supervisor to come to the scene. He told officer Chris McGauley he was not going to exit his vehicle and was just trying to eat his lunch.
Other officers arrived on the scene, but instead of protecting Bracken's Fourth and Fourteenth Amendment rights to unreasonable searches and seizures, they joined in on the abuse. After a bit of back and forth bantering, one officer attempted to take Bracken's phone from his hands. Citizens have the right to film all police encounters but the officer apparently wanted to take that right away from Bracken.
Possibly realizing he was about to be jerked out of the van, the handicapped man reached for his walking cane. That action angered the officers who claimed they were fearful he was reaching for a gun. From the intensity in their voices and their screams to stop "reaching" for his cane, the officers escalated their use of force.
McGualey grabbed his arm and nearly broke it by bending it back against the van. The other officer, Less Harris, possibly realized Bracken was reaching for his cane and simply yelled for him to get out. Even though McGauley was ordering Harris to tase him, he did not. McGualey then stepped in and tased Bracken who still had not been informed as to what crime they suspected him of having committed.
The painful tasing forced the man to give up. He was then pulled out of the van and forced to lay on the ground without his cane and his apparent ability to stand. In a TFTP exclusive, Bracken explained that the officers did not charge him with any illegal activity and the prosecutors will not press charges against him.
He said he simply wants to know why he was tased, treated without any human dignity or respect, and why the officers denied the freedoms guaranteed to him by the Americans with Disabilities Act.
Equally disturbing to Bracken and others was the cavalier way in which the officers mishandled him and then bragged to other officers saying:
I wasn't going to waste five seconds on him.
The officer who attempted to break the handicapped man's arm also lied to responding officers, saying:
He wanted to fight.
Clearly, Bracken did not want to fight and could not put up a fight with two fully armed officers even if he wanted to. He simply wanted to be afforded the opportunity to retrieve his walking cane and was denied such a simple accommodation.
The entire incident serves to illustrate the aggressive nature some police officers use on citizens who wish to exercise their rights to unwanted police contact, unreasonable searches and seizures, and to be treated with dignity and respect—regardless of their socioeconomic status.
Bracken said he was panhandling at a nearby gas station. He was asked to leave and he did. He went to the S&S convenience store and was enjoying his meal when police arrived. Bracken explained that he was hit by a drunk driver when he was 21. In addition to suffering brain injuries, his knee was damaged and his other knee has suffered from compensating for his injuries.
After police unlawfully detained Bracken, they searched his vehicle and found half of a gram of cannabis and a pipe to smoke the healing herb, which he said he used his chronic pain. They arrested Bracken and charged him with felony resisting arrest with violence, and possession of cannabis and paraphernalia. He spent five days in jail before paying $1,500 to post bond. He said he was also mistreated while he was in jail by abusive guards.
Bracken said his car was also impounded, and it will cost him $1,000 to get it back. He holds a medical marijuana card from Oregon. After prosecutors reviewed the body camera footage, they dismissed all charges.
Bracken told TFTP he is a veteran of the U.S. Navy and was discharged due to color blindness. He is now planning on filing a lawsuit over the incident initiated by the police officers who refused to respect his rights. He has also set up a GoFundMe page to help high schoolers train K9s as service dogs.
UPDATE: According to a December Facebook post, Officer McGauley no longer works for the Jasper police department. When asked if that brings any comfort to Bracken, he responded with serious concerns he may have found employment with some other police department or with the FL Department of Corrections. As TFTP has reported, "gypsy cops" will often find employment elsewhere and possibly continue their pattern of rights and policy violations.
https://m.youtube.com/watch?feature=youtu.be&v=3J7neEfySB4