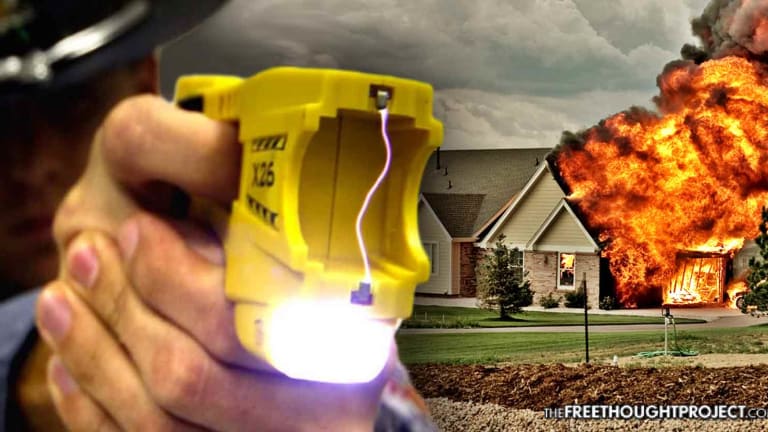 Cop Tasers Innocent Dad in the Back for Rescuing His Pets in House Fire—Taxpayers Held Liable
For trying to save his pets while his house was on fire, an innocent father was tasered in the back—twice—arrested, and charged with a crime.
Grandville, MI — Robert W. Burt Jr., 63, was in his front yard gardening when he saw what appeared to be smoke billowing from his roof. So, he called 911 and proceeded to get his wife and daughter out of the house. However, when he would try to go back to rescue his pets, police would show up, taser him in the back—twice—and arrest him.
Burt has just been awarded $75,000 in a settlement from the excessive force lawsuit he brought against the Grandville Police Department for the incident which took place in 2014.
"His injuries were not that significant, but the insult and offensiveness of what happened were tremendous,'' attorney Keary W. Sawyer said. "The settlement reflects the wrongfulness of the act.''
That day, as his house burned, Burt was trying to round up his beloved pet cats and get them to safety. However, when Grandville Police Sgt. Kenneth C. Howland showed up and told him to get off his own property, Burt wanted to make sure his pets were okay before complying.
Burt told Howland that he had every right to be on the property because he owned it. As Burt continued to save his cats, Howland pulled out his taser and shot the 63-year-old father in the back.
For trying to save his pets on his own property, Burt was tasered in the back, handcuffed, brought to jail, and charged with disobeying and obstructing a police officer.
According to Sawyer, Burt was in no danger from the fire when Howland struck because the department had gotten most of it under control and was putting out hotspots when Howland arrived and tasered him.
According to the lawsuit, as Burt began walking away along the west edge of the yard, the officer told him, "Stop or I'll Tase you.'
The officer then pulled a Taser from his holster and discharged the weapon, striking Burt in the back. Burt dropped to the ground and was trying to push himself up when he was struck a second time, according to the lawsuit.
"He did nothing to interfere,'' Sawyer said. "Any allegation that he interfered is simply not true. It really was offensive that he was Tasered not once, but twice in the back and then muscled around by a couple of police officers.''
Sawyer was right. After he was arrested, all charges against Burt were dropped. And now, a lawsuit has vindicated him as well.
As WZZM reports, attorney Gus Morris, who represented the city, called the settlement a fair resolution for all parties involved.
"It was a case with uncertainty on both sides,'' Morris said. "Based on the costs of going forward, we placed an offer on the table and the case was resolved.''
If you think police tasering and arresting people for trying to save their loved ones or pets never happens, think again.
As TFTP reported at the time, on October 31, 2013, the house of Ryan and Cathy Miller caught fire. In that fire, their 3-year-old son, Riley Miller was killed.
The 911 call came in at 12:58 am and firefighters showed up just 5 minutes later.
Ryan Miller knew his 3-year-old stepson was trapped inside, and he was going to do whatever it took to get him out. However, as he kicked in the front door to the home in an attempt to save his child, police showed up.
As Miller tried to run back into the house, police grabbed him. Obviously, Miller pulled away from the officers as he and his wife's 3-year-old was trapped in a deadly inferno; that's when the taser came out.
Miller was tasered several times as he fought to save his son.
"He tried to get back in the house to get the baby," Lori Miller, Riley's grandmother said. "They took my son to jail because he tried to save his son."
Even if Miller would've died trying to save his son, it was his right and duty as a father to do so.
It's not just innocent civilians who are attacked for trying to stop fires around police officers either. Fire Chief Christopher Herzog was arrested in Dec 2016 for attempting to prevent a police officer from making a fire worse.
Cannelton police officer Ryen Foertsch was at the location of the fire and in plain clothes, not dressed as an officer and was attempting to smash in one of the windows of the house, a move that could have obviously made the fire far worse by providing it with oxygen. Herzog arrived on the scene to witness the blunder and attempted to prevent the officer from literally adding fuel to the fire, and tried to get him away from the house.
Sensing that his authority was being threatened, Foertsch arrested the fire chief as the house continued to burn.
To make matters worse, as the house burned, the police ordered the remaining fire crew off of the property, preventing them from doing their jobs and putting lives and property at risk. Officer Foertsch then arrested Herzog and charged him with a felony—for doing his job.